Let's Talk About Evan Peters' 'AHS: Hotel' Accent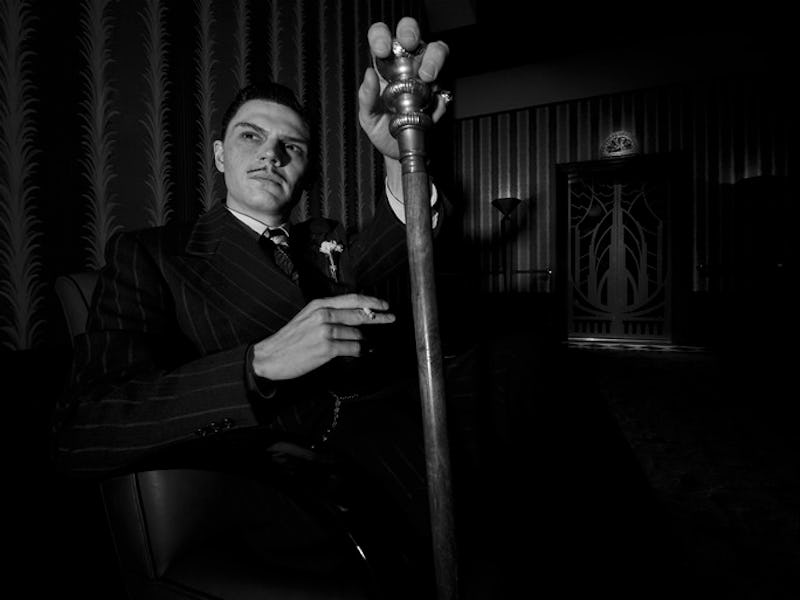 There are many reasons to be intrigued/terrified by Evan Peters' American Horror Story: Hotel character, Mr. March. For one thing, the guy is an absolute psychopath. Seriously, this guy's love of killing rivals that of any murdered we've seen on this horror anthology so far, which is really saying something. And the fact that the character is being portrayed by Peters is the cherry atop of this killer cake. However, those aren't the only things that make Mr. March stand out among the rest of these Hotel Cortez residents. Evan Peters' AHS: Hotel accent as Mr. March gives this character a unique sound to go along with his unique (and downright horrifying) backstory.
So what exactly is the accent Peters' is portraying? According to a recent interview Ryan Murphy had with Entertainment Weekly, the dialect is supposed to be reminiscent of iconic leading men of the '20s, such as William Powell and Clark Gable, giving him that distinct Transatlantic accent. "The character is from the from the late '20s East Coast," Murphy explained. "I told [Peters] certain movies to go watch and certain leading men of the time: William Powell, Clark Gable." And there's no denying that both the look and sound make for a killer combo. Literally.
But don't be expecting any Gone With the Wind-type moments between Mr. March and whoever his mysterious wife is. If March resembles Gable, it's in his voice alone. (Though, I suppose it could be argued that neither of these two guys give a damn.) But aside from that, Peters' portrayal couldn't be more different in nature. March built the Hotel Cortez for the shear purpose of hiding his gruesome wrongdoings. (Forget what Annalise Keating says. This is how you get away with murder, folks.) And given his little interaction with Tristan, he's looking for a protege to mentor. So, you know, that's great news. Maybe he'll even give the former model a few dialect lessons while he's at it. Because, let's face it, the more characters we can get to sound like Vincent Price, the greater this season is sure to be…
Our journey into March's rich history may have only just begun, but if that voice and mustache are any indication, this could very well be Evan Peters' best American Horror Story role yet. True, he may not be as swoon-worthy as he normally is, but I can already tell this is one character we won't soon forget. Even if we want to.
Images: Frank Ockenfels/FX; muchomiedomx/Tumblr