'Diary Of A Teenage Girl' Could Steal Oscar Gold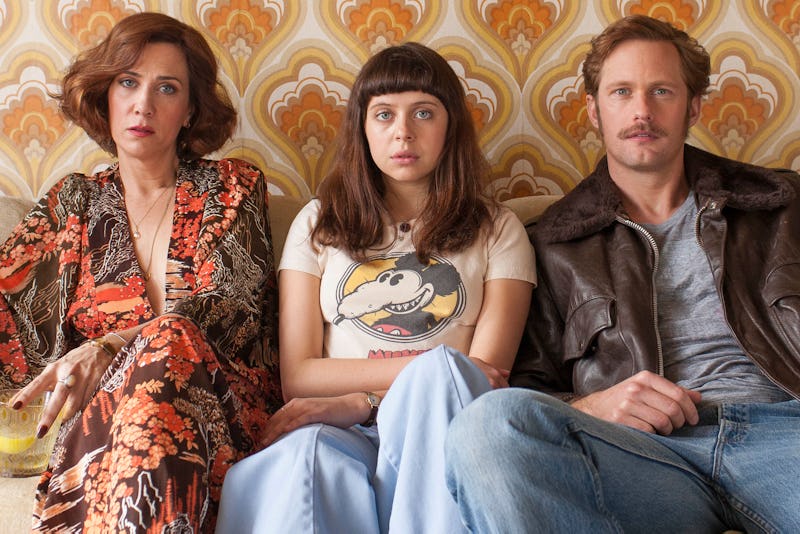 And so it begins. The Oscars may still be four months away, but awards season has official started. The Gotham Independent Film Awards announced their nominations this Thursday, and they're the first voting body to honor the films of 2015, before all the guild awards, critics awards, and Golden Globes will clutter the final months of the year. There is not yet a clear frontrunner this season, in the way that Boyhood and Birdman were dominating the conversation this time last year, but, if the Gotham nominations are any indication, there may be a surprising underdog to watch out for: The Diary Of A Teenage Girl led the pack with four nominations, more than supposed heavyweights like Carol and Spotlight.
Based on a 2002 semi-autobiographical graphic novel by author/artist Phoebe Gloeckner, Diary tells the story of a young woman named Minnie who embarks upon a sexual awakening with her mother's boyfriend, Monroe. The film features Kristen Wiig as Minnie's mother Charlotte, and Alexander Skarsgård (True Blood) as Monroe — but it's young star Bel Powley who has been drawing most of the raves. After the film premiered at Sundance earlier this year, it was acquired for distribution by Sony Pictures Classics and accrued an impressive 95 percent Certified Fresh on RottenTomatoes in its limited theatrical release.
The NYC-based Gotham Awards honored Diary with nods for Best Feature, Best Actress, Breakthrough Director, and Screenplay, making it the most lauded film of the year. It's important to note that these awards specifically honor independent films, so some big studio Oscar contenders like Steven Spielberg's Bridge Of Spies and Danny Boyle's Steve Jobs are not in consideration here. But the competition does include some films that have been picking up plenty of Oscar chatter — specifically, the lesbian romance Carol starring Cate Blanchett and Rooney Mara, and the ripped-from-the-headlines journalism drama Spotlight featuring an ensemble cast including Michael Keaton, Mark Ruffalo, and Rachel McAdams.
Both of those latter films scored three nods apiece, in Feature, Screenplay, and Acting (Blanchett for Carol; the entire cast in a special Gotham Jury Award for Spotlight). The only other film to tally three nominations this year was Tangerine, which earned a spot in the Best Feature race, as well as two nods in the Breakthrough Actor race for stars Kitana Kiki Rodriguez and Mya Taylor. Other films with Oscar buzz represented at the Gotham Awards include Room (with a nod for actress Brie Larson), and Grandma (with a nod for actress Lily Tomlin).
While it's hard to tell how much this success will help Diary in the Oscar race, given the number of big ticket items it wasn't competing against here... but it certainly won't hurt it. Even though it only represents a small sample of the films that will ultimately wind up nominated at the Oscars, the Gotham Awards have still often been a reliable predicator of the big night. Last year, the voting body matched the eventual nominations of Michael Keaton (Birdman), Ethan Hawke (Boyhood), Julianne Moore (Still Alice), and Patricia Arquette (Boyhood). It even predicted the eventual winners in three of its four categories with direct Oscar analogues: Feature (Birdman), Actress (Julianne Moore), and Documentary (CitizenFour). (Keaton won Actor, as Eddie Redmayne's The Theory Of Everything was not in contention.)
A Best Picture nod certainly isn't out of the question for Diary — especially if the field expands to its maximum of 10 nominees — but its highest chance of Oscar recognition is likely in the Best Actress category for star Bel Powley. This year's race is already shaping up to be a battle of promising young talent. Aside from Carol's Blanchett, three of the names with the biggest buzz are all in their twenties: Room's Brie Larson (26), Joy's Jennifer Lawrence (25), and Brooklyn's Saoirse Ronan (21). A fourth — Suffragette's Carey Mulligan — barely falls outside this category at 30 years of age. Adding 23-year-old Bel Powley into the mix would make 2016 the Year of the Ingenue, giving this year's race a narrative hook too buzzy for the Academy to pass up.
Will the Gotham Awards help Diary rise to the top in this year's Oscar race? Or will the relatively tiny film sink to the bottom when overwhelmed by the surfeit of high-profile titles about to join the fray? The movie Diary should try to model itself off of is 2010's Winter's Bone: like Diary, it premiered at Sundance before becoming the most-nominated film at that year's Gotham Awards. It wound up taking home the Best Feature prize, propelling it to Oscar success, where it was nominated for Picture, Actress, Supporting Actor, and Screenplay. Oh, and it launched the career of its then-20-year-old star, Jennifer Lawrence, giving her the first of her three Academy Award nominations (and counting).
Can Diary and Powley recreate the success of Winter's Bone and Lawrence? Sony Pictures Classics is undoubtedly hoping so. We'll find out when the race heats up with the Guild Awards later this year.
Images: Sony Pictures Classics (2); Open Road Films; Roadside Attractions