Perfect Group 'BTTF' Costume Ideas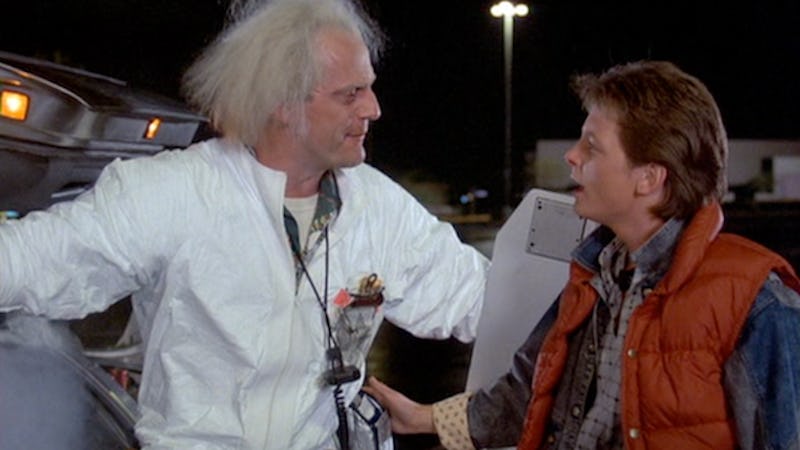 Chances are, you're still reeling from the epicness that was Back To The Future day — so much so that you probably wish you could just hop into your DeLorean and relive October 21, 2015 all over again. However, since it looks like time travel (and your everyday flying car) is still a few years off, you might have to channel your Back To The Future obsession in some other way. I mean, if you can't be Marty McFly, then why don't you just, you know be Marty McFly for Halloween? In fact, why can't you get your whole friends in on the action with a Back To The Future group Halloween costume?
"Oh, but Mary Grace, we can't afford all those expensive Back To The Future costumes online, la la la." Shhh. Shhhhhh. I got you. Well, I mean, I got alternative ways to create your own Back To The Future costumes which may or may be beneficial based on what you already have in the closet. (Real talk: some costumes might just be easier to pick up at Party City in the long run, at least if it breaks even.)
But, just in case, here is a step-by-step guide on how you can, theoretically, make your own Back To The Future Halloween costumes... with everyone repping different moments in the movie, because why not.
1. Marty McFly
The good news is that you should have most of these items in your closet, and that'll be less of a hit financially when you splurge on that orange puffer vest ($34.99). Underneath it, you're going to want to wear a pretty standard plaid shirt ($19.90) and denim jacket ($21.00). Then all you need is a basic pair of jeans ($16.99) and you've nailed a simple Marty look circa 1985.
2. Doctor Emmett Brown
OK, so how do you channel the Doc? OBVIOUSLY you're gonna need an Einstein-esque (the scientist, not the dog) crazy white wig ($13.99) to start with, but ditch the mustache. Then you can pick up a disposable hazmat suit ($8.99), some goggles ($10.95) and your mom's dishwashing gloves ($8.97). Great Scott! You've nailed it.
3. Lorraine Baines-McFly
All you need is a pale pinky-peach dress ($71.99) that shows off your boobs. That's it. It's stupidly easy. This one is a bit pricey, but you're also not going to have to run around town looking for an orange puffer vest, so who REALLY wins? Flask optional.
4. Jennifer
Alright, Jennifer has more of a sweatshirt-y blue vest, but you can improvise with this light blue button down ($10.99), unbuttoned of course. Then you just need a simple collared white shirt ($24.90), which has GOT to be laying around somewhere. But the final most important touch are these pink floral print leggings ($7.99). They are EVERYTHING to this costume.
And that's all there is to it, folks! With minimal effort you'll have a group costume that'll be fresh for 2015 AND a flashback to your favorite flick.
Images: Universal Pictures (1); Forever 21 (6); ASOS (1); Walmart (1); Amazon (2); Candy Apple Costumes (1)