No One Does Heartbreak Better Than Adele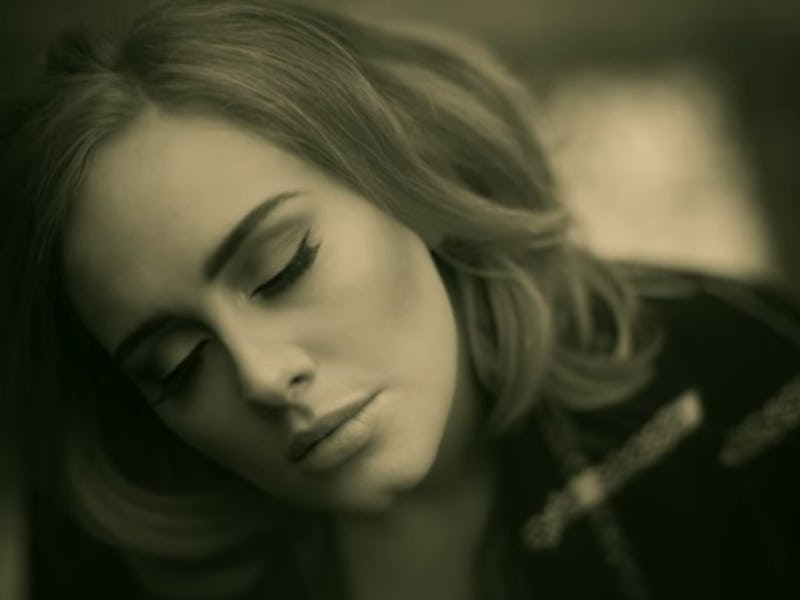 By now, you've had a full 24 hours to come to terms with the gut-wrenchingly beautiful new Adele single, "Hello," and you've been able to play it a few dozen times and have a good, solid cry. It doesn't matter if you're happily in love or don't even consider yourself a particularly emotional person — chances are you sobbed your eyes out (or got a little misty, at the very least) the first time you listened to "Hello" and Adele's haunting vocals. It's been a long three years without her in the music industry, and knowing she's back with a new single and an album to follow is incredibly comforting, especially because we can always count on Adele's music to be amazing. And while "Hello" is probably the ballad of 2015, it's certainly not the first time she's brought us to tears. In fact, no artist does it better, really.
Listening to "Hello" not only has the effect of bringing up every emotion you've tried to pack down away from the surface since her last single, but it also makes you desperate for more new Adele, and since we won't have that until November 20, when 25 is released, it means it's time to go back through her first two albums for inspiration. Thankfully, there are no shortage of tearjerkers in there, either, and if you need a good cry, there are plenty of other tracks you can pop on to turn on the waterworks.
"Someone Like You"
This is quintessential Adele, and likely the song that first comes to mind when you mention her name. "Someone Like You" was the soundtrack to a million and one breakups when it was released, and basically turned us all into quivering puddles of tears. A total classic.
"Make You Feel My Love"
"Make You Feel My Love" is actually a Bob Dylan cover, and happens to be one of my personal favorites. The tears here aren't from sadness or heartbreak, but from pure emotion. Who hasn't been so in love that you feel like you can't get it all out of you and truly show the other person how you feel? Ugh, so good.
"Hometown Glory"
Again, this is one of those tracks that makes you cry because it's just so relatable. "Hometown Glory" makes us all think of where we came from, and for those of us who are far from the home we once knew, it really strikes a chord — no matter how glad we are to be gone.
"Chasing Pavements"
Back in the land of the heartbroken, "Chasing Pavements" is here to destroy us. It perfectly reflects the realities of loving someone and knowing that things are never going to work out... but you still can't help yourself anyway. Get your tissues out.
"Turning Tables"
You know those relationships that are totally frustrating because the terms keep changing and you can't keep up? It's tragic and intense and a million other things and it totally destroys you, but you finally get strong enough to stand up for yourself, even though your heart is in a million pieces. Thanks, "Turning Tables."
"Take It All"
"Take It All" is one of those songs that gets you right in the gut, because it's so beautifully true to life. You love someone, but they don't see how good things could be if they just stopped fighting. You know you're going to end up devastated, but you can't stop yourself, and that alone will make you cry a thousand tears.
"One And Only"
Admittedly, this song isn't as depressing as many of her others (and I mean that as a compliment), but it is still really emotional. It's an ode to falling in love with someone and just wanting a chance to see where things go. The yearning is palpable and beautiful and on man, does it pull at the heartstrings.
"Don't You Remember"
Is there anything that sucks more than breaking up with someone, but still being completely in love with them? Especially when you feel like you're the only person who remembers the love you shared and all you want is to shake the other person and remind them of what once was. Ugh, it's a killer.
"Hiding My Heart"
Originally a Brandi Carlisle song, Adele does the most beautiful job in covering this track, which is about the grand joys and sorrows of love. That sounds corny, but it's true, and it will make you cry.
If you haven't already realized, Adele is an emotional woman (and man's!) dream girl. If you love music that will completely destroy you, you probably love Adele. I know I do.