Your Favorite Spice Girl Says A Lot About You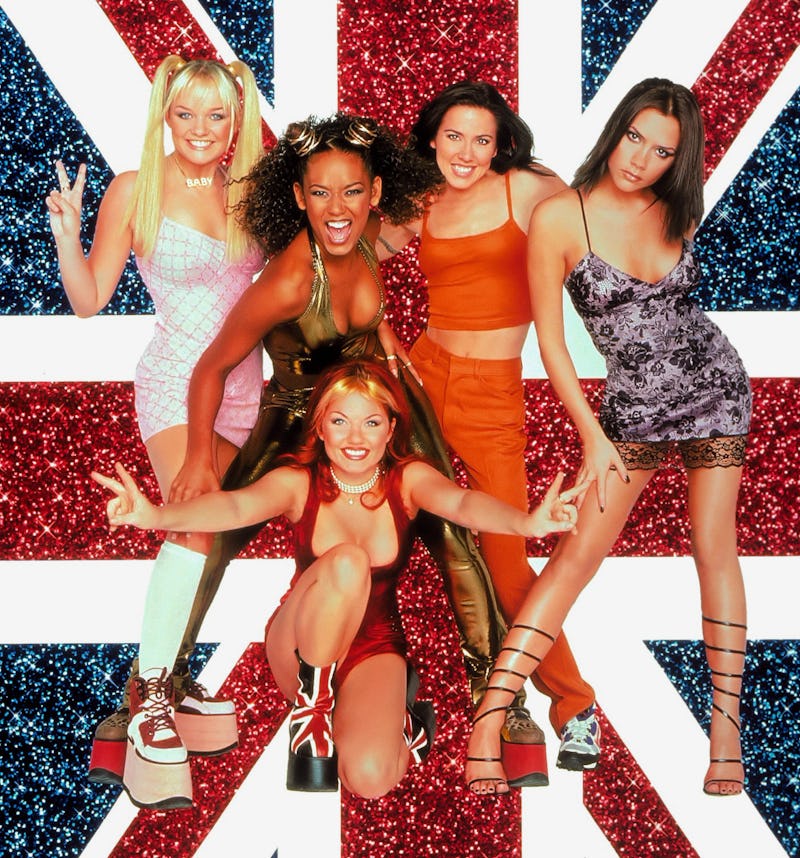 'Til the day we die, the Spice Girls will reign supreme. The English pop girl group surpassed boundaries, broke records, and set the bar high for the many all-girl groups who followed them. Even if you were born the year that their first single was released (like me), you still grew up with them in your life and taking over your CD collection. Posh, Scary, Baby, Sporty, and Ginger Spice are some of the most recognizable names in British pop culture for a reason: each one of these Spice Girls had their own, very distinct persona, so it was very easy to identify with them. So what does your favorite Spice Girl say about you now?
Just like your favorite boy band and your favorite frappuccino flavor say a lot about your personality (and often, the type of person you often go for), your favorite Spice Girl tells a lot about who you are now, or maybe even the woman you wanted to grow up to become. The minute I learned about the Spice Girls as a third grader, I was hooked. Not only did I want to meet one, but I wanted to be one. Is that really so hard to believe, though? I mean, look at them!
Victoria Beckham, Mel B, Emma Bunton, Melanie C, and Geri Halliwell were not only firm advocators of girl power, but they also embodied all of the things that made them unique and showed that it was cool to be different. This being said, what does the Spice Girl that you best identify with say about you?
If Posh Spice Was Your Fave...
Glitz and glamour are what you live for. Posh Spice's sophisticated bob, plus her designer wardrobe consisting of the greatest dresses and shoes basically had you drooling. With her stylish look and classy demeanor, she was who you wanted to be when you grew up. Now, you're the most put-together one of your social circle, both in life and looks. You can't go a day without your planner, are an avid brunch-goer, never leave home without at least a layer of mascara on and a pair of earrings in, and probably have never been seen wearing sweats in public.
If Scary Spice Was Your Fave...
You were, and still are, the life of the party. Your friends often refer to you as "the loud one", and you're often reminded to whisper in places like coffee shops and libraries. You tend not to have a filter, but embrace it. When neon was in, you were at your happiest, because the bright colors matched your even brighter personality. Just like Scary Spice, you never go unnoticed in a room. The party don't start 'til you walk in!
If Baby Spice Was Your Fave...
You're like the little sister of your circle. People are always texting you to make sure you got home safely, and you're often the "cute" one that your friends like to baby and look out for. Your style is more on the "girly" side, and you appreciate lace, frilly dresses, and the sweeter things in life. You have a big appreciation for pink, and one of your past Halloween costumes probably consisted of pigtails and go-go boots.
If Sporty Spice Was Your Fave...
You're competitive and playful, and not afraid to get your hands dirty. When the rest of your friends flip out from a spider on one of their bedroom walls, you can squash it before they even let out a high-pitched scream. You're not afraid to dance on tables and are always up for a challenge. You probably prefer multiple pairs of fresh Nikes to chunky wedges, and just like Sporty Spice, you like your dates tough and tatted.
If Ginger Spice Was Your Fave...
You're the unique, lively one. You're bubbly and constantly caffeinated, even though you would probably be just as charged without it. People often look at you as the "mom" of your circle, and you naturally fit the role. Your friends go to you to make decisions on things like dinner plans and outfits, and whether or not to text back that one guy from the gym. You're a natural born leader!
The Spice Girls will forever be an iconic girl group, and their distinct characters and lively nature made us all want to be them. Maybe we all have a little bit of Spice Girl in us after all!
Images: PolyGram Film Entertainment; Giphy (5)