Andi & Alex Should Totally Win 'The Voice'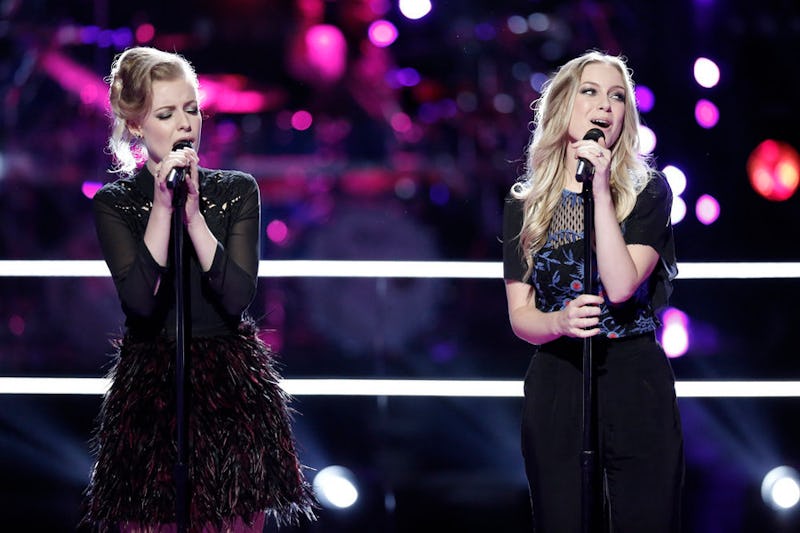 The Voice Season 9's the Blind Auditions yielded many talented singers yearning to be the titular voice — or voices. This season has even attracted many duos who made it to the Battle Round, but not all of them survived. But, Andi and Alex Peot should win The Voice , because they are the show's most dynamic duo of the bunch. The twin sisters, who are on Coach Adam Levine's team, survived their battle against Chance Pena, in which they sang "Wherever You Will Go" by The Calling as a trio. It was a challenge, but they were definitely up for it.
The 23-year-old twins from Pulaski, Wisconsin, impressed coaches with their soothing rendition of Dido's "Thank You" during the Blind Auditions, earning a four-chair turn for the performance. "I think you guys are one of the most perfectly fitting duos I've ever heard," said Levine afterwards. "I'm astonished at how good that was." That was enough for the Peot sisters to choose the Maroon 5 rocker as their coach and they told the press in a conference call they felt it was the right decision. "He was just so passionate and I think that passion was what really drove us to choose him and for us to be on his team," Alex said. "He was really interested in the song choices that he would choose for us which was really huge for Andi and I for a coach to really understand where we come from musically."
But, it's just the beginning for this duo. Here's why I think they just might be the first duo to win it all.
1. They Learned Their First Harmony Line At Age 5
Andi and Alex's mom Julie is a country singer and the twins grew up joining their mom on stage, according to the Green Bay Press Gazette. They told Wisconsin Tonight that they began singing at age 2 and their parents actually met while singing in a country band. Sounds like they've got music in their blood.
2. They Used To Be In A Band
Before they were a duo, Andi and Alex were in a folk band called She The Monster, which included musicians from Australia and South Africa, according to the conference call with press. The band was founded two years ago, but disbanded last year due to everyone's lives going in different directions, so Andi and Alex became a duo, according to the Green Bay Press Gazette. At least now they've had that experience as part of a bigger group! That performance experience will come in handy.
3. They're Aware Of Their Strengths
Andi and Alex write music together and they said they're aware of what genres suit their angelic voices. "We're still finding our sound right now at the moment," Andi said on the conference call. "It's going to be similar, probably not as electronic and more acoustic to fit our softer voice. I think that's where we're going to head towards."
4. They Harmonize So Well
Just listen to Andi and Alex together during their Blind Audition. They truly took "Thank You" to a whole other level.
5. They Can Rock It A Capella
Listen to the twins sing a capella on Wisconsin Tonight. Is there anything they can't do?
6. They've Got Hometown Support
Their hometown is Pulaski, a village near Green Bay in Wisconsin and, though it may be a small Midwestern town, they've got a lot of heart and seem to be supporting Andi and Alex all the way, according to this Instagram photo.
These harmonious twins really could take it all and be the voices to win The Voice.
Image: Tyler Golden/NBC