7 Life-Changing Ways To Save Money On Manicures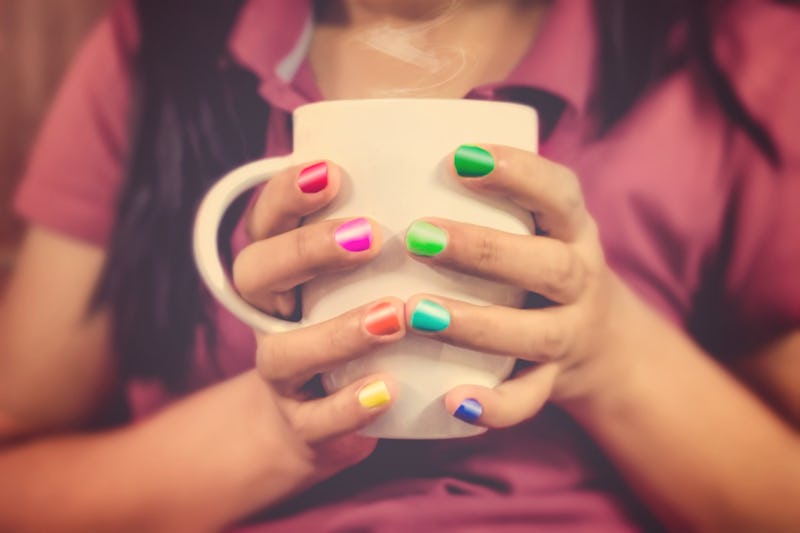 Getting a manicure at some cute little spa is one of life's ultimate mini-luxuries, but sadly the cost can add up pretty fast. Fortunately, these life-changing ways to save money on manicures means you can afford to #TreatYoSelf no matter what your "fun money" budget is. Time to get your relaxation on, lady!
I remember getting my first manicure as a birthday present when I turned 13 and after that moment, I was totally hooked on how fun it was and good it felt! Unfortunately, as a freelance writer in Manhattan, my need to pay rent generally outweighs my need for glossy, flawless nails.
Another reason to be a little hesitant when it comes to getting your nails done professionally? Earlier this May, the New York Times revealed the horrific treatment of countless manicurists in Manhattan. While NYC is taking steps to ensure the safety and fair treatment of salon workers, the article served as a good reminder to be vigilant when it comes to picking a salon to visit no matter where you live.
The tips below to save money on manicures include a mix of strategies for both salon frequenters and DIY masters, so read on to see which ones will matter most for you!
1. Swipe The "Free Edge"
Oprah mag had the brilliant idea of making sure the horizontal bit of nail where you clip also gets a dose of polish. Doing so can actually double the life of your manicure whether it's salon or DIY!
2. Invest In A "Naked Manicure" Kit
(Naked Manicure Starter Kit, $14.50, Amazon.com)
So I've raved over Zoya's Naked Manicure Kit more than once, and am doing it again. I use this all the time and, once you get the hang of it, you really do get salon-grade results!
3. Pack Your Polish
If you can't bring yourself to skip the salon, consider bringing your own polish. That way, when your manicure inevitably chips (ugh), you don't have to pay for a whole new visit to touch up your manicure. WIN.
4. Be Picky About Your Polish
Another Oprah mag tip: Ask for a new bottle of polish at a salon if it's less than 3/4 full. Salons often use polish thinners in emptier bottles, which "compromise both the integrity and color of the formula." You're paying for a good manicure, so make sure to make it count!
5. Paying For Top Coat Is Worth It
(Top Coat, $8, Check It Out)
Whether you're at home or the salon, that top coat will make your manicure last longer. About Style recommends applying it every three days to prevent chipping!
6. Visit A Beautician School
To save money but still get the luxurious benefits of a salon manicure, swing by a local beauty's school open hours to have a soon-to-be professional nail artist glam up your nails on the cheap.
7. Less Is More
According to About Style (and learned from plenty of years of personal experience), lighter coats of nail polish are better than thick ones! It saves you polish, is less likely to crack and chip, and dries faster!
Image Credit: gags9999, pete, Arienne McCracken, Lasse Christensen, Neil Milne, lemontale/Flickr; Courtesy of Brands