I Rubbed Strawberries On My Face Á La Marilyn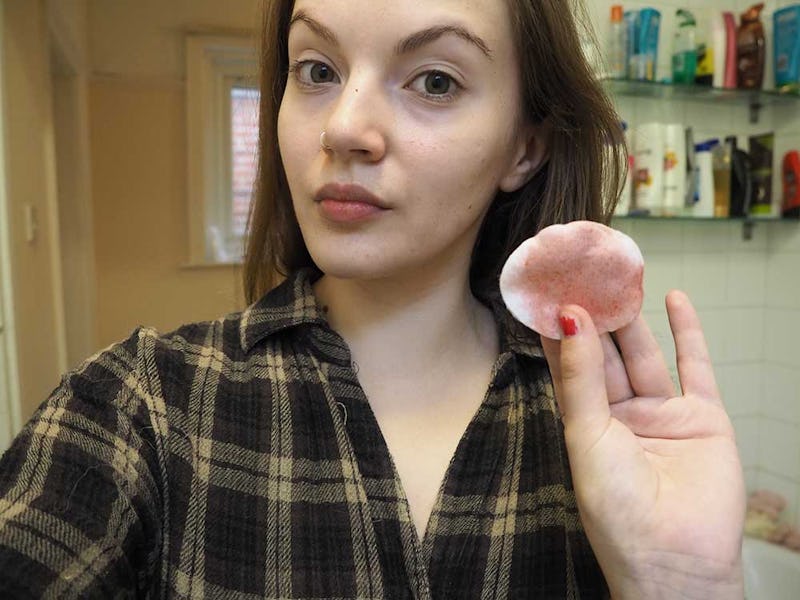 Sultry eyes? Check. Pouty lips? Check. Perfectly cropped locks? Check. It's no wonder Marilyn Monroe is the cause of many women's flirty '50s envy. But scrubbing strawberries on my skin á la Monroe? That took me a little persuasion. I've looked up to the old Hollywood star for years now, and have been more than willing to try out elements of her rigorous beauty regime. Pouring sea salt in the bath? It's a given. Applying white eyeliner to my inner water line? I'm sold. Making a strawberry cleanser? Erm...
Monroe was just one of the vintage icons who used strawberries as a facial cleanser. Take note, Grace Kelly fans: She did it too. The fruit is said to enhance a woman's natural luminosity. It also creates softer pores and a subtle pink tint that will even out skin tones. But does it work? I decided to give it a go for seven days to see if the experimental beauty hack lives up to its hype.
My skin is fairly pale and I also have vitiligo. Just like many women, I find myself a victim of hormonal breakouts. With that in mind, I was hoping the DIY hack would make my pores look fresher, smoother, and cleaner. And hey, a little glow wouldn't go unappreciated, either.
Day 1
My first task was to make the cleanser. "They stain your skin. You're going to turn red," my housemate warned me bluntly. Putting the thoughts of looking like an Angry Bird aside, the solution itself was easy to make. All you need is a cup of water, five large strawberries, a decent blender, and honey (if you want).
Once the product was ready, I simply dabbed cotton pads in it and buffed the mixture into my skin, using circular motions, before washing off any excess coloring with warm water. Sure, the idea of rubbing fruit on your face might sound a little strange, but I wouldn't say it was a completely unpleasant experience. If anything, the product felt like a watery body scrub. It also smelled as good as a Victoria's Secret spray. No complaints, there.
Day 2
On day two, you could tell my skin was beginning to pick on the new kid. Small blemishes were becoming evident. Spots even started forming on my cheeks and around my chin. In many ways, I was expecting as much. After all, in order to clean my pores, my skin had to purge — and that meant getting rid of all the dirt, grime, and other nasty things that were building up. Better out than in, right?
Day 3
On the third day, my spots were still present in their raving, red glory. The first batch of cleanser I had been using needed to be re-made. It wasn't the solution itself that was the issue, but due to the strawberries going off, it was beginning to smell like vinegar. So far, no positive skin results could be documented.
Day 4
Halfway through the week, my skin was beginning to feel a lot smoother. I'm incredibly picky with moisturizers, and tend to avoid them as the oil results in my acne flaring up. This, however, was the softest my face had felt in months. Other plus points included my pores looking far more open and a lot less visible dirt on the cotton pads.
Day 5
Apart from the odd spot, on the fifth day my acne was starting to heal. I was beginning to realize that I could easily get used to this. Slowly my skin was returning to normal and I was seeing results. Unlike times in the past — when it would usually take me a good few weeks to get used to a new product — this time it only took a couple of days. It was so effective, in fact, that by that evening all noticeable lumps and bumps had completely cleared.
Day 6
My face just kept getting clearer and clearer. One of the things I appreciated most about the process, especially during the week, was how easy it actually is. I'm the first to admit that I'm lazy when it comes to skincare. Particularly at 10 p.m. when I'm getting ready for bed and have Netflix on the brain. With the strawberries, however, it only takes a few seconds to complete the routine. Plus, you're not really at risk of using too much of the product and waking up with greasy skin the next morning.
Day 7
Apart from the one little lurker who continued to hover around on my cheek, on the seventh day my skin was the best it's been this whole week. Dare I say: Is that even a bit of glow?
Did Marilyn Have It Right?
I was pretty darn happy with the results of the experiment. My skin very obviously benefited from the cleanser and apart from the odd breakout, there was a huge improvement from day one to day seven in terms of acne, smoothness, and overall complexion.
What I liked most about this beauty hack was that it proves that folks don't need to break the bank in order to have a good skincare regime. Not only was I using all natural products that didn't contain any unwanted chemicals, but it also cost less than the price of a normal cleanser — especially if you have the ingredients lying around the house anyway.
In terms of that Marilyn-like glow, I'll quote the lady herself on this one: "Imperfection is beauty, madness is genius, and it's better to be absolutely ridiculous than absolutely boring."
Images: Emma Matthews