Are Mom-coms Changing The Face Of Motherhood?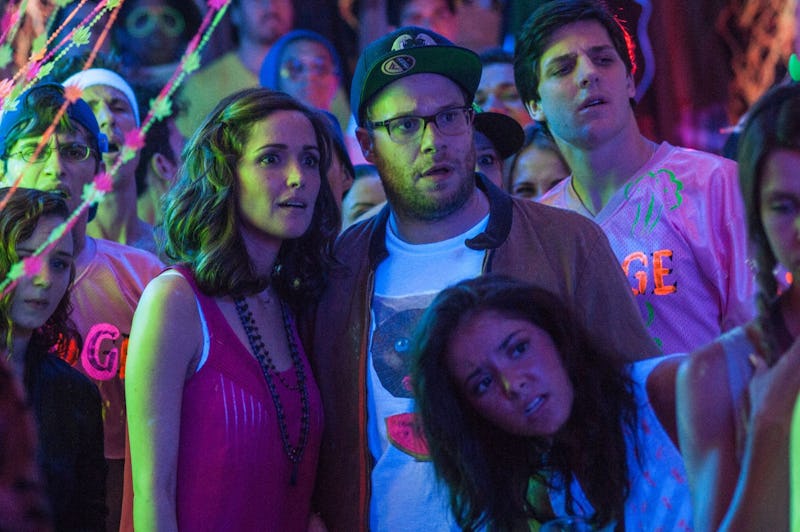 I don't know if this is already a thing, but if it's not, I want to lay claim to it here and now: There is a whole new genre of films springing up around Hollywood, and it's a genre that I like to call Mom-coms. On Monday it was announced that Mila Kunis, Christina Applegate, and Kristen Bell are scheduled to star in the new comedy Bad Moms, and when I heard the news I knew that this new trend was more than just a passing phase. But as fun as it is to name a new genre with something that rhymes and is catchy, I think the recent shift in Hollywood to make more realistic depictions of motherhood — most of which are absolutely hilarious — is less about making a funny movie and more about the changing face of motherhood. Is it possible that this string of mom-centric movies shows one thing Hollywood is doing right?
Because I don't think it's any secret the way mothers are being portrayed in films these days is decidedly different from how they were portrayed over the last century. Gone are the days of June Cleaver and perfectly-pressed Pleasantville moms who always have dinner on the table by the time their husbands get home from work. Instead, Hollywood has been giving us cinematic versions of motherhood that are, sure, still slightly over glamorized, but definitely way more flawed than what it was before. In today's Mom-coms, mothers drink, mothers get stoned, mothers lament the days before having children when their boobs were perky and their schedule was always open. In other words, they're like real moms. Just look at these awesome examples of films that show more realistic and more badass versions of motherhood.
1. Knocked Up
Sometimes motherhood isn't planned. In this classic comedy, two parents are made out of complete strangers after they have a one-night stand and, well, get knocked up.
2. What To Expect When You're Expecting
A fantastically frank depiction of motherhood and the supposed joys of pregnancy. This movie takes on some of the most ridiculous myths of motherhood, including the fact that pregnancy is wonderful. Guess what? Sometimes it's not.
3. Baby Mama
These mamas go clubbin', eat too much Arby's, and struggle poignantly with their fertility.
4. Mean Girls
Who can forget Amy Poehler's depiction of a "cool mom" who lets her kids watch MTV and drink virgin cocktails in the afternoon?
5. Neighbors
These parents miss their younger days so much, they leave their baby at home to go party at the frat house next door. Don't worry, they take the baby monitor and always stay within range.
6. This Is 40
Carpools, birthday parties, teenage tantrums, and a nonexistent sex life. This film show one of the most honest depictions of raising children that I have ever seen.
7. Mom's Night Out
Parenting is an absolute mess most days, and this movie celebrates the beauty of that.
If these films are any indication, it's clear that moms are getting much better representation in films. There are plenty of ways that Hollywood fails at representation, but showing the reality of motherhood and making women feel better about being imperfect mothers is definitely one of the ways it's succeeding.
Image: Point Grey Pictures