A Halloween Party You'll Actually Want To Go To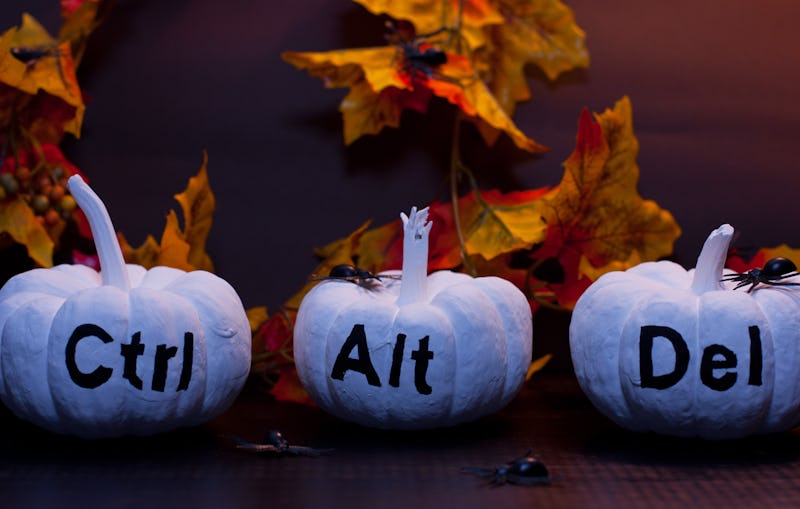 What does the Internet have in common with Halloween? They both can be completely terrifying — and they're both being celebrated at the Blogologues' HalloWWWeen party this year. The Blogologues, a sketch comedy show that describes itself as "the Internet performed," is pretty much exactly that. The brainchild of hilarious duo Allison Goldberg and Jen Jamula, the Blogologues showcases the best posts to appear on the Internet across a myriad of platforms and sites — Instagram, Yelp, you name it — by having people act them out IRL. It's a little ridiculous, extremely fun, and the perfect backdrop for spending your Halloween now that you're officially too old to go trick-or-treating (sorry, you are).
As for the night's details? The event is happening at 7:30 on Oct. 30 at New York City's Interface. You might not find your typical Halloween party fare — you know, peeled grape "eyes," brain-shaped Jell-O, and all that — but you will find some pure comedic gold. Aside from fortune tellers, an open bar, and other treats, guests can participate in an Internet "wall of horror," where they are encouraged to share some of the scariest things they've seen floating around the world wide web. (If you've ever spent more than, like, five minutes on Reddit, you know the Internet can be an odd and fascinating place full of inexplicable mysteries.) Oh, and obviously there's a costume contest — this is a Halloween party, after all — so make sure you dress up like the Internet-savvy millennial that you are. (Looking for ideas? The Blogologues has you covered.)
Tickets are available here, and proceeds benefit the Blogologues' live show and new web series, 2 Girls 1 Show. Check out full details below.
Images: Dov Harrington/Flickr; Blogologues