'AHS: Hotel' Couples Costumes Are Twice As Creepy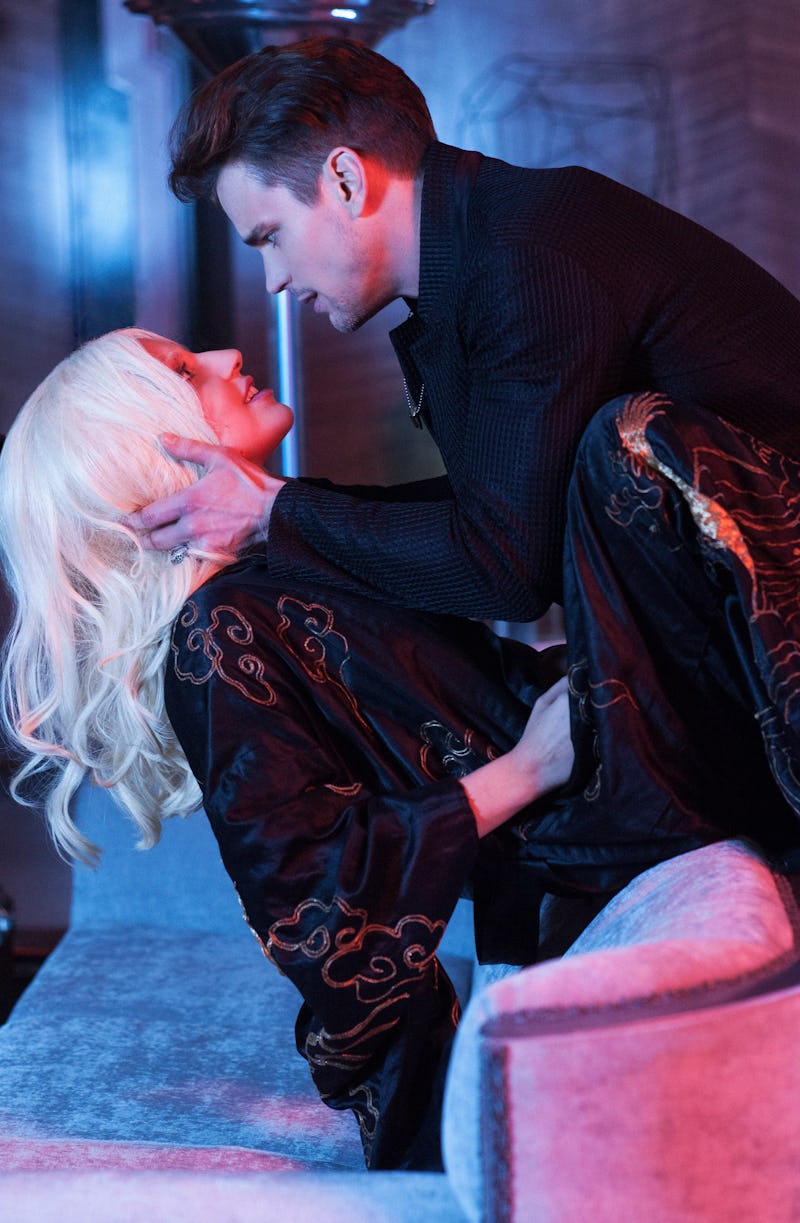 American Horror Story: Hotel premiered earlier this month on FX and the anthology series is as creepy, sexy, and totally gross as ever — all just in time for Halloween. The latest chapter in Ryan Murphy's spookfest introduced us to a whole new cast of characters in the mysterious Hotel Cortez in Los Angeles. And so many of these new faces would make perfect American Horror Story: Hotel couples Halloween costumes. The show is pretty much made to be celebrated during Halloween with blood-loving, chilling pairs and vampires who have an elaborate fashion sense — The Countess, anyone?
Like previous seasons, AHS: Hotel plays on our fears, our love of weirdness, and our threshold for shocking happenings. This time it all goes down at a hotel with a storied past and insane present, as well as plenty of quirky employees and guests who are totally unaware of the madness. The season has plenty of opportunities for on-point and on-trend costumes, especially when it comes to dressing up as a pair. If you and your loved one are ready to take the plunge with a couples costume, one from AHS: Hotel will titillate, mystify, and be the hit of any parade or party you hit up on All Hallow's Eve.
Here are some couples costume ideas from AHS: Hotel to spook up your Halloween.
The Countess & Donovan: That Blood-Loving (Ex) Couple
Get your freak on as Elizabeth and Donovan, who loved to lure couples into the hotel for sex and then drink their blood — well, that was while they were still together. But you and your love can keep that weirdness alive.
For the Countess, this crisscross-back maxi dress from Forever 21 gives you her glamour and you can dress it up with some your own jewelry. Follow the makeup tutorial below to complete the look. For Donovan, a simple black cotton shirt and black cotton suit pants pairing from H&M will do the trick — but don't forget the slicked back hair. The Countess and Ramona are also a good option for couples.
The Vampire Children: Simple, Yet Incredibly Creepy
Perfect for the couple who happens to have a blonde wig lying around and feel like dressing in black-and-white overalls. On the plus side, these kids live in a room filled with candy and Tetris. On the other hand, they eat flesh and blood, so...
Black Over Knee Socks, $13, H&M
What you'll need: Fish a black sweater, white shirt, black shorts, and knee-high black socks out of your closets. Or, get 'em from H&M: The white stretch shirt, black cotton shorts, black fine-knit sweater, and black over-knee socks. And don't forget to munch on some candy and play some old school games on your phone.
Detective John & Doctor Alex Lowe: The Normal Couple In The Madness
Feel like playing it straight and merely reacting to the weirdness around you? Then may I suggest dressing up as the nice unsuspecting couple Alex and John who get the Hotel Cortez thrust into their lives — and just happen to find their kidnapped son among the creepy vampire children inside.
White Doctor Coat, $20, Halloween Costumes
You can pretty much dress as usual, but make sure to add in a black trench coat for John and a doctor's coat for Alex to reflect their respective professions. HalloweenCostumes.com has a white doctor's coat and a black trench coat comes with the costume for adult secret spy — close enough, right? Don't forget to scream "Holden!" a lot and chase after what you think might be your dead/kidnapped blonde vampire son.
James Patrick March & Miss Evers: Til Death Do Them Part
Go 1920s retro by embodying the couple who started the horror at the Hotel Cortez. As Mr. March, one of you can be the sadistic hotel owner and Miss Evers compliments him as his ever-so-loyal laundress. Together, they were never romantically in love, but they did die with each other. You can let them live on this Halloween.
Black Zoot Suit, $50, Halloween Costumes
For Mr. March, this '20s suit from HalloweenCostumes.com will certainly, ahem, suit his sophisticated, yet murderous look. As for Miss Evers, a regular maid's costume will do — and that's actually hard to find in the sea of "sexy maid" costumes, which frustrates me about our society. Ultimately, this maid's costume, also from HalloweenCostumes.com, is the most realistic option.
Just don any of these costumes on Halloween to ensure that you and your significant other are the creepy highlight of the night.
Images: Suzanne Tenner, Frank Ockenfels (2)/FX; H&M (6); Forever 21; HalloweenCostumes.com (4)