When Is The Frappula Frappuccino Available?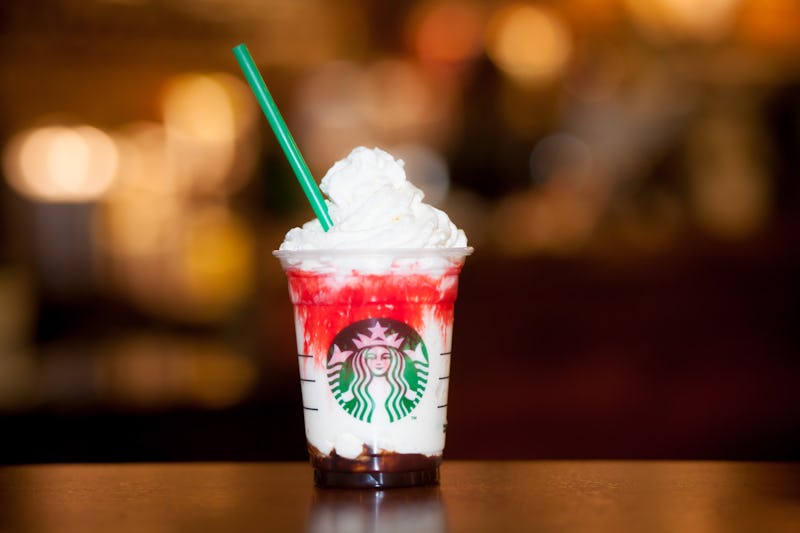 Move over pumpkin spice latte — there's a new seasonal Starbucks drink in town. And, while I'll always be loyal to the pumpkin deliciousness of my PSL, I'll be the first to admit that this new, spooky drink looks positively decadent. So, if you're in the same boat as me, you might be wondering when is the Frappula Frappuccino available? Let's examine what we know, shall we?
First things first, though, what exactly is in this festively mysterious beverage? Well, the magic begins with a layer of gooey, chocolatey mocha sauce at the bottom of the cup, which is followed by a healthy dollop of whipped cream. Then, the main part of the drink consists of a white chocolate mocha Frappuccino. Of course, the spookiest touch is the Frappula blood at the top of the beverage, which is created by lining the inner rim of the entire cup with delicious red raspberry sauce. The whole thing is then topped by another dollop of whipped cream — because you can never have too much whipped cream. And, because it's a Frappuccino, it's obviously served nice and cold, making it a refreshing alternative to your beloved PSL.
Basically, the Frappula Frappuccino ends up looking like a big, tasty, oozy mess of a drink, and I can't wait to try it. But, if you think you'll be able to get your greedy little paws on this beverage whenever you want, think again. You can only savor the deliciousness of this chilling drink for a limited time.
That's right, the Frappula Frappuccino is only available from Wednesday, Oct. 27 through Saturday, Oct. 31 at participating stores in the United States. Canadians, you're in luck. You can sip this vampy beverage from Oct. 28 through Nov. 1. Some international locations? They'll be able to get it starting the week of Oct. 25. Aren't they lucky?
And, those of you with dietary restrictions rejoice! The Frappula Frappuccino is super customizable. If you're one of those people who can't tolerate too much caffeine in your system? There's no need to worry. The Frappula has only five milligrams of caffeine, which is equivalent to a cup of decaf coffee. And, if you're in need of a little extra kick, you can always add a shot of espresso!
So, what's the moral of the story? You need to act fast if you want to enjoy this creepy, seasonal drink. And, you might as well pick up two or three at a time. Because, much like the PSL, you already know you'll miss it desperately when it's gone.
Images: Courtesy of Starbucks, Giphy