Serial Killer Richard Ramirez Joins 'AHS: Hotel'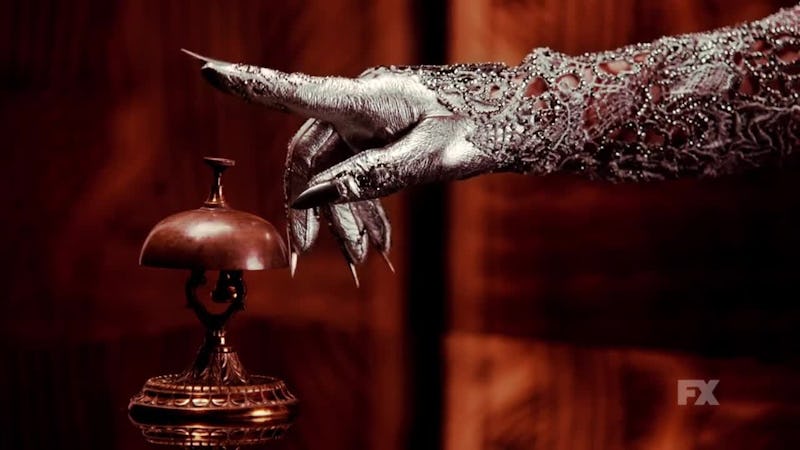 The most unsettling thing about the new season of American Horror Story has nothing to do with blonde vampire children, monsters under (and sometimes in) the hotel beds, or even the crimes of the 10 Commandments Killer. No, the creepiest thing has to be the fact that so much of it is inspired by real-life crimes. American Horror Story: Hotel is borrowing heavily from actual serial killers, and that includes giving them fictional counterparts. Evan Peters is playing a character inspired by H.H. Holmes, a hotel owner who created his very own house of horrors, while Lily Rabe will join the cast as Aileen Wuornos, the serial killer who inspired the Oscar-winning film Monster. Now we are getting yet another murderer: Richard "Night Stalker" Ramirez will check into the Hotel Cortez, and there's plenty of reason to be terrified at this development.
According to the trailer, Ramirez will appear in Halloween episode "Devil's Night," and seems to be joining a slew of other killers for a murder-y dinner party. The real-life inspiration behind this character certainly makes him right at home with the others at the table. Ramirez was convicted in 1989 of killing 13 people, and sexually assaulting and robbing many more. Ramirez was reportedly a Satan worshipper, which he became after allegedly being encouraged by his older cousin, a war veteran who supposedly would show him gory images of people he murdered or raped while stationed in Vietnam. Ramirez began his crime spree in California in 1984, where he would burglarize homes and then assault, torture, and kill its residents. The details of the crimes stomach-churning and brutal.
Though he began his spree in Los Angeles, where he was dubbed the "Valley Intruder," he eventually made his way to San Francisco to evade police. After killing in the same manner, sneaking into people's homes at night, he was dubbed the "Night Stalker" by the press. He was eventually captured after stealing a car and leaving fingerprints on the vehicle, and convicted on 13 counts of murder, 5 attempted murders, 11 sexual assaults, and 14 burglaries. He died in 2013 while in prison.
What connects Ramirez to American Horror Story: Hotel may be more than just his brutal criminal history. Ramirez actually used the Cecil Hotel in downtown Los Angeles as his residence during a chunk of his crime spree. The show's Hotel Cortez is reportedly loosely based on the stories of the Cecil Hotel, which was the home of not only Ramirez but also serial killer Jack Unterweger.
Ramirez's story has quite the place in the American Horror Story universe — once again, real life is just as creepy as fiction. If serial killer lore is your thing, then "Devil's Night" can't come soon enough.
Image: FX