The 'Ridiculous 6' Trailer Is, Well, Ridiculous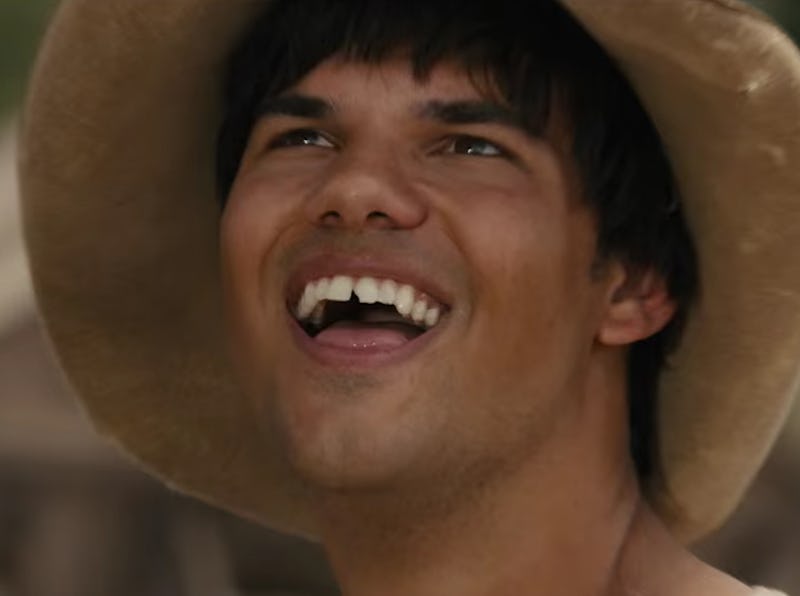 I've got good news and bad news. If you miss seeing Taylor Lautner on the reg since the conclusion of the Twilight franchise, the actor is back! However, you've never quite seen him like this before. Lautner is pretty much unrecognizable in the first trailer for Netflix's upcoming movie Ridiculous 6 . According to Just Jared, the movie centers on "Tommy 'White Knife' Stockburn (Adam Sandler), who when his long-lost outlaw father returns, goes on an adventure-filled journey across the Old West with his five brothers."
If you need proof that this is a totally new kind of role for Lautner, look no further than his chipped front tooth or his thick accent. The Twilight actor appears alongside a pretty impressive star-studded cast that includes Harvey Keitel, John Turturro, Nick Nolte, Blake Shelton, Whitney Cummings, Steve Buscemi, Rob Schneider, Dan Aykroyd, Will Forte, Nick Swardson, Terry Crews, Jon Lovitz, Vanilla Ice, Luke Wilson, Steve Zahn, Danny Trejo, Chris Parnell and Lavell Crawford.
While the movie doesn't land on Netflix until December 11, you can catch the first trailer for Ridiculous 6. In case you aren't sure if the movie earned its title, just soak in all the ridiculousness for yourself.
1. This Stunt
OK, this is also really cool.
2. This Shot Of Taylor Lautner
Like we've never seen him before.
3. And This Stunt
Ow. Just... ow.
4. When We Meet White Knife
Oh, hey, Adam Sandler.
5. The Unlikely Heroes
This gives a pretty good idea at what we can expect.
6. This Acrobatic Move
He makes it look so easy.
7. This Action Moment
I might have ducked.
8. This Romp In The Water
No idea what's going on here, but it definitely fits in with the ridiculous theme.
9. This Stunt Fail
Another "ouch" moment.
10. This Insanely Long List Of Cast Names
So many huge stars.
11. Once Again, Our Unlikely Heroes
They're about to shake up the Wild West.
You can catch Ridiculous 6 when it hits Netflix on December 11.
Images: Netflix (screenshot); Netflix (11)