How To Recycle Your Prom Dress On Halloween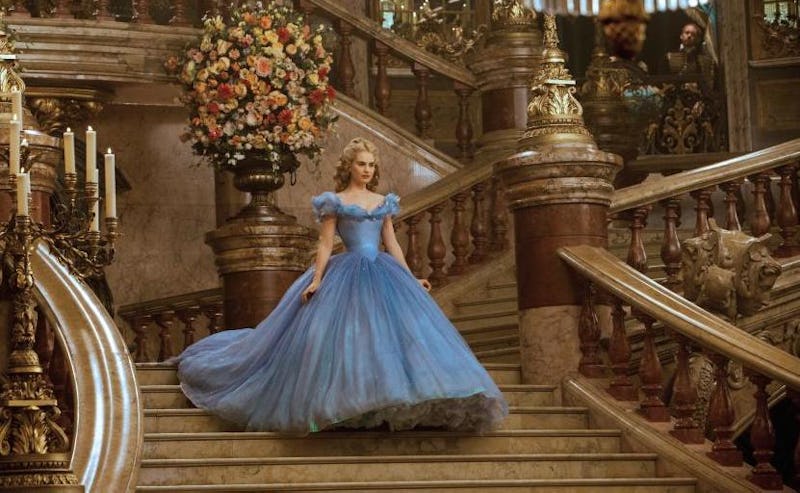 Even if you went to more than one dance in high school, chances are, you only wore your favorite prom dress once. Such a shame for something you loved so much, right? Like a wedding gown, prom dresses are just one of those things that generally only see one use, despite the time and effort (and money) that went into choosing it. That is, unless you repurpose it for the one day a year that you get a free pass to dress up in whatever you like. Here are seven ways to use your prom dress in a Halloween costume.
Whether it's just hanging in your closet as a keepsake or you haven't gotten around to selling or donating it (guilty... it's not like I haven't had years to get it done or something), it's probably time your dress sees the light of day (or night.) There are lots of ways to recycle any formal dress — and many of them involve crowns or wings, so it's the perfect excuse to live out your royal fantasies for a day. Short and long dresses both give you options, and there's a choice for almost every color if you get creative enough.
Here are seven ideas to consider if you're under a last-minute costume time crunch:
Glinda The Good Witch
(Click here to shop the items via Polyvore)
If you wore a light pink dress, a Glinda the Good Witch costume from The Wizard Of Oz is a unique but classic costume idea. Grab a pair of fairy wings, a tall crown, a scepter or a wand, and voilà. Even better? Grab a friend to be your Wicked Witch of the West sidekick.
Disney Princess
(Click here to shop the items via Polyvore)
The best part about being a Disney princess for Halloween? There's pretty much a character for every dress color. Wear yellow for Belle, light blue for Cinderella, mauve for Rapunzel, dark pink for Sleeping Beauty, or green for Tiana. Just add princess-specific accessories, like a crown, a long blonde wig, or a black velvet choker (Disney fans, you know which one's I'm talking about.)
European Royalty
(Click here to shop the items via Polyvore)
If you're not into Disney princesses, why not go as an actual princess? If your dress was elegant, understated, and classy, channel your inner Kate Middleton (or the royal of your choosing) on October 31. The accessories are important, yes (you can't go wrong with a simple tiara), but no princess is complete without a flawless manicure, an elegant updo, and a winning smile.
Toddlers In Tiaras
(Click here to shop the items via Polyvore)
Time to start practicing your temper tantrum and your pageant wave. If you wore a short prom dress, just add ruffled socks, mary jane shoes, a pagaent sash, and, of course, a tiara. Don't forget to curl your hair in tight ringlets and apply some serious stage makeup.
Zombie Prom Queen
(Click here to shop the items via Polyvore)
This is a great one if you don't care about keeping your prom dress in good condition anymore. Haphazardly create a few rips on the dress and a prom queen sash, and splatter them with fake blood. Spooky-glam zombie makeup ties the look together.
Undead Bride
(Click here to shop the items via Polyvore)
Or, as Lindsey Lohan called the look in Mean Girls, an "ex-wife." Assuming you don't have a wedding dress on hand you can trash, break out your white prom dress and splatter it with red paint, like the zombie prom queen. Grab a veil, apply a scary zombie makeup look, and muss up your hair (like Cady's wig.)
Fallen Angel
(Click here to shop the items via Polyvore)
This costume works best with a white prom dress as well, but it'll will work with any light-hued gown. Borrow someone's sling, slap on some band-aids, and add some small scratches on your face and arms with a red lipliner pencil. The finishing touch: angel wings, of course. Did it hurt when you fell... you know the rest.
Image: Walt Disney Studios