The Easiest Way To Get Your Zombie On This Oct. 31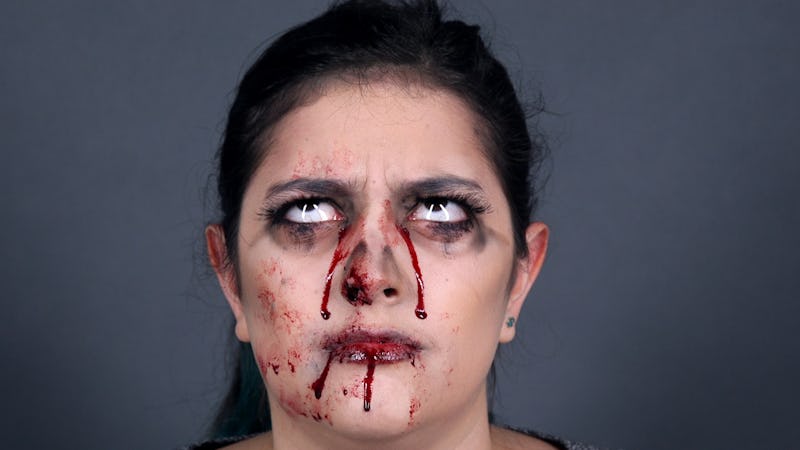 This year, it's not good enough to just have a creative, topical costume. You need the zombie version of that creative, topical costume to really blow people away. Which, of course, means you need to pull off some easy zombie makeup so everyone knows you're the undead version of Kim K, not the lame living and breathing version from 2014.
So, from the tattoo'd hands of Nick Lujan, MAKE UP FOR EVER Managing Educator,here's a handy guide for getting seriously spooky zombie makeup without spending hours in front of the mirror pre-Halloween shindig. After prepping your face with your favorite foundation (because a good base is the key to amazing gory makeup), it should take less than five minutes to smudge on shadows and drip away with that fake blood. Oh, and it turns out that the key to a good zombie face is good contouring — even more proof that zombie Kylie Jenner is actually the ultimate costume idea.
If this isn't scary enough for you, try adding a gaping wound effect to your forehead or cheek. Getting turned into a zombie ain't pretty, y'all. Check out the clip below for a step by step, then subscribe to Bustle's YouTube channel for even more creepy videos.
Products Used: MAKE UP FOR EVER Ultra HD Stick #Y225; MAKE UP FOR EVER HD Microfinish Powder; MAKE UP FOR EVER Artist Shadow #M-540, #M-500, and #M100; MAKE UP FOR EVER Aqua Black ; MAKE UP FOR EVER Thick Blood; MAKE UP FOR EVER Coagulated Blood