33 Things I Noticed Re-Watching 'Addams Family'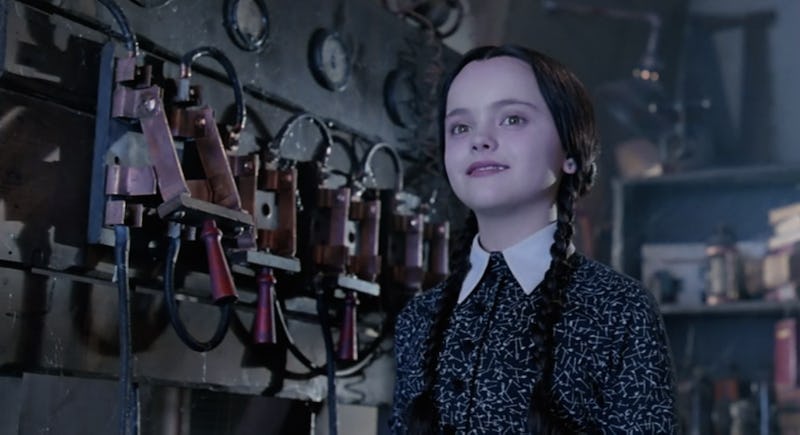 How much do I love The Addams Family? As I type this I am prepped to celebrate Halloween, with braids plaited in my hair, a Peter Pan collar at my neck, resting bitchface on, and a box of Merlot in the kitchen. There was no doubt I would rewatch The Addams Family to celebrate All Hallows' Eve. And there's no reason you shouldn't do the same; it's very nearly the best Halloween film of all time. Plus, when you get older, you really start to notice certain things about the Addams and their ilk.
The Addams Family is a flawless film. I mean, I forever aspire to be like goth feminist queen Morticia Addams. So don't worry; I'm not here to mock the film outright. I'll be focusing on some truly enlightening realizations that come along with rewatching this film as a grown-ass woman. Mostly. I mean, the snark always finds a way to bubble to the surface.
To recap, the movie follows a "fake" Fester Addams and his "mother," who are trying to swindle the Addams out of their fortune. That's all you need to know, and if you haven't watched the film by now, that is your own failing.
So sit back and enjoy this chronological documentation of all the thoughts you will most certainly have when you rewatch The Addams Family.
1. While It's Indisputable That These Pasty Carolers Are Annoying, It Doesn't Explain Why They're Caroling The Wrong Way
Typically you carol to people, and we know the Addams' family has a (rather hungry) gate, so this is just absurd musical trespassing.
2. Huh, The Cuckoo Clock Features Gomez Kissing Morticia's Boobs
And Pugsly hanging Wednesday, but one thing at a time.
3. Oh Look, Just Like How I Wake Up Every Morning
Elegantly poised and red lipstick finely lacquered.
4. Ooooh, And Check Out The Perpetual Glow Around Morticia's Eyes
Always such a radiant dark angel.
5. This Woman's Hair Is Just Entirely Rounded Out
I realize considering the overall aesthetics in this film it's a weird thing to nitpick about. But seriously, guys. Seriously.
6. The Horrifying Truth About The Addams? They're Hoarders
"Uncle Niknak's winter wardrobe."
"Uncle Niknak's summer wardrobe."
"Uncle Niknak."
7. DOC BROWN, WHAT HAPPENED TO YOU?
Great Scott!
8. Ah, Television Reception In The '90s
9. OK, Grandmama Pranks Margaret By Pretending To Rip Off Her Hand, So She Does Realize That They're A Little Unconventional
It just seems like Wednesday is the only one who capitalizes on their natural fear factor, while Gomez and Morticia seem blissfully unaware of it.
10. Fester's Alma Mater Is ... Alcatraz Prison?
And what, he got his Masters at the Desert of Maine? What even is the Desert of Maine? (UPDATE: Apparently, it's just a big plot of sand in Maine.)
11. YOOOOOOOOO, THE ADDAMS FAMILY IS LOADED
At one point, Gomez throws down a million dollar donation, so you're reminded of this early on. But look at the mini palace they have for their doubloons.
12. Yeah, No, That's An Accurate Depiction Of Wine Night
"Wine Wednesdays with my brother from another mother! #LoveYouGomez #BFF #WineOClock #BoysNightIn #TheNotebook"
13. Wait, Do Bejeweled Finger Traps Exist?
Google says "nah," but I don't know if I believe that.
14. Anyway, They're Pretty Much Banging In The Auction House Here
Yeah, something about throwing $30,000 on my own fingertip really gets me in the mood, too.
15. Fester Actually Makes His Recovery Rather Glaringly Early In The Film
You're not even halfway through before he's pretty much digging up old knowledge from that shiny bald head of his.
16. This Is Pretty Much Just A Long, Brown, Addams Family Equivalent Of Those Juicy Couture Tracksuits From 2005, Right?
Right?
17. Oh Great, I Was Wednesday Addams In Middle School
Everyone's writing about who they look up to...
And she's writing about her Great-Aunt Calpurnia who, and I quote, "danced naked in the town square and enslaved a minister."
This was basically the same as me writing all those "When I Grow Up, I Want To Be ..." papers on Courtney Love.
18. Margaret And Tully Have A Son, Whom I Don't Think We Ever See Again
I'll be watching The Addams Family Values again tonight to fact-check this, but I'm pretty sure Margaret (spoiler for a 25-year-old movie) shows up in the sequel with her and Cousin Itt's new furball baby. So aside from the frightening logistics of how baby What was conceived, this kid, whose father dies mid-film, just disappears from the canon.
Spooky.
19. How Real Is The Addams Family Watching An Elementary School Pageant, Tho?
Who hasn't done that collective of side-eyes?
Don't act like this wasn't you at your niece's ballet recital last week.
20. Cthulhu?
And here I thought my Lamb-Chop-themed bedding was cool.
21. What's With The Stone Sofa, Though?
Like, is it a grave? Is it just something to lounge around on?
22. Anyway, This Entire Sequence Implies That They Bang In The Family Graveyard
Wow.
23. This Juicy Couture Duster Seems To Have A Faint Pattern On It
Maybe it's his business casual outfit.
24. "Tish, How Long Has It Been Since We've Waltzed?" "Oh, Gomez. Hours."
I mean, whatever. I'll die alone.
It's fine.
25. There Is No World Where This Isn't Horrific
Nope.
26. Cousin Itt Listens To Rap, Even Though He Always Struck Me As a Jazz Guy
Strange.
27. If Only We Could Do This With All Of Our Ex-Lovers
28. This Movie Goes From Zero To Oedipus Really Fast
Like I know they're not technically related, but I don't have to feel comfortable about this, right?
29. The Addams Family Is Constantly Trying To Murder One Another, But They Get Freaked Out When Their Child Is Missing
I understand that they all love each other, but I'm just throwing it out there.
30. How Does Thing Read ...?
31. "I Only Like All-Natural Fruits And Beverages, Organically Grown, With No Preservatives"
Can't tell if this is hipster Sailor Moon or Harmony from Buffy the Vampire Slayer.
Or both.
32. So The Ending Of This Is All Very Oscar Wilde
Turns out he wasn't lying the entire time! It's basically The Importance of Being Fester.
33. This Is A Little Throwback To The Original Comics!
I mean, the entire film is peppered with throwbacks, but I love this one straight from the pages of my Charles Addams collection of New Yorker comics. Divine.
So if this hasn't convinced you to pop over to Netflix and relive the macabre magic, GO! Get your bottle out, and your braids ready!
Images: Paramount Pictures (40)