Deacon & Scarlett Begin To Heal On 'Nashville'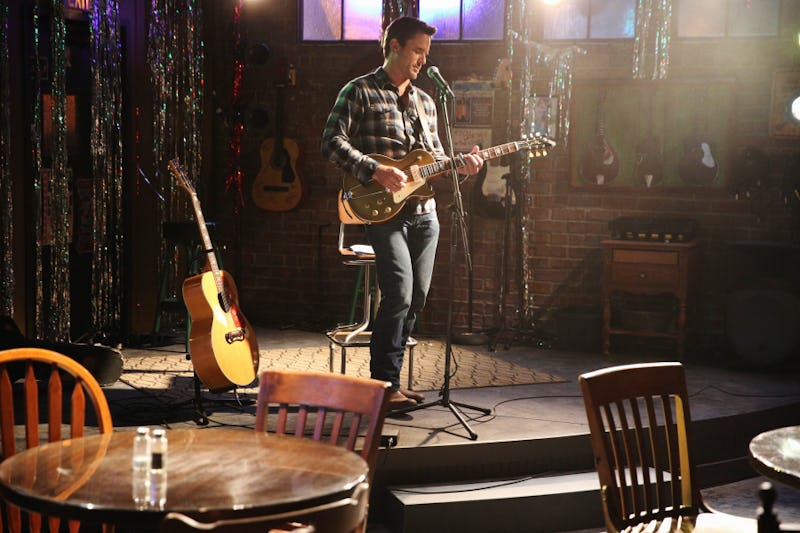 I don't think I care about Beverly as much as Nashville wants me to, but at least the storyline revolving around the death of Scarlett's mom and Deacon's sister has made their own relationship more interesting. Where we last left off, Deacon and Scarlett were slowly mending from their rift. Deacon had been resentful of his niece, who opted to take Beverly off life support, when he was hoping she'd make a miraculous recovery. Their resulting estrangement was brutally cold, but fortunately, the two have made amends, which was even more apparent when they visited Scarlett's Oklahoma hometown to clean out Beverly's stuff.
It turns out that Beverly sang at a bar every Sunday night for four years, and even Deacon and Scarlett didn't know. The bar was having a party in her memory, and Scarlett opted to sing at her memorial to honor her mother. The song was called "Curtain Call," and it was typically the last call that Beverly would sing in her set, so it was a very fitting and moving choice.
Going back to Oklahoma definitely acted as a sort of catharsis for Scarlett and Deacon. They both seemed lighter and happier when they left, knowing that Beverly was proud of them and not at all resentful of their success. At the end, Deacon called his Alcoholics Anonymous sponsor, who owns a bar, and suggested that he should buy into the bar and rename it "The Beverly." If I know Deacon, there will be plenty of live music there, which is a wonderful and thoughtful idea to carry on his sister's memory. Deacon's doing something with his life and Scarlett is going on tour with Gunnar — it finally seems like everyone on Nashville is slowly healing.
Image: Mark Levine/ABC