16 Clever Last-Minute Family Costumes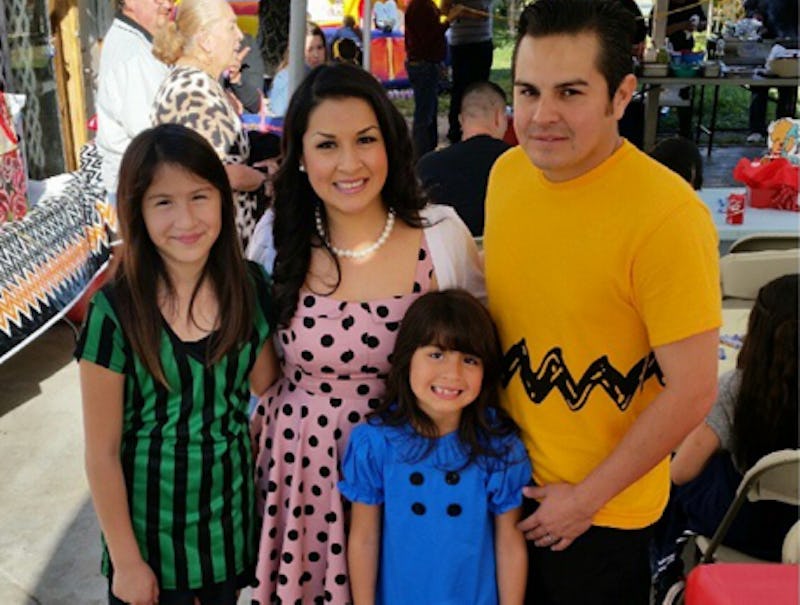 When it comes to Halloween, nothing is better than getting your entire family in on the fun. The best way to do this is with clever last-minute family Halloween costumes that everyone can be a part of. Aside from providing the ultimate bonding experience, you'll have some serious gram-worthy material. Besides, what's better than laughs, candy, and tons of picture-worthy moments?
Luckily, getting together a group costume doesn't have to be a huge fiasco. It all comes down to using simple supplies and basic techniques in clever ways. It also helps if the costume can be made with items from your own closet. This is where sharing between family members is key. And, as always, don't forget the power of Halloween makeup. It's amazing what just a few cosmetics can do for a costume.
To make the process less stressful, try not to focus too much on the gritty details. Instead, concentrate on the bigger picture. Because there will be multiple people involved, each person's costume will be able to play off everyone else's. As a result, the desired look will come together once you round up your entourage.
Not sure where to start? Have no fear, because this list is here. Happy Halloween!
1. Pumpkin Patch
Nothing says "Halloween" like a family of pumpkins from the orchard. To whip up these simple costumes, stick strips of green duct tape to orange t-shirts. Add jack-o'-lantern faces, and you're good to go.
2. Minions
Round up your family of minions with this super easy idea. Because each person can wear similar outfits, shopping will be a breeze. All you need is a yellow t-shirt, jeans, suspenders, and a yellow beanie or hat. Hot glue some black pipe cleaners, and top it off with a pair of goggles. Tutus optional, but totally encouraged.
3. Super Mario Brothers
Whether or not you're a die-hard video gamer, you can't deny the iconic awesomeness of the Super Mario Brothers gang. With a little innovation and creativity, you and your family can easily take this on.
Mario will need a red hat with an "M" logo, which can be created with felt scraps or paint. Grab a red shirt and some denim blue jeans, and you're all set. Princess Peach needs a flowy pink dress and a tiara, while Toad requires a blue vest over an all-white ensemble. Make the head piece with red felt circles hot glued to a white hat or beanie. Done and done.
4. Pokémon
Take it back to the '90s with a Pokémon-themed family costume. Misty will need denim shorts, red suspenders, and a yellow tank top. Don't forget the pigtails! Ash will need a blue vest, white t-shirt, and fingerless green gloves.
As for the adorable Pikachu? This costume is pretty easy to come by, but you can also whip one up with an all-yellow outfit and a felt tail. Don't forget to bring some Pokéballs with you.
5. Frozen
Rep your love for Frozen with a family costume inspired by this beloved movie. Take a tip from this adorable trio, and opt for embellished t-shirts and face makeup. Don't forget to practice your personal rendition of "Let It Go," too.
6. Madeline
Between the charming books and darling television show, how can you not adore Madeline? The French girl outfits with little yellow hats simply take the cake.
7. The Incredibles
Transform your family into a crew of superheroes by channeling The Incredibles. Instead of scrambling to find shirts in a full size range, cut up felt scraps and adhere them to plain red shirts. Bring in the black eye masks, and go kick some butt.
8. Burglars
This family costume idea is just oozing with adorableness. To recreate this look, the older family members should wear striped black and white shirts and black beanies. The youngest member will need a big green dollar sign on a dress or t-shirt.
9. Cinderella
Treat your little one like the princess she is with a Cinderella-themed family outfit. You'll need a prince, a peasant, and a blue gown to recreate this one.
10. Monopoly
Looking for something that can be made with inexpensive materials? This family has the perfect solution. With large poster board and a couple of simple drawings, you can transform your gang into the pieces of a Monopoly game.
11. Sushi
Families of foodies will adore this outfit. To take this one on, dress up the two parents in chef outfits. Turn the children (or puppies!) into sushi with an orange pillow strapped around the waist. To mimic the look of fish, add white stripes to the orange pillowcase.
12. 101 Dalmatians
When it comes to family costumes, you really can't go wrong with Disney movies. The legendary film, 101 Dalmatians, is no exception. The best part? Because there were technically 101 dalmatians, you don't have a limit on how many children can dress up as dogs. That is, of course, unless you decide to get 101 people on board.
13. Peanuts Family
Based on one of the most popular comic strips of all time, this family costume idea is just too good. It's nothing short of lovable, simple, and fun. Plus, each character's outfit can be recreated with easy-to-find clothes!
14. Wizard of Oz
For another family costume idea based on a legendary film, take on the characters of Wizard of Oz. This adorable trio chose to dress up as Dorothy, Scarecrow, and Cowardly Lion. If you need more characters, don't forget about the Wicked Witch of the West, Glinda the Good Witch, the Tinman, and Toto.
15. Thing 1 and Thing 2
For a quick and easy outfit, print out "Thing 1" and "Thing 2" logos, and adhere them to two red shirts. Dress your little one up in a black cat outfit, add a red bow, and a striped top hat.
16. Bubble Bath
I've said it before and I'll say it again: balloons are your best friend during the Halloween season. Not only are they inexpensive, but they are just way too fun. This darling family adorned themselves in white balloons ("soap bubbles") and dressed up their baby as a duck. Too cute.
For more Halloween ideas, check out Bustle on YouTube.