12 Cheap Costumes For You & Your Broke Squad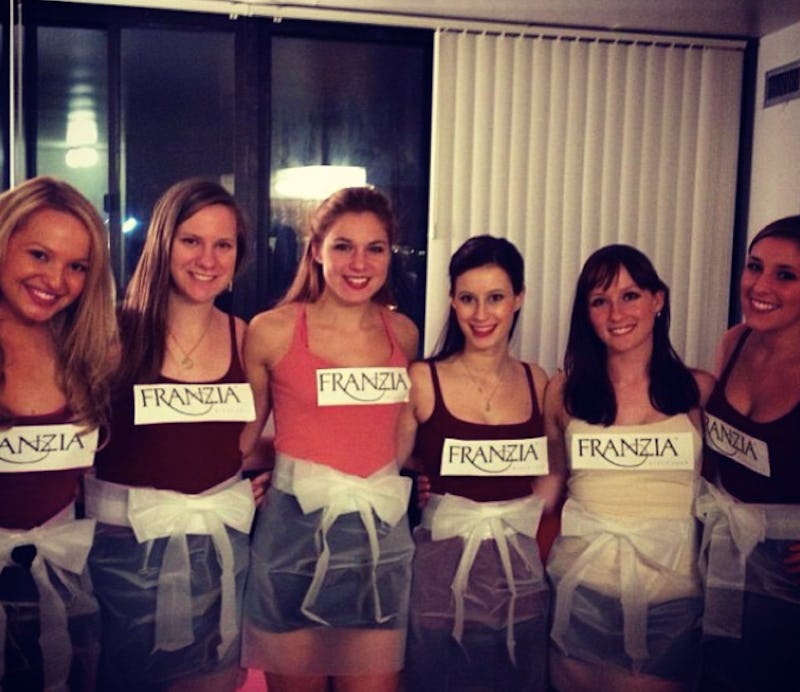 Let's face it, Halloween is kind of a pain in the butt. Not to be the October Grinch or anything, but it's a whole lot of hoopla for one holiday — nobody can blame you for wanting to decide on some cheap group Halloween costume ideas and calling it a night. The planning, the coordinating, the stressing over the costumes, the money spent, the mess made — all for a few hours in a dark room and one Insta that doesn't even show off the whole costume. And yet every year we subject ourselves to the chaos, mainly because it's impossible to avoid. Everyone is talking about it, all of the stores are advertising it, and despite the fact that you don't like the holiday, you've already taken a few "What Should I Be For Halloween?" quizzes and feel like there's no turning back now.
If you have plans, you won't want to feel left out and deal with people nagging you about your lack of spirit, so you'll have to pull something together. At least that way you won't have to come up with excuses or feel left out. And who knows, you might have a few drinks and decide you love Halloween. Weirder things have happened after a few drinks.
So if you're like me and you don't feel like digging through the lame remaining costumes at your local Halloween depot, and you have no idea what to do with the neon stockings, fake blood and fake eyelashes staring at your in the checkout line, here are a few costumes that are cheap and easy for you and your lazy squad!
Cards Against Humanity
You'll need: Cardboard, markers, string, and a bold, offensive attitude.
Revenge Of The Nerds
You'll need: Eye glasses, tape, knee-high socks, cardigan, and some major geek vibes.
The Cast Of Recess
You'll need: Dirty clothes, a backwards hat, some soil on your knees and cheeks and a messy hair-do.
Rock, Paper, Scissors
You'll need: Cardboard, paper, paint, markers and some safety gear.
The Seven Deadly Sins
You'll need: This is really a "dig through your closet" kind of costume. It will be more about the props. But, don't be this guy who wore a fat suit and called it gluttony — not cool, dude. Just walk around with an extra-large pizza, it's a win/win.
The Early Stages Of Miley Cyrus
You'll need: Miley was just the girl next door with a pair of cowboy boots in the early days. Jeans, a flannel, some boots and braids should do it.
The "Shake It Off" Video Outfits
You'll need: This might involve some potluck sourcing. Between you and all your friends you'll be able to fish out some video looks.
Naughty Nursery Rhymes
You'll need: Go to the fridge, take out an egg, boil it for safety, take it to the party and gyrate with it. Humpty dumpty, boom.
Kardashians Klan
You'll need: Sexy vibes. Get your contour on. Show off your curves. Maybe over-line your lips if you're worried no one will know who you are.
Three Blind Mice
You'll need: A head band with glued on paper or fabric ear cut outs, grey sweat suit, sunglasses.
Life & Death
You'll need: White tee shirt, permanent market, friends.
You Are What You Drink
You'll need: Cut the label off an empty box of wine, pin it to your shirt. BAM!
Images: alyssamill22/Instagram