7 Last-Minute Makeup Tricks For A Witchy Look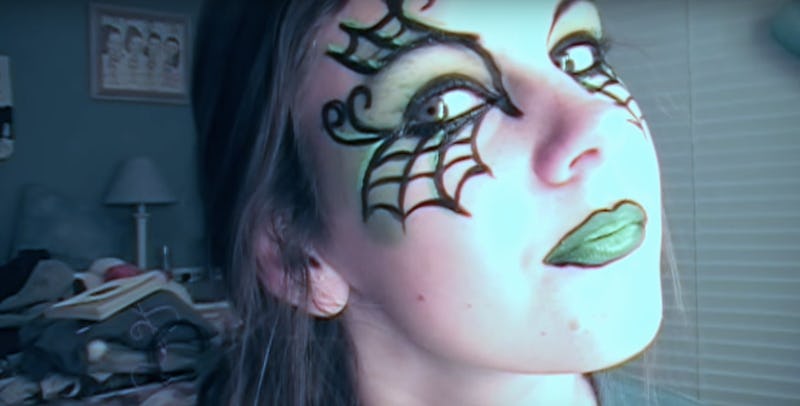 Luckily, when you need to do anything from scare your friends at an All Hallow's Eve Party to pop a dislocated shoulder back into place (don't ask), there's an online video for it, so there is no shortage of super easy witch makeup tutorials to give you some much needed inspiration, along with step-by-step instructions (and a pause button). Because, if you're anything like me, you haven't figured out your costume yet, even though Halloween is just days away — and let's be honest, the parties have already been in full swing for the past couple weekends! But on the other hand, if you're anything like me, you're kind of already a witch, like, in general, so you figure you just might roll with it.
Some of my favorite YouTubers had some really great ideas for makeup, and while some of them are full-on looks, a lot of them include elements that you could mix-and-match.
Read on for some makeup ideas that will strike fear into your foes — and your pillow cases, because if there's one night of the year that you must remove your makeup, it's Halloween (especially if you're wearing one of these looks).
1. Purple-Tinged Brows Like Maleficent
Honestly, I would wear this look on a regular basis. It's pretty badass! YouTuber Meredith Jessica shows you how to start with a purple brow gel and slowly work in some deeper shades of black for a super angular look that will give you that Maleficent look.
2. Wow-Worthy Baroque Brows
Makeup17jam shows us how to achieve this look, which is something like a cross between Black Swan, Wicked, and A Clockwork Orange. But seriously, it packs so much impact that you don't even really need much of a costume; everyone will be so impressed by your steady hand (although it might be even scarier if your hand is less than steady) that they won't even wonder why you're wearing jeans. I also love that she chose Evanescence as the background music for this tutorial. Totally perfect!
3. Subtle Spiderweb Eye
This one is actually more like Alex from A Clockwork Orange but it's also a look that you could theoretically paint on and still grab dinner before the party without causing too much of a ruckus. The important thing to note here is to apply plenty of foundation first, and blend it adequately. This will keep the fine lines of the spider web design from running too much. Yesse Ruiz uses liquid eyeliner for hers, which is perfect — no last minute party supply store runs!
4. Dark Lips Like The Craft
One hundred percent yes. This movie proved that not all witches have to have green faces; some are just high school mean girls. Anyway, the important thing to note here is the major impact that lips have, so if you have time for nothing else, make sure to at least rock an attention-grabbing lip, like the multi-layered look that SmashinBeauty shows us.
5. Jeweled Eyebrows
Karla Menjivar looks ferocious in every sense of the word, but jeweled eyebrows like the ones from her video can go the "Nice Witch" way, too. She brushes on some light adhesive — she doesn't show us which one, but you can try "spirit gum," which actors use, or eyelash glue, or you could use stick-on jewels, instead — and applies each crystal with a tweezer. Note to self: This could also work as a Gwen Stefani-circa-No Doubt costume.
6. Fake Tears Of Blood
Even though TheEmanueleCastelli rocks this with an immaculate evening eye, you could pair fake blood with any old makeup look for an instant fear-factor. Just dab it on right underneath your lower lash line and let it run a bit. Don't make it too uniform, though — use the applicator tip to streak it a bit like in the video.
7. "Girl Next Door" Witch Like Zoe from AHS Coven
Because "coven" is the new "squad." Once you've mastered this look for Halloween, you pretty much have a makeup routine for the rest of Autumn! Start with primer, then brush on foundation, fill in your brows, and apply some glittery shadow. Finish with a quick swoop of eyeliner, then curl your lashes, and add a hint of rosy blush to really emphasize the "Who, me? I wouldn't hurt a fly!" factor that some of those Coven girls had. A hat and oversized sunnies complete the look.
Want more beauty tips? Check out the video below, and be sure to subscribe to Bustle's YouTube page for more hacks and tricks!
Image: Screenshot/YouTube