These Are The Coziest, Cutest Sweater Dresses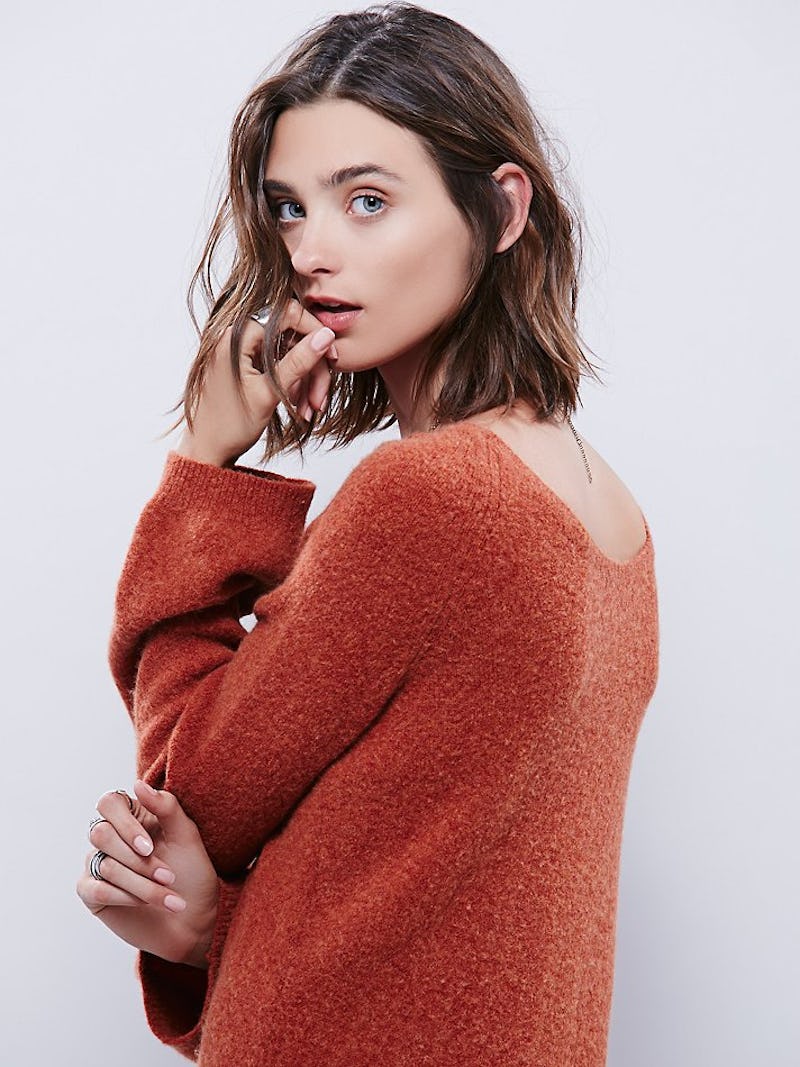 At this point, I'm basically declaring it as a universal truth that cozy sweaters are the only redeeming things that come with cold, winter weather. So naturally, the only thing better than a sweater is a sweater dress. Because why wrap just your torso in knitted warmth and security when you can wrap your whole body in it? Especially if you're not ready to give up the summer dresses just yet, sweater dresses won't sacrifice warmth for style.
I know what you're probably thinking: Umm... it's still a dress so it's still going to be cold. And sure, maybe some thinner or sleeveless sweater dresses would still be a little chilly. But not these babies. All 10 of these dresses are made from thicker knits, have longer sleeves, and even have higher necklines. And of course, they're still totally cute. So whether you like form-fitting or oversized dresses, or minis or maxis, get ready to fall in love with these sweater dresses. If it's still not enough sweater for you? Just pair any of these numbers with sweater tights and maybe some other sweater accessories and you can have a whole knit-outfit. It doesn't get any better than that.
1. Cowl Neck
A cowl neck is basically a built-in scarf, and can make any dress instantly cozy.
Mossimo Supply Co. Cowl Sweater Dress, $30, Target
2. Maxi
You won't even remember it's cold outside in an ankle-length sweater dress.
Vince Camuto Turtleneck Sweater Knit Maxi Dress, $129, Nordstrom
3. Flared Sleeves
The wool makes it warm. The flared sleeves make it chic.
Misty Sweater Dress, $168, Free People
4. Graphic
Not only is this graphic sweater dress warm and cozy, but it's also totally office appropriate.
T Graphic Sweater Dress, $50, Target
5. Slouchy
Just try not to cuddle up in this heavy knit dress. It won't be possible.
Deal With Knit Sweater Dress, $68, Nasty Gal
6. Chunky Knit
Even a mini dress is warm when it's a chunky sweater.
Mossimo Supply Co. Cable Chunky Sweater Dress, $25, Target
7. Fit and Flare
Gotta love a good fit-and-flare.
Calvin Klein Marled Cowl Neck Fit & Flare Sweater Dress, $128, Nordstrom
8. Chevron
Perfect for day-to-night.
Sweater Dress, $50, Target
9. Oversized
The oversized silhouette of this dress makes it so snuggly. Plus it has pockets. I think I'll just live in one for the next six months, thanks.
Marina Maxi, $225, Free People
10. Hi-Lo
A mock neck and thick knit will keep all the warmth in.
Native Youth Twist Yarn Sweater Dress, $75, Nordstrom
Yep, I'm done relying on pants to keep me warm.
Images: Courtesy of Brands