'Ash vs Evil Dead' Goes Up Against A Living Threat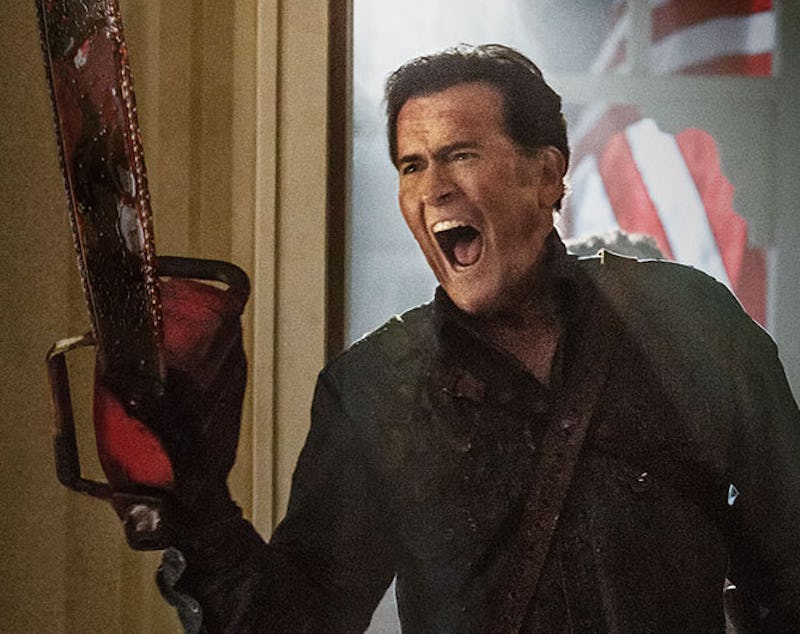 Finally, the return of a beloved cult classic story, complete with our beloved cult classic hero. The new Starz series Ash vs Evil Dead premieres on Halloween, and Evil Dead fans certainly won't be disappointed. In addition to the return of Ash decades after we last saw him in Army of Darkness, we get those wonderfully horrifying Deadites and all the violence, blood, and insanity that we've come to expect from the series. But what else can we expect from Ash vs Evil Dead ? According to the cast and creators, there will be plenty of opportunities for Ash to continue being his immature, incredible self, and fans will spend some time getting to know him in 2015, though it turns out, not much has changed.
"That was more to just show where Ash is when we pick up," showrunner Craig DiGregorio says in an interview with Bustle. "Thirty years since he read the book, he's been trying to escape basically running by standing still. He lives in a trailer park and does nothing and just has one-night stands and hasn't learned anything and hasn't progressed in his life... So you know, the job of this season was to sort of progress that character by like 3 percent or something. Because he's never gonna really grow as a person and become an adult."
For DiGregorio, that was part of the appeal of Ash vs Evil Dead, because he explains that while there are many "man children" on TV right now, most are younger and eventually settle down. Ash is another story completely. "This guy stuck to his plan, like he never grew up at all," DiGregorio says. "He's still just a f*cking idiot and very selfish and doesn't have anyone to turn to and he's never had a real relationship. So in a way, it's kind of amazing ... and also it's sad. So you pick up with a man who's really, extremely happy with himself, but in the saddest possible life, which speaks to his ignorance and how dumb he is. How fun of a character it is, to write this guy who believes that he absolutely did the right thing and everyone else is wrong."
Aside from Ash however, there are a whole slew of new characters entering the Evil Dead world that fans can look forward to meeting in Season 1, including Ash's new partners Pablo and Kelly, played by Ray Santiago and Dana DeLorenzo. The trio are together throughout most of the season, and as fans will realize, there is so much more to Pablo and Kelly characters than it may first appear .
"Ash is the captain of the ship, but both of our characters bring something and they each can hold their own, which I think was a really brilliant job by the writers that we are Team Ash, but also individual characters that can kick some ass," DeLorenzo says, before teasing, "And it gets real intense, just wait for it!" Santiago, meanwhile, thinks they'll become even more important down the line. "Because let's face it, Ash is doing pretty well right now, but give him 10 years and we're gonna be wheeling him around," he jokes. "We're young and supple."
Pablo and Kelly will certainly have some time to bond as the season progresses, but is there a romantic element to their story? Anything is possible, if we go by Pablo's feelings, but for now, it seems building the duo's friendship is the most important first step, both on screen and off.
"Our chemistry comes out onscreen because Kelly and Pablo are best friends, they protect each other fiercely," DiLorenzo says. "And they compliment each other, you know? Kelly makes him a little tougher, he makes her a little softer. But also there's another interesting element..." Santiago then picks up where she left off, saying, "Which is that we are kind of like a family unit, but I've gotta say, I've never looked at my sister the way Pablo looks at Kelly. And I think that Pablo having come from Honduras and being in this country, he has this idea of the American Dream and how he wants to live it, and wears his bomber jacket and has the girl on his arm. And she is not making it easy for him."
According to DiLorenzo, this lack of romance is mostly because Kelly has so many walls up. She has been through a lot before the series begins, and as viewers will see in the pilot, she has even more to deal with when the Deadite war begins again.
For everyone on Ash vs Evil Dead, however,the Deadites won't be the only threat. Lucy Lawless joins the series as Ruby, and she says that the show needs to set up a few things beyond the pilot before her story as the "antagonist" can be properly unraveled. "I'm the irritant of the show," the actress says, which is especially intriguing, because, unlike most of the other characters in the series, Ruby's genealogy can be traced back to the Evil Dead trilogy.
Her character enters as someone who is attached to the mythology of the whole show," DiGregorio says of Ruby. "She's a Knowby, Professor Knowby found the books, it was his family from the cabin. So she's already encountered a lot of what Ash can do. She basically thinks that Ash murdered her whole family. So she comes in presenting as that, or enters as that, and then you find out more about what her characters has been through these past years."
So while Ash, Pablo, and Kelly are road-tripping across the country fighting Deadites, know that Ruby will be following close behind them. Maybe going up against on Ash vs Evil Dead this season will bring out a new side of Ash, and give Kelly and Pablo a chance to show just how badass they are.
Images: Starz (4)