'Ash vs Evil Dead' Adds Badass Women To The Story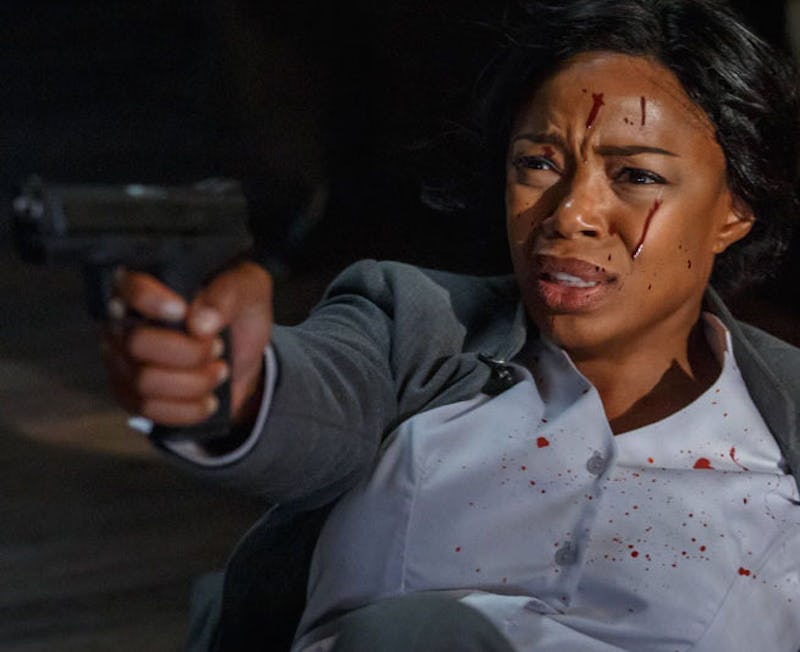 Hollywood is still lacking when it comes to creating complex, leading roles for women in television and in film, but one new series bucks that worrisome trend. Though it may be surprising, Starz's new series Ash vs Evil Dead is filled with dynamic female characters. While the show, based on Sam Raimi's Evil Dead films, obviously follows the titular Ash once again as he fights Deadites 30 years after his last war, it also features three really powerful leading ladies, all of whom have interesting backstories and are integral to many aspects of the show. For Ash vs Evil Dead showrunner and executive producer Craig DiGregorio, adding female characters alongside Ash was basically a no-brainer, as the focus was on the story and how the characters contributed to it, not their gender.
"I guess in my head, it wasn't a thing of having strong men or strong women, it was more of telling a fun story, and the way it progressed was having these strong characters," he says in an interview with Bustle. "I should probably say 'yes, we really wanted strong women and strong men.' I just think it was about telling a good story and that was where it ended up. I'm not gonna shy away from saying that there are fun female characters, and all shows should have that." DiGregorio believes that actors should be hired simply because they're right for the job, and let the story progress from there. And when it comes to casting for Ash vs Evil Dead, he certainly hit the jackpot with Lucy Lawless, who echoes his statements on the show's strong women.
"We don't think of it either, they just cast that way. It's not written, 'Oh she's a strong woman'" Lawless explains, adding that the characters could've been played by someone who is "strong in a completely different way."
Surprisingly, Lawless' Ruby was actually difficult for the writers to create, despite being the character most connected to the Evil Dead franchise, aside from Ash himself. "Her story was the hardest one to tell this season, because there's some stuff that you dole out very slowly, and it was really hard because you don't want to give too much away at first," DiGregorio says. "But she does kick a lot of ass and she is a fun character, but that was a hard story to tell." He also says that if Ash vs Evil Dead returns for a second season, her story will become a lot easier, and now we can all look forward to that, as Starz renewed the show for Season 2 shortly before its premiere.
The original trilogy's director and Ash vs Evil Dead executive producer Sam Raimi agrees that Ruby was difficult to write, though he also reveals that he actually didn't like writing for a few of the other characters, simply because he loves working with Bruce Campbell so much. "My favorite part of Evil Dead is working with Bruce and writing for Bruce and following his story," Raimi says. "So it took a little grinding of my teeth and my brother's [writer Ivan Raimi] teeth."
Thankfully, DiGregorio and the Raimi brothers were able to create a world that is just as crazy as the Evil Dead franchise, with even more heart thanks to the new characters. As for the other women in the show, their storylines are equally as important as Ruby's. Kelly, played by Dana DiLorenzo becomes part of Ash's main crew alongside Pablo, her former co-worker at Value Stop alongside Ash. And while she may seem like just one of the teammates at first, Kelly actually has a lot going on under the surface. As we find out from the pilot, her mother has recently passed away, and things with her family go from bad to worse right as the series begins.
Then there's Amanda, played by Jill-Marie Jones, who begins the series as a State Trooper, but has to rethink her whole life after a run-in with a Deadite and a quick meet with Ruby. Lawless could not have been more happy about the casting of Jones, especially considering her opening scene introduces viewers to the actual horror part of this horror comedy series. "It was all in the casting, Jill is naturally going to sell that [fear] so beautifully," Lawless says. "When this tough cop is afraid, you know to be afraid."
Hopefully, we'll get to see these three women continue to develop and kick ass, well into Ash vs Evil Dead Season 2.
Images: Starz (3)