Will Charlotte Be Next To Die On 'PLL'?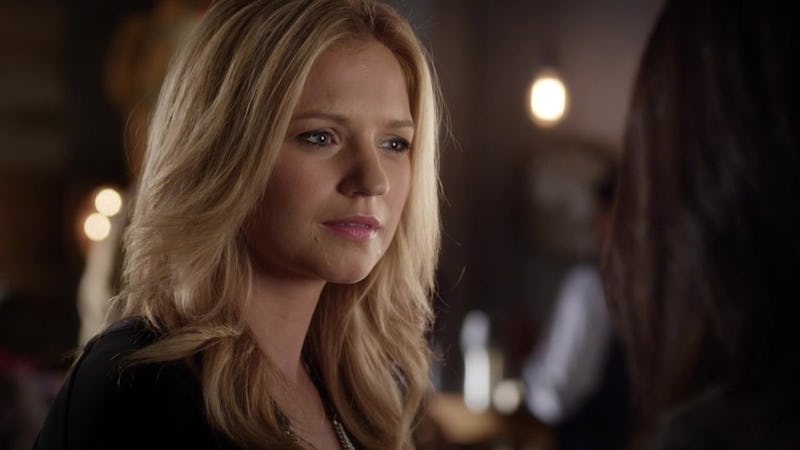 The Season 6A finale of Pretty Little Liars gave us the answer to a question that we never thought we would figure out: who is A? As fans know now, the answer to that is CeCe Drake, aka Charlotte DiLaurentis. We finally heard Charlotte's life story in the Season 6A finale, and it certainly answered some major questions about the extremely effed up DiLaurentis family. Now that Charlotte has hung up her black hoodie once and for all, it's time that Pretty Little Liars moves on to a new Big Bad — but Charlotte's story may not be done yet, because I have a theory that Charlotte might meet a terrible fate when Pretty Little Liars returns.
We know from the Pretty Little Liars Season 6B promo that Charlotte will be awaiting trial for her crimes against the Liars when the show picks up five years later. It's what brings the girls back to Rosewood: Ali wants them to testify on Charlotte's behalf and say that they are no longer afraid of the woman who locked them in a dollhouse for weeks. That may be what brings the girls back to their hometown after five years apart, but what keeps them there seems to be connected to something far grislier: A murder.
According to showrunner I. Marlene King's interview with MTV News, it's another death (shocking for Rosewood, I know) that is the catalyst for another A's quest for revenge against the liars. As King told MTV News:
"This Big Bad has an agenda, and it's to find out why this person passes away — and to seek revenge on the person responsible."
So, what makes it likely that this dead person is Charlotte, and not another character? There are a few clues that suggest it might be Big A who ends up in a coffin: The first is that, save for one scene with Ali, Charlotte does not appear in any of the promos — she is suspiciously M.I.A., especially considering she seems to still be in Rosewood. The second is that the first episode of Season 6B seemingly revolves around Charlotte attempting to get out of the mental hospital and get back to a normal life in Rosewood: that appears to be Ali's hope and the reason why she brought the Liars to Rosewood.
Then there's the fact that the finale of Season 6 is suspiciously titled "Hush, Hush, Sweet Liars," which seems to be a play on the film Hush, Hush, Sweet Charlotte . In that film, the titular Charlotte is falsely accused of murdering her lover: could this title be a play on the fact that the Liars will be accused of killing Charlotte, aka CeCe?
Though it would be crazy to see Charlotte die so early into the second half of Season 6, she might be the only character whose death might make some sense. Charlotte represents the original A story, one that we've been told will be put to bed in order to begin a brand new chapter in the Liars' lives. Her death would be a symbol of the A story starting over by someone with a very different agenda: One who is far more lethal than CeCe ever was.
The new season promises to be fatal, and it could be CeCe who is getting the ax — and the Liars who may be blamed for it.
For more on Pretty Little Liars, check out Bustle's very own PLL podcast, Taking This One To The Grave:
Images: ABC Family; Giphy (4)