Dream Casting The All-Female 'Ocean's Eleven'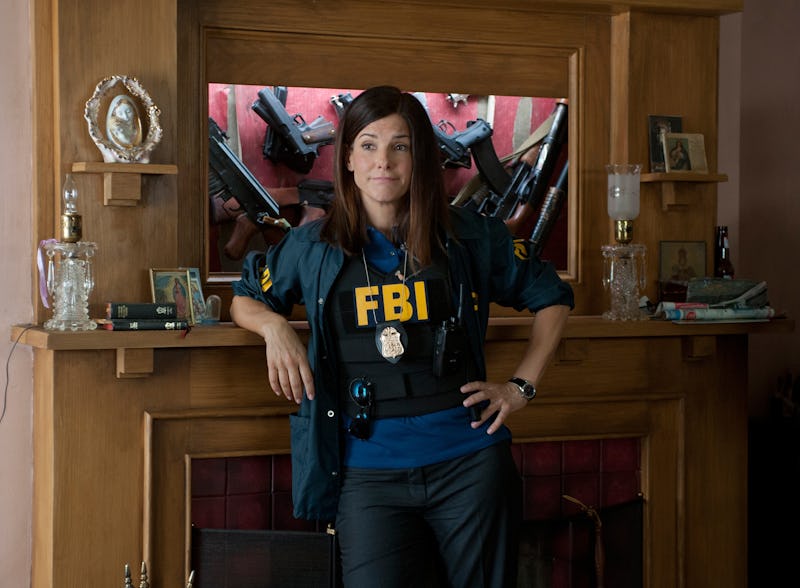 Somewhere in West Hollywood, Sandra Bullock sips a glass of brandy while cackling ominously at a photograph of George Clooney. "Soon," she whispers, "I will have all that is yours." After Bullock replaced Clooney as star of David Gordon Green's political satire Our Brand Is Crisis, Bullock had taken the headlining spot in a remake of the (itself a remake) Steven Soderbergh-directed Ocean's Eleven. To be more precise, an all-female remake of Ocean's Eleven.
Despite the menacing picture I painted above, rest assured that the former Danny Ocean is totally on board with being Single White Femaled by his Gravity costar and longtime compatriot of tabloid shippery. Like Our Brand was, this new project will be co-produced by Clooney. Now that you are absolved from apprehension over what may have looked like a high stakes evil scheme, we can jump immediately to the fun part: In this case, dream casting the new all-female Ocean's team.
Drawing from the characters and stars of Soderbergh's 2001 feature, I have some pretty good ideas about which actresses we'd like to see fill out this new take on the casino-robbing heist film. Of course, there are so many amazing actresses in Hollywood right now that it might be hard to pick, so your personal choices might be a little different, but I think this admirable bunch would knock this one out of the park.
The Right-Hand Woman
In Soderbergh's Ocean's: A disquietingly ravenous Brad Pitt, as Rusty Ryan.
In the new Ocean's: Kerry Washington. The character of Rusty Ryan serves two purposes in the shadow of Danny Ocean: to humanize him, which is achieved through the display of their intimate friendship, and to — somewhat paradoxically — deify him, which is achieved by stuffing donut after donut down Rusty's throat as Danny stands beside him with relative dignity. Washington can play both the grounded straight man and the affable schlub. Her Saturday Night Live work proves the latter.
The Bankroll
In Soderbergh's Ocean's: A very avuncular Elliott Gould, as Reuben Tishkoff.
In the new Ocean's: Barbra Streisand. Never mind the fact that Streisand and Gould were married for a spell in the '60s (unless that actually makes the casting more appealing to you), but focus on the image of Streisand as an insurmountably wealthy criminal whose illicit endeavors lose priority to her guests' enjoyment of their nosh.
The Inside Woman
In Soderbergh's Ocean's: An uppity Bernie Mac, as Frank Catton.
In the new Ocean's: Lea Seydoux. As of yet, Seydoux's high profile work has veered toward much more serious fare than an Ocean's picture has to offer. In the yet-to-release The Lobster, however, Seydoux shows off a wicked sense of humor that'd perfectly fuel the spitfire character she'd inherit from the late Bernie Mac.
The Wheels
In Soderbergh's Ocean's: A pre-notability Casey Affleck and a pre-Hawaii Five-0 Scott Caan, as "the Mormon brothers," Virgil and Turk Malloy.
In the new Ocean's: We've gotten enough Internet fodder this year to prove that Jessica Chastain and Bryce Dallas Howard would be highly believable as sisters.
The Grease Woman
In Soderbergh's Ocean's: Acrobat-turned-actor Shaobo Qin, as the "Amazing Yen."
In the new Ocean's: The acrobat-turned-actress community working Hollywood today is pretty sparse, though among the few inhabitants is Vampire Diaries star Nina Dobrev. Diminutive enough to make those vent-skulking scenes work, Dobrev could be this Ocean's movie's own "Amazing Yen." Or some other name, probably.
Surveillance
In Soderbergh's Ocean's: A sweaty Eddie Jemison, as Livingston Dell.
In the new Ocean's: Uzo Aduba. We already know from her Orange Is the New Black performance that Aduba can play tweaky and twitchy, so the role of perpetually uncomfortable computer whiz Livingston Dell would be a cinch.
Munitions
In Soderbergh's Ocean's: Don Cheadle, affecting a wild cockney accent, as Basher Tarr.
In the new Ocean's: If you've seen her in Pacific Rim, 47 Ronin, or the wonderful Kumiko the Treasure Hunter, you know that Rinko Kikuchi can effectively play batty. Wouldn't you love to see her dial that up, all the while messing around with explosives and British slang?
The Old School Con Artist
In Soderbergh's Ocean's: A lovably cranky Carl Reiner, as Saul Bloom.
In the new Ocean's: June Squibb. As far as curmudgeonly octogenarians go, Nebraska breakout star Squibb is among the few who can contend with Reiner. Watching her navigate a high-octane casino heist by way of impromptu role-playing would be a treat.
Whatever Matt Damon Was Supposed to Be
In Soderbergh's Ocean's: Matt Damon, as Linus Caldwell.
In the new Ocean's: We could go with any number of big names for a role like Damon's: Rooney Mara, Emma Watson, Jennifer Lawrence. But let's remember that the appeal of the role was seeing veteran showbiz types like Clooney and Pitt usher a reluctant Damon into their world. While present day Kristen Stewart is far more "established" than 2001-era Damon, she's kept Hollywood at an arm's length thus far. Watching her slowly drop her guard and give way to the mayhem of an Ocean's picture could provide the Stewart turn that many have awaited for ages.
Someone make this movie happen for me with this cast, STAT.
Images: 20th Century Fox; ABC; Universal Pictures; Wild Bunch; Getty; The CW; Netflix; Amplify; Paramount Vantage; IFC Films