Ariana's "Focus" Lyrics Explained With GIFs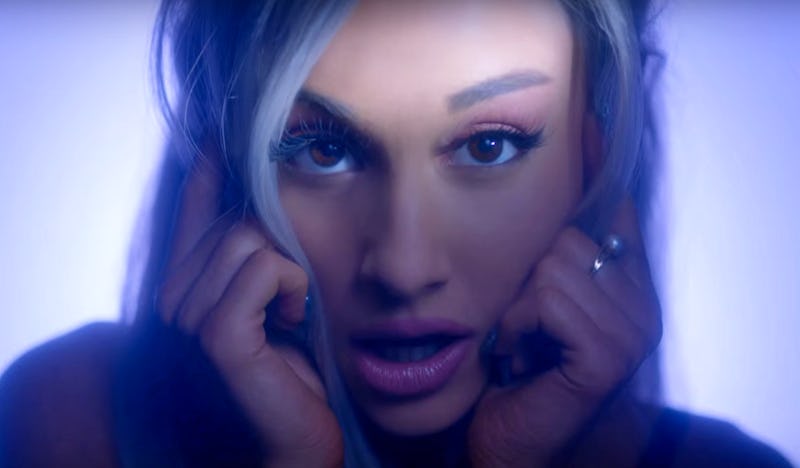 After a month and a half of teasing, Ariana Grande's new single, "Focus," finally arrived late Thursday night. It's about time! The funky song is our first taste of Grande's new album, Moonlight . The 22-year-old singer hasn't announced a release date for the forthcoming project yet, but it's expected to drop at some point in 2016. Now that I've had the opportunity to watch the neon-bright "Focus" music video a few times, I think I'm sold on the track — but it definitely wasn't love at first listen.
No, the first time I heard the "Focus" chorus, I thought to myself, "WHO IS THIS MAN AND WHY IS HE SQUAWKING LIKE A CHICKEN? Is he choking? Does he need help? Why, oh why, has Grande released yet another single where she doesn't really sing the chorus? She has one the best voices in the industry today!" But then, the strange chicken man started to grow on me. Pretty soon, I was squawking along with him! Now, I'm kind of obsessed with the track. Funny how life works sometimes, isn't it? Check out "Focus" for yourself below. A quick warning: It will almost certainly be stuck in your head for the rest of the day.
The way I see it, the "Focus" lyrics can be interpreted in two different ways. It's possible that when Grande sings "focus on me," she means that she's going to shut out all of the negativity around her and just concentrate on being true to herself. However, it's also possible that she's telling her fans to ignore the haters and look at the "real Ari," because if they do, they may discover that she's not actually the anti-American, donut-licking heathen she's been made out to be in the press. Err, yeah. Something like that.
Regardless of your interpretation, I'm a firm believer that all song lyrics can be made better/more effective when paired with a few good GIFs — and the "Focus" lyrics are no exception. So, here it is: Ariana Grande's "Focus" lyrics explained with GIFs, because... why the heck not?
1st VERSE:
I know what I came to do
And that ain't gonna change
So go ahead and talk your talk
'Cause I won't take the bait
I'm over here doing what I like
I'm over here working day and night
And if my real ain't real enough
I'm sorry for you, babe
PRE-CHORUS:
Let's find a light inside our universe now
Where ain't nobody keep on holding us down
Just come and get it, let them say what they say
'Cause I'm about to put them all away
CHORUS:
Focus on me, f-f-focus on me
Focus on me, f-f-focus on me
Focus on me (Focus), f-f-focus on me (Focus on me)
Focus on me (Focus), f-f-focus on me (Focus on me)
2nd VERSE:
I can tell you're curious
It's written on your lips
Ain't no need to hold it back
Go 'head and talk your sh--
I know you're hoping that I'll react
I know you're hoping I'm looking back
But if my real ain't real enough
Then I don't know what is
PRE-CHORUS!
CHORUS!
BRIDGE:
1, 2, 3, c'mon, girls
You're gonna like it
Come on, now, now
PRE-CHORUS!
CHORUS x 2!
Sadly, we've reached the end of our GIF journey. Now, get to work learning the "Focus" choreography! C'mon, girls...
Images: ArianaGrandeVEVO/YouTube (2); Giphy (20)