7 Celeb Quotes on Not Wearing Makeup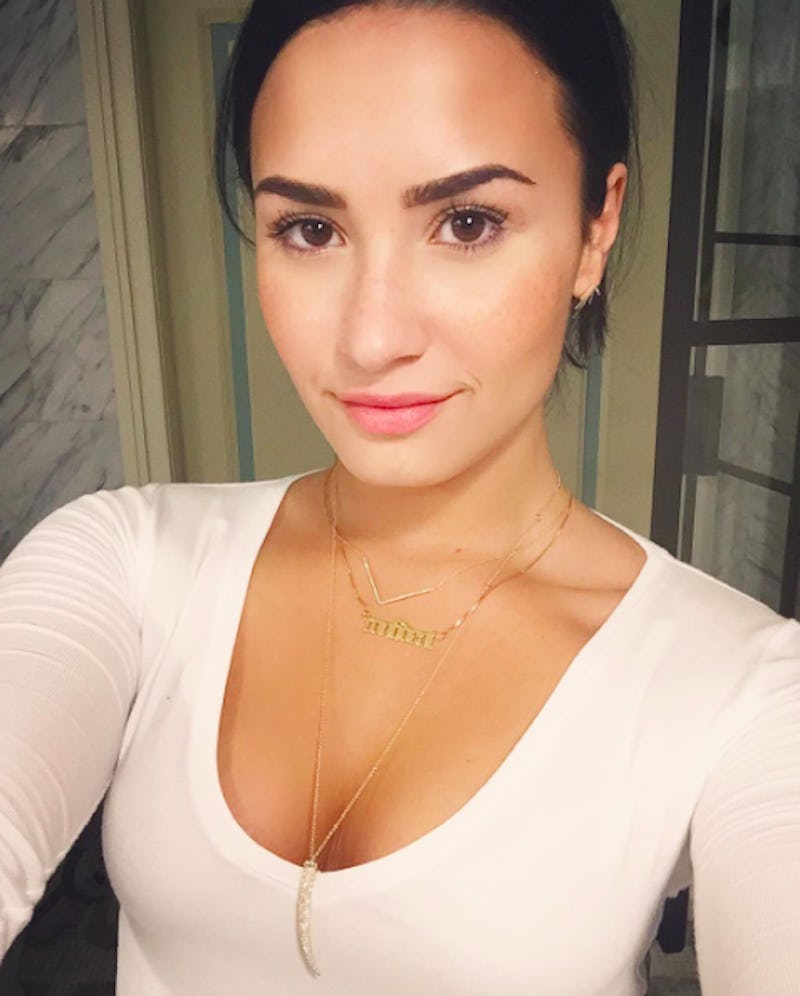 Let me tell you a story. I started religiously wearing eyeliner in sixth grade. Purples, blues, browns, greens, blacks — you name it, I wore it. I felt wildly uncomfortable without it. Flash forward to sophomore year of high school, there still weren't many days I wore no makeup on my face. One night, I was flipping through my teenage bible (S.O. Seventeen magazine), and I read an article about feeling comfortable without makeup. All I remember now is the main point of the piece: Makeup should be a fun accessory, not a necessity. So I did a social experiment.
I went to school the next day, sans makeup. My palms were actually sweating. I mean, it was high school, people. And my friends were mean. Like Mean Girls mean. I doubted I could make it to cheerleading practice without diving into my pencil bag stashed with pencil liners.
"I decided not to wear eyeliner today," I finally confided to one friend. "I know," she said. "You just don't really... look like Tine today." She slammed her locker. "You know?"
WHAT?! No, I did not know. I don't really look like TINE today? But I am Tine. How could I not look like her? I was infuriated. No makeup me was still me, right? And you know what? No one else made a single peep the whole day. I thought it was out of third-party embarrassment, but now I realize: They probably didn't notice, nor did they care even a little if they did. The moral of the story? High school girls are mean, makeup should be fun, and not wearing makeup does not make you into a monster. Some A-list-level evidence to back me up, ahead.
1. Emma Stone in an interview with Cosmopolitan
I think women should wear whatever makeup they want for themselves. Makeup should be fun.
Nailed it. Repeat after me: An accessory, not a necessity. But if you think makeup's fun, but all means rock that smoky eye.
Whether I'm wearing lots of makeup or no makeup, I'm always the same person inside.
If Lady Gaga doesn't wear makeup, who is she? Still Lady Gaga.
My main beauty tip is don't say that negative thing when you look in the mirror. It just isn't healthy…That lack of beating up on ourselves — that's my new mantra. Happiness is the best makeup; a smile is better than any lipstick you'll put on.
Eerily similar to my girl Audrey's classic quote: "Happiest girls are prettiest." Still true.
I thought there was something incredible about the idea of no makeup whatsoever, no clothes, and no retouching...It's empowering and it shows other women you can get to a place where you can overcome obstacles of body image issues. I learned after working very hard on my spirituality and my soul and my body that you can get to a place that you love the skin you're in and I'm excited to share that with the world.
I mean, this photoshoot was badass. Who run the world? Demi.
5. Demi Moore to Marie Claire
I'm a big believer in that if you focus on good skin care, you really won't need a lot of makeup.
Take your mascara off before bed; always wash your face; moisturizer is key. Later, haters.
6. Lupita Nyong'o to Glamour
I've worked hard to feel beautiful in my natural skin. Personally, I don't ever want to depend on makeup to feel beautiful.
This is how we do it.
7. Tracy Morgan to Elle
What you have to understand is that my thing is not glamour. I love stretch marks and C-section scars and all of that. I'm a grown man. You don't gotta put on no makeup with me.
Although makeup should mostly be about pleasing yourself rather than pleasing your partner, Morgan is still kinda hitting me right in the feels. Hell yes, stretch marks.
If you retain nothing else, always remember the most important rule of beauty which is, who cares?
All hail queen Tina.
Images: ddlovato/Twitter