Disney's 'Zootopia' Includes All Your Faves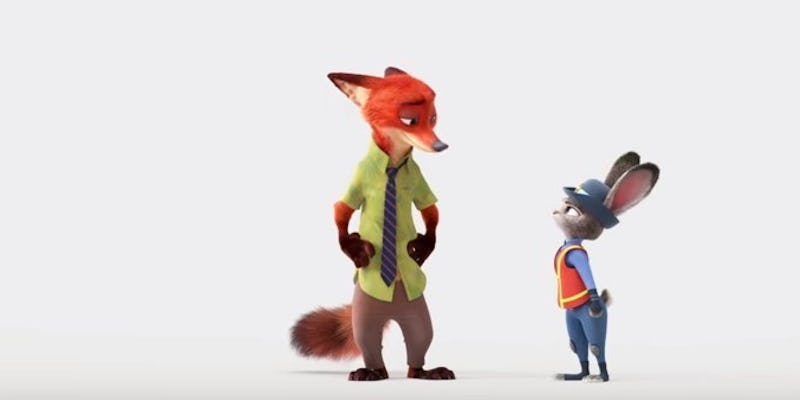 "This is a stampede — no, make that a menagerie — of voice talent," director Rich Moore told USA TODAY when discussing the cast for Zootopia, his upcoming, highly anticipated Disney animated film. After the film's teaser trailer was released in June, Zootopia was already shaping up to fit into the joyful, charming footsteps of the studio's last major hit — Big Hero 6 — but now, the newly-released cast has just solidified its spot as a soon-to-be classic.
The animated film centers around a wry fox (Played by Jason Bateman) being framed for a crime he didn't commit. As he runs away from Zootopia (the name of the town composed only of animals), he finds himself in the middle of a conspiracy, alongside Zootopia's number one cop, a smug bunny (played by Ginnifer Goodwin). But, this is only the tip of the iceberg: Zootopia has a full line up of characters that fit into its world, and it looks like Disney pulled out all the stops when it came to casting them. I'm just going to assume that with a lineup like the one this film boasts, Zootopia's going to give competing fims a run for their money.
Let's take a look at some of the star studded cast:
1. Jason Bateman As Nick Wilde
The titular character, Nick Wilde, has Jason Bateman's cadence written all over him. He's a sly, but lovable fox, whose comedic timing will surely carry the film through, as well as charm the older audiences.
2. Ginnifer Goodwin As Judy Hopps
Starring as the only bunny police woman in Zootopia, Goodwin's good natured but eager demeanor will bring some dynamics to this character as she figures out how to get along with Nick.
3. Idris Elba As Chief Bogo
Known most recently for his breakout hit Beasts of No Nation, Idris Elba's placement in Zootopia is spot on. A commanding chief of police in this quirky animal kingdom seems like a good move for the actor.
4. J.K. Simmons As Mayor Lionheart
Recent Oscar winner J.K. Simmons will be playing Lionheart, the Mayor of Zootopia. Director Byron Howard told USA TODAY, "J.K. is so commanding. We needed Lionheart to be a very typical politician. He's very good with the crowd, he has a lot of charisma... and he's so full of himself and blustery." Sounds perfect for Simmons.
5. Jenny Slate As Assistant Mayor Bellwether
Obvious Child's Jenny Slate will have a supporting role as Mayor Lionheart's assistant, and all I can say is that I hope she breaks out her Marcel the Shell voice — for at least a little bit.
6. Octavia Spencer As Mrs. Otterton
Academy Award winner Octavia Spencer will definitely bring some emotion to the film, as Mrs. Otterton, a character whose husband goes missing early on.
7. Tommy Chong As Yax
Tommy Chong of legendary '70s comedic duo Cheech and Chong will play Yax, the resident Yak guru of Zootopia. (And really, is there anyone more fit for that role?)
Zootopia will hit theaters March 4 2016.
Images: Disney; Giphy (7)