13 Oversized Ponchos For A Trend Reawakening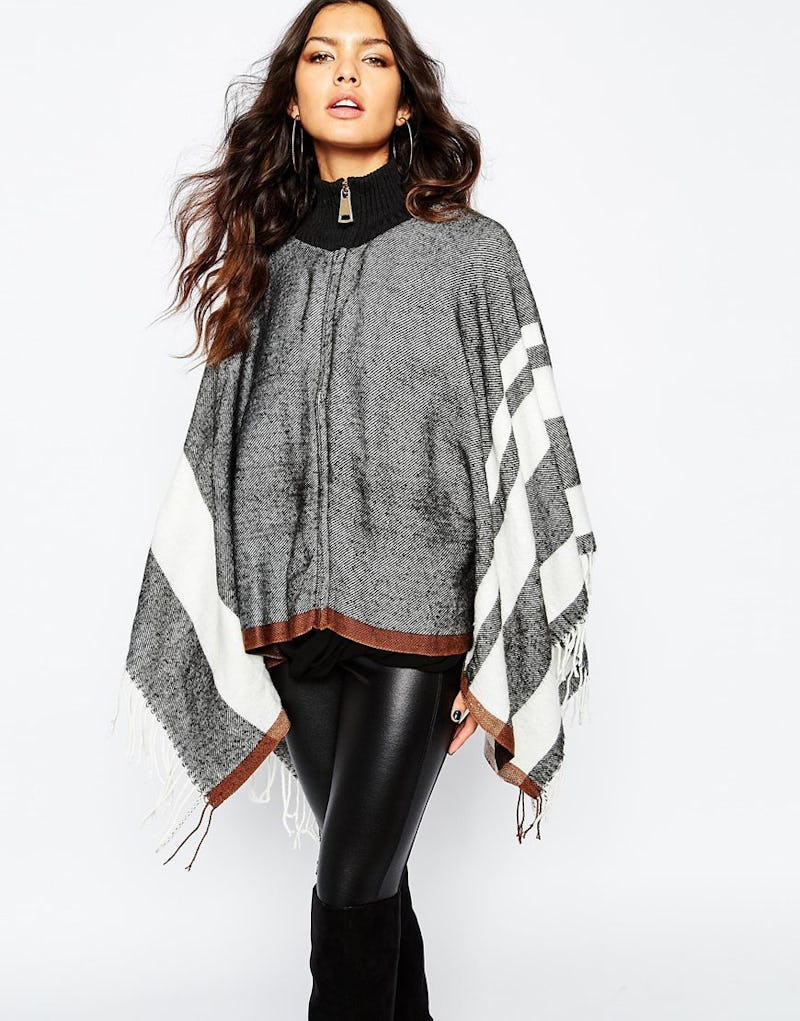 I read somewhere once that fashion is constantly trying to imagine, and reimagine, different ways of dressing women for the cold. This season's new version of an old classic seems to be the oversized poncho. They're everywhere this A/W season, and shopping for a few great ones is, IMO, a must.
As noted in her book World Clothing And Fashion: An Encyclopedia Of History, Culture, And Social Influence, Mary Ellen Snodgrass tells us that the poncho has roots in indigenous cultures that cut rectangular pieces of rich, woolen textiles to protect the body from the cold, wind, and elements. The rise of ponchos in North America almost certainly stemmed from those original South and Central American designs, but with a few other influencers in the mix. Eighteenth, 19th, and 20th century outerwear trends often included capes and capelets, which were a fresh take on the heavy Victorian cloaks that came before. In the '70s, the similarly cut poncho was in vogue, and has floated in and out of American fashion consciousness ever since.
Nowadays, the line between poncho, cape, and oversized cardigan is decidedly blurred, but it seems that many retailers are selling all things oversized and sleeveless under the poncho moniker. I've tracked down some of the best examples of this season's poncho reawakening. Structured sleeves and sweaters be damned.
1. The Colorblocks
Vince Camuto Blanket Jacquard Poncho, $169, nordstrom.com
Colorblocking is another trend that's been treated to several re-imaginations in recent years, and judging by the offerings this season, it's still going strong. A colorblocked poncho is perfect for the wearer who wants their look to be structural and chic, but not sacrifice vibrant, rich color in the process.
Colorblocked Shawl Poncho, $22.90, forever21.com
Colorblock Toggle Poncho, $32.90, nordstrom.com
2. The New Take On Traditional
Patchwork Poncho, $49.90, zara.com
Many of the ponchos on the market are labeled as "Aztec" or "tribal" prints, most of which put a fine line between being fashionable and being appropriative. If you like the aesthetic of rich colors and bold shapes and lines (but don't want to wear something that's culturally appropriative), try finding fresher takes on the old patterns that pay homage to the look without thoughtlessly associating with another culture's heritage.
Jacquard Knit Poncho, $49.99, hm.com
3. The Basics
ASOS Black Poncho, $45, asos.com
Because nothing is more chic than a dark, plain poncho with an especially oversized silhouette. This is my preferred look of the season, paired with skinny or boyfriend jeans and a pair of brogues. Pro tip: When you're shopping for these, don't overlook the men's section. They're in style for dudes too, and there are some great options.
Fuzzy Knit Poncho, $24.90, forever21.com
Monki Fine Knit Poncho, $55, asos.com
4. The Old School Hits
Vintage Alberta Ferretti Wool Poncho, $298, etsy.com
New poncho designs are impossibly chic, but sometimes a person just wants a little authentic retro action in their life. These vintage pieces are classic, and your mom might even have one in her closet to match.
Vintage Slouchy Drape Faux Fur Poncho, $84.67, etsy.com
5. The Oddballs
Denim Hooded Poncho, $49.99, hm.com
Since loads of humans are going to be wearing ponchos this season, you may as well try your hardest to set yours apart from the crowd. A poncho with a funky fabric, detail, or silhouette will help your look stand out. These are some of the best I've found.
Geometric Belted Poncho, $69.90, zara.com
River Island Ribbed Neck Blanket Cape, $69.90, asos.com
There's likely a poncho on this list for every style and sensibility. Here's hoping we all experiment with new ways of styling their already quirky cuts.
Images: Courtesy Brands