Nora Montgomery May Come To 'AHS: Hotel'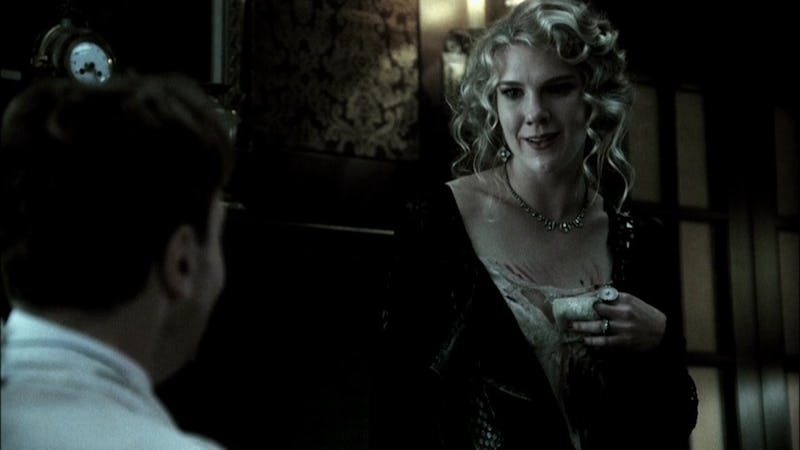 If there's one show that continues to top itself on the crazy scale, it's American Horror Story. FX's horror anthology series started out with a bloody-good freshman season with Murder House, and now it seems that the new season of American Horror Story may get back to its original roots — and may be bringing back yet another character from the first season. We know that the physical "Murder House" will make an appearance on American Horror Story: Hotel and have already seen Christine Estabrook reprise her Season 1 role as real estate agent Marcy, but now actress Lily Rabe is hinting that we may see a former Murder House resident once again. Could Nora Montgomery appear on American Horror Story: Hotel? Rabe isn't ruling out the possibility.
Rabe, a five-season veteran of American Horror Story, just made her Hotel debut as serial killer Aileen Wuornos on Wednesday's episode "Devil's Night," but it may not be the last time we see Rabe — and not just as killer Aileen. After ScreenCrush asked Rabe about a certain theory involving the return of first Murder House owner Nora, Rabe stated: "Mm. I do know something about that. I mean, I know something about that theory. I can't say anything about it, no. I loved Nora."
Hmm... not a flat-out no, right? She was equally as mum about the idea of returning to the show after her appearance on the two-part Halloween episode, which is slightly suspicious in itself. After all, Aileen doesn't seem to have much of a role outside of being Mr. March's dinner party guest: Could Rabe not want to spill the beans about the potential return of Nora?
ScreenCrush has a theory. After seeing a photo of Lady Gaga wearing a fake pregnant belly in front of what appears to be the Murder House set, the website put a few connections together and realized that just possibly, The Countess was going to the Murder House for an abortion. In the first season, we learned that Charles Montgomery performed illegal and dangerous abortions in his basement, and that he used the parts from some of these aborted fetuses to "reanimate" his child Thaddeus. When Thaddeus was reanimated, he craved blood, not unlike the vampire children we saw on American Horror Story: Hotel. Could that be because Thaddeus was made from parts of The Countess' child?
The above tweet is also pretty thought-provoking: Whatever connection there is between Season 1 and Season 5 of American Horror Story, it's going to be big. The reason Rabe is staying mum about her return could be because Nora plays an integral part in this connection and she doesn't want to spoil any of it for fans.
This is a seriously twisted theory, but what on American Horror Story isn't twisted? We may be saying hello to Nora and the rest of the Montgomery clan a lot sooner than expected.
Image: FX (screenshot); Giphy