Black, Latino Students More Likely To Be Suspended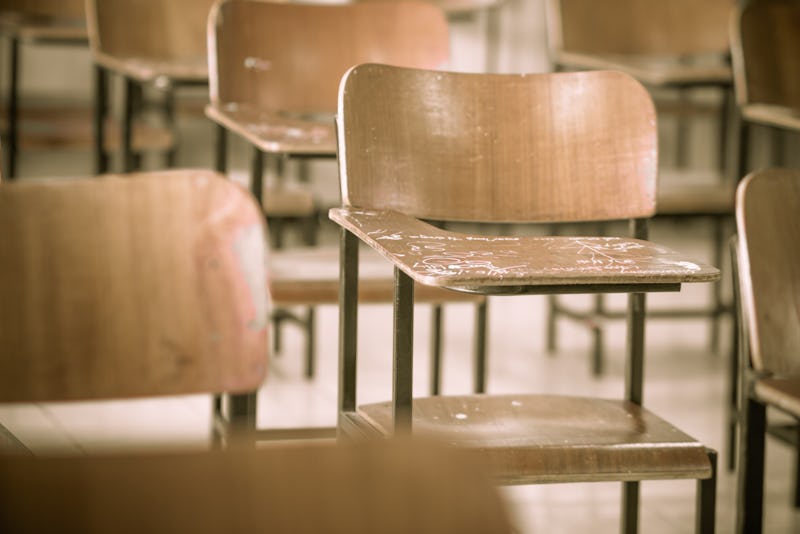 We already know U.S. schools are more segregated today than after Brown v. Board of Education, and that the National Assessment of Educational Progress shows test-score gaps still exist between white, black, and Latino students. Unfortunately, there's now evidence of another race gap in education: Suspension.
Both black and Latino subgroups are targeted more for school suspension — but the statistics for black students are particularly alarming, and the Obama administration issued recommendations Wednesday to schools in the hope of cutting down on the harsh policies that lead to suspensions. These suspensions and expulsions, according to some civil-rights advocates, fuel a "school-to-prison pipeline."
Here's what the civil rights data collection from 2011-2012 showed:
Black students made up 15 percent of surveyed students but accounted for one-third of students suspended once, 44 percent of students suspended more than once, and more than one-third of students expelled.
Black students without disabilities were more than three times as likely as white students to be suspended or expelled.
Worse, these statistics don't come as a shock: the Southern Poverty Law Center has aggregated data from as far back as 1987 to as recently as 2008, and determined that students of color, particularly black and Latino students, face more suspension. A civil-rights project by UCLA has also showed similar results from analysis of 2009-2010 data.
What's shocking is that it's now 2014, and still not enough schools have attempted to examine the roots of this inequality. And it's also concerning that it's taken this long for the administration to implement change.
Last March, the Justice Department partnered with the Meridian, Miss. school district to put an end to disciplinary policies that punished students of color more harshly. But almost a year on, the Justice Department still has a lot of work to do.
Here are a couple of the White House's recommendations that hope to curtail the high rates of punishment, particularly among minority students.
School employees should be trained in classroom management and conflict resolution — and not rely on school security or police officers to provide the discipline
Outline the duties of school security
Emphasize building strong relationships between school security and students and their parents
And on Wednesday, Attorney General Eric Holder announced his concern with schools' zero-tolerance policies: "Ordinary troublemaking can sometimes provoke responses that are overly severe."
Image: Fotolia