15 Episodes Every 'The O.C.' Fan Needs To Revisit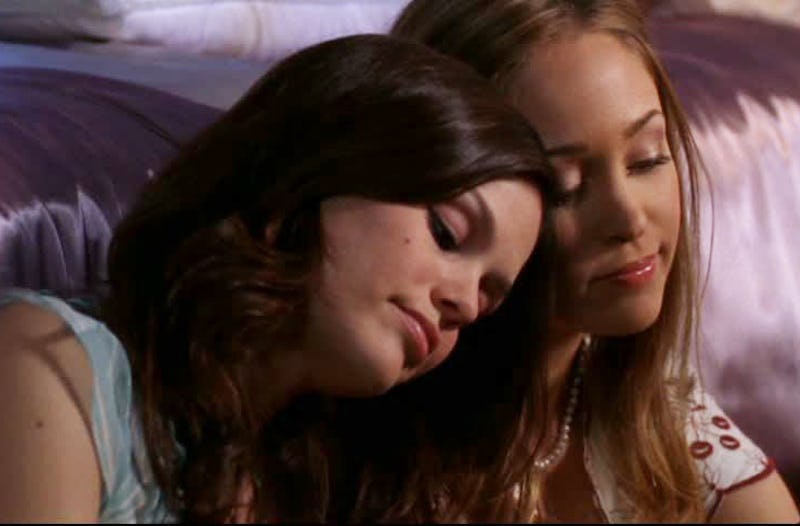 In recent years, I've had to resort to borrowing DVD box sets of The O.C. if I wanted to get my fill of Seth Cohen… but no more. After over a decade of on-demand darkness, The O.C. is now available to stream online on The CW Seed. All together now: Thank you, universe, and thank you, Josh Schwartz. But, now that we have the gone-too-soon series at our fingertips, which O.C. episodes should we dive into first?
Well, if you're a first time watcher, I have to insist that you commit and file through the entire series. I promise it'll be well worth the investment, because, seriously, who can watch The O.C. and not love The O.C.? Seriously, who? I want to have a word with these people. But, for the rest of us (are the newbies all gone now?), experiencing the timeless teen drama all over again is tantamount to a religious experience. Just think about how happy you can get just listening to the theme song and watching the opening credits again. In fact, don't expect to see me at all before I've re-watched everything at least twice.
So, here is a quick guide to all the episodes you should consider queuing up… lest you plan to kill your weekend and power through them all like I will.
1. "Pilot"
Because, even if you've been there countless times before, you need to go back to the beginning of The O.C. to revisit Ryan's intro to Newport: His instant flirtationship with Marissa, his blossoming bro-bond with Seth, and, of course, plenty of flying fists. Just another day in the Orange County.
2. "The Model Home"
The pilot's follow-up captures a simpler time of laughter, light scheming between friends, mix CDs, and accidental arson.
3. "The Girlfriend"
There's some garden variety Ryan and Marissa drama, but it's all worth it for the thrill of Seth and Summer's first kiss, prompted by an impromptu recitation of what he thought was Summer's poem, "I Wish I Was A Mermaid" (which, hilariously, turned out to actually be a Taylor Townsend original).
4. "The Escape"
The gang goes down to Tijuana for an end-of-the-summer trip, and what could go wrong? Oh, just about everything when Marissa catches Luke cheating on her. Great cliffhanger, though, really top notch.
5. "The Best Chrismukkah Ever"
And it was the best Chrismukkah ever, especially with Anna and Summer trying to make power plays for Seth's love. Point Anna for making Seth a comic; point Summer for dressing up as Wonder Woman.
6. "The Truth"
If you watch this episode right after "The Best Chrismukkah Ever," it'll feel like the Oliver Trask situation went from one to 100 really fast... which isn't entirely inaccurate, even if you watch all the episodes in between.
7. "The Heartbreak"
Finally, relive all the painful awkwardness of losing your virginity with your favorite Californian OTP.
8. "The Telenovela"
"Acknowledge me now or lose me forever!" I swoon, you swoon, we all swoon for Seth Cohen on a coffee cart.
9. "The Chrismukkah That Almost Wasn't"
As if last Chrismukkah wasn't dramatic enough, now we have all sorts of old affairs being revealed and adopted sons dating lovechild half-sisters. But hey, Yami-clauses, neat!
11. "The Rainy Day Women"
A refreshing delight in the heart of Season 2, gifted with the magic of rain in California (well, I find it magical, see Seth and Ryan's wordless exchange to gauge how much So Cal people won't go out in that weather).
12. "The O.Sea"
It's a whirlwind of an ending, with Ryan and Marissa's slow dance outside and Seth picking Summer over George Lucas (although Harbor School students must be so sick of all his soapbox speeches).
13. "The Dearly Beloved"
A finale that spawned a thousand memes. If you're familiar with "Dear Sister" parodies, but have never seen this before, let me give you a head's up and say that it's a lot more hilarious than dramatic the first time you hear that "Mmm, whatcha say." My impulse reaction was actually peals of laughter.
14. "The Party Favor"
Drunk prom queen Summer is my favorite Summer, and Marissa is heartbroken again when Volchek plays tongue tango with another chick. God, what is it with Prom night in Newport?
15. "The Graduates"
Awww, our kids are growing up and leaning into a bright future... or are they? Watch the Season 3 finale one more time, and never be OK again.
And that should be a good starting point, no? Happy watching!
Images: Warner Bros. Television; Giphy (15)