A New Body Posi, Trans-Inclusive Lingerie Lookbook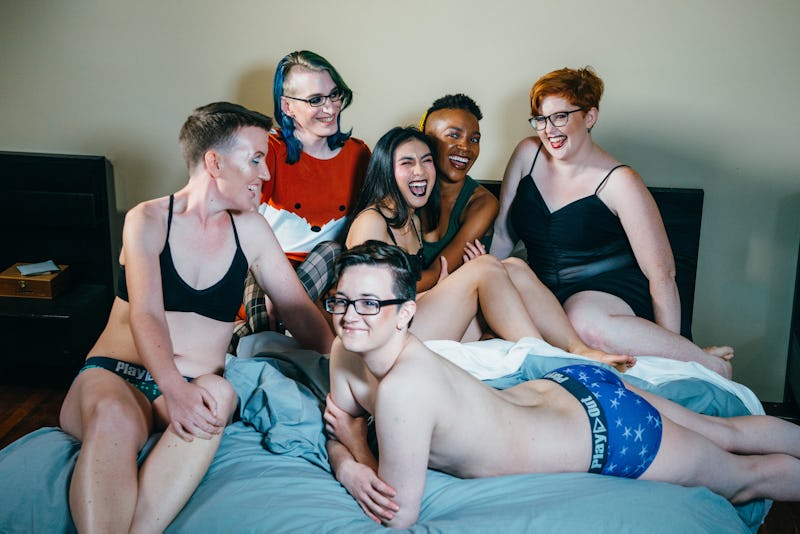 In its latest body positive and trans-inclusive lookbook, the LGBTQIA+-focused lingerie retailer Bluestockings Boutique is challenging beauty standards by creating an alternative narrative to the mainstream lingerie shoot, which more often than not features straight-size, white, and cisgender women. With the exception of some gender non-conformist brands, people who identify outside of the gender binary are regularly left out of fashion ads, let alone ones focused specifically on lingerie. That's why the LGBTQIA+ imagery created by Boston-based Bluestockings Boutique owner Jeanna Kadlec is so important.
The recent lookbook, released in two parts on its blog, took four months to put together, Kadec tells me via email. She started by finding the photographer, makeup artist, location, and models through a survey process. They were asked how they identified in terms of gender and sexual orientation (if they felt comfortable answering, of course), how they would describe their everyday style, and what kind of undergarments they usually wear.
Once the model call was put out on social media, Kadec says people started volunteering by the dozens. From there, it was a matter of selecting individuals with diverse looks who had flexible schedules. Kadec was looking to have models that were all Boston-based and LGBTQIA+ identified, and within that she wanted at least one woman of color, one person who identified as plus size, one trans or non-binary individual, and one real life couple. Both the photographer Michelle Davidson-Schapiro and makeup artist Mathieu Vetere are also LGBTQIA+ identified.
Kadec worked with each model individually to collaborate on their styling. "They told me about what they liked to wear every day, because I didn't want to put anyone in something they wouldn't wear otherwise," Kadec says.
In an industry like fashion, where it seems like individuality is only encouraged if you are the one designing the clothes, there's something very refreshing about a brand ensuring that models' authentic selves can really shine through in a lookbook.
All of the six models volunteered for the shoot because they wanted to see people like themselves represented. The group fulfilled the requirements that Kadec had set out looking for.
With the exception of a small bruise on one of the models' legs (because a bruise is a temporary mark rather than something permanently a part of a person), none of the models' bodies have been altered or edited in Photoshop in any way either. The photographer detailed her process for selecting photos on the Bluestockings blog, and there's no doubt that putting together such a shoot was a big undertaking for the independent company.
In her email interview, Kadec tells me why she feels this shoot really matters:
"You can't be what you can't see. I firmly believe this. In fashion, it's easy to give lip service to representation, but representation is not an idea. It's a practice. In the lingerie world, a photo shoot like this — an entirely queer photo shoot, with this kind of range of representation (feminine to masculine, androgynous, gender-fluid people, trans-masculine and trans-feminine people) — is rare. You can count the brands actively engaged in body positive, LGBTQIA+-inclusive representation on one hand. We are fighting an uphill battle."
Bluestocking opened in April 2015, and Kadec tells me that she came up with the idea while sitting on her porch drinking beer with a friend.
"I remember asking, 'Why isn't there a lingerie store for queers? Like, a store where anyone can walk in and feel safe and secure and accepted and not judged because of their body or their gender identity, where you could walk in with your partner and not have to worry. Doesn't a store like that exist?'" she notes. "Turns out a store like that didn't exist. Within 72 hours, I had a domain name and a Twitter handle."
Although Kadec is now a fashion entrepreneur, her background is as an academic in English Literature and gender and sexuality studies. She jokes about how this just means that she brings more Audre Lorde quotes to the table, but it's clear that there's a consciousness behind her business.
All of the brands carried by Bluestockings must provide detailed information about their manufacturing conditions and labor practices in order to make sure they fit with the brand's commitment to sustainability and ethical manufacturing. The brand is also size inclusive. The Bluestockings size range goes from XS to 4X, depending on the product and varying by bra, underwear, or loungewear. This focus on ethical and inclusive inventory means the boutique also stocks items like Nubian Skin, designed specifically for women of color, and gender-affirming items such as binders and packing briefs.
"What's really different about Bluestockings is the queer-inclusive, intersectional feminist ethos," says Kadec. "We use gender-inclusive pronouns. We have discreet shipping. We only stock ethically manufactured items. We show our lingerie on a diverse range of models. You can go to our blog and read about homophobia in the lingerie industry. That's pretty different."
Of course, I wanted to ask Kadec if this shoot was something we can expect to see more variations of in the future from Bluestockings. As a designer myself, her answer really hit home.
"Obviously, I would love to," she says. "There isn't enough imagery like this in the world, and I firmly believe that we need more. But the limitation is that photo shoots are prohibitively expensive, which is why it took me four months to scrap together the money for this one. Ultimately, businesses are not services — we have to make money in order to keep our doors open, let alone put together badass, queer-inclusive photo shoots."
What Kadec is hitting on is something I've heard a lot in the plus size industry as well: You cannot demand representation and not support the businesses that listen. This is one of those times when a cliche like "money talks" seems all too relevant. If you want to see more representation, please put your dollars towards brands like Bluestockings that put representation into practice.
Images: Courtesy Michelle Davidson-Schapiro