8 Things To Stock Up On For Ski Season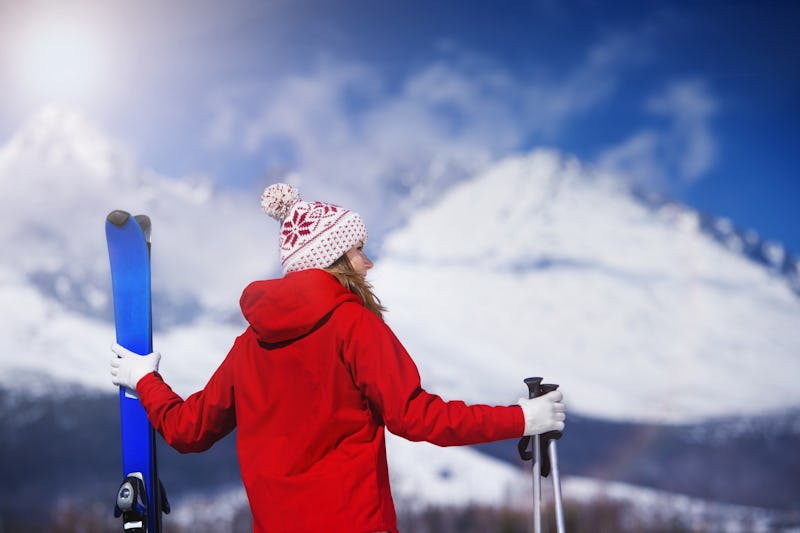 Halloween marked opening day for several ski hills around the country (oh hey, Arapahoe Basin!), and many more are getting ready for action early this month. The 2015-2016 ski season is officially in its early days, and whether you're an experienced slope star or a novice snow bunny, now's the best time to stock up on the essentials for the season. Here's what to wear skiing to make sure you're prepared for any conditions.
Sure, it's logical to think that you'll be pretty chilly up in the mountains (snow is cold, right?), but that's not always the case. Layering is key when it comes to winter wonderland vacations, because there's nothing more annoying than your puffy coat doubling as a sweat lodge. Skiing is an awesome workout that'll up your heart rate and body temp, so take that into consideration before you put on three pairs of long johns on a 60-degree day (been there.) But when you're looking at a 20 degree day? Time to shake up those handwarmers, stat.
No matter the weather, though, here are eight things you need for any ski day. Cheers to long days on the slopes — and celebratory hot chocolate afterwards. (Baileys Irish Cream optional but recommended.)
Ski Socks
Ski socks may seem like a frivolous expense to new skiers, but regular socks just don't cut in cumbersome ski boots. To prevent blisters, pick sweat-wicking socks with padding in all the right places. (The shin cushioning in this pair is so clutch.)
(Darn Tough Thermolite Padded Over-the-Calf Cushion Socks, $22.95, gobros)
Thermal Leggings
The best part about thermal leggings? Where them under literally everything. Jeans, yoga pants, pajamas... you think I'm kidding, but these are your BFFs. If it's especially cold, throw on a second pair (or a pair of yoga leggings on top.)
(The North Face Warm Tights, $50, Back Country)
Snow Pants
If you're looking for a "flattering" pair of snow pants, I wish you the best of luck on your quest. However, I suggest you accept that you're just going to be a sporty little marshmallow, and now more than ever, it really doesn't matter how you look. It's all about comfort here. You gotta be able to move on the slopes, girl!
(The North Face Freedom Insulated Pants, $160, REI.com)
Half-Zip Pullover
Throw on a half-zip for another layer over a regular old tank top or long-sleeved tee (depending on how cold it is outside). If you get too hot, you can unzip your ski coat but still have a little cold protection.
(Nike Dri-Fit Element Half Zip, $65, zappos.com)
Ski Coat
The pièce de résistance. Your ski coat is one of the most important elements of slope gear, both on a functional and a stylish level. They can be pretty pricey, so might as well choose one you'll be stoked to wear. Make sure it's not too trendy, though — you'll want to be able to wear it season after season.
(FlyLow Gear Sarah Insulated Jacket, $274.95, backcountry.com)
Gloves
As obvious as this one is, nothing puts more of a damper on your ski day than having to drop cash on a new pair of gloves because you forgot yours (been there.) Plus, you can get fancy ones with pockets for your disposable hand warmers — nifty, right?
(Dakine Sequoia GORE-TEX Glove, $65, peterglenn.com)
Goggles
Although they can be the most annoying ski gear, goggles are pretty much a must. Just try not to snap 'em too hard on your face when you pull them down — sounds simple enough, but my black eye of 2013 says otherwise. Ouch. Oh, and make sure to slather on sunscreen, too, to prevent goggle tan (not to mention sun damage.)
(Giro Siren Snow Goggles, $41.93, rei.com)
Helmet
Started at the bottom, now we're here, literally. In all seriousness, though, this is the number one most important piece in a ski ensemble. As fun as skiing is, it's not something to take lightly, and minimizing your risk by wearing a helmet is a very smart idea. If you've been in a crash that made you grateful to have a helmet on in the first place, you probably need to replace it, even if it didn't crack. "An EPS helmet is good for only one crash," according to Outside magazine.
(Giro Ledge Snow Helmet, $80, rei.com)
Images: Fotolia; Courtesy of brands