'Nashville' May Have Redeemed Jeff Just In Time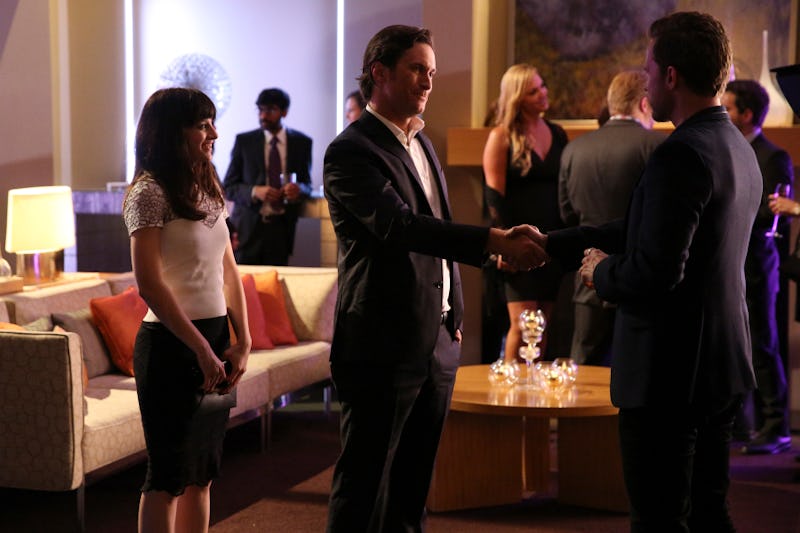 In all the Nashville seasons before this one, the show upped the drama with a lot of near-death experiences. There was Will's solitary trip to the train tracks; Rayna's car accident; and Deacon's liver cancer. But this year, the country music soap opera is offing characters left and right. The first victim of Nashvile Season 4 was Deacon's sister and liver donor, Beverly. And last Wednesday's episode "Please Help Me, I'm Fallin'" (I see what they did there) ended with a shocker. Racked with postpartum depression, Juliet teetered on a hotel rooftop. And in the process of pulling her back from the edge, her former hook-up and enemy Jeff Fordham lost his balance and went over it. Sorry, Oliver Hudson fans, Jeff Fordham is dead on Nashville . Or is he?
I called Nashville a soap opera above, and a soap opera is what it is. Shows in that genre thrive on a good bait-and-switch character "death." But as amazingly bananas as it would be for Wednesday's episode of Nashville to open with Jeff's head popping back up over the ledge to tell poor, drunk Juliette, "It's fine, my pants got stuck!" I don't think that's the case here. Jeff is gone for good, and there's a lot of on and off-screen evidence to back that up.
I know that it's true, because Jeff's star had been rising a little too high lately. He had been introduced as a mustache-twisting villain on the series, obsessed with power, money, and exerting his influence over people. He was so beyond empathy by the time he and Juliette had their tryst, I spent weeks worrying over evil Jeff being the biological father of her child. But Rayna came out on top of their industry stand-off, like she always does, and Jeff lost a large fraction of the power that made him such a terrible guy to be around. He then forged an unlikely bond with Layla, who was all but ready to quit country music after her disastrous reality TV experience. He seemed to genuinely love her, and even suggested they move in together. Things were looking up professionally too. Luke offered Jeff the CEO position of Wheelin' Dealin' Records, and inadvertently signed his death warrant. Jeff was redeemed, and in soap opera terms, that spells doom for a former villain.
Also, there's the little matter of the most recent Nashville trailer, which states plainly that Jeff Fordham is managing artists in that big country label in the sky. Jeff's death will probably be the event to finally push Juliette into treatment and back to her family, so at least he went out saving someone he'd wronged.
Jeff's death was out of the blue in some ways, considering he wasn't sick, stalked, or otherwise threatened. But I'd been curious as to how his Nashville gig would leave time for his role on the Fox horror-comedy Scream Queens, as sorority sister Grace's dad Wes. Hudson poked some fun at this reading of episode himself by retweeting an upset fan.
The country music world will just have to continue turning without Jeff Fordham. And Luke Wheeler will have to find a new CEO.
Image: Mark Levine/ABC