'AHS: Hotel' Ramona Is Similar To A Famous Actress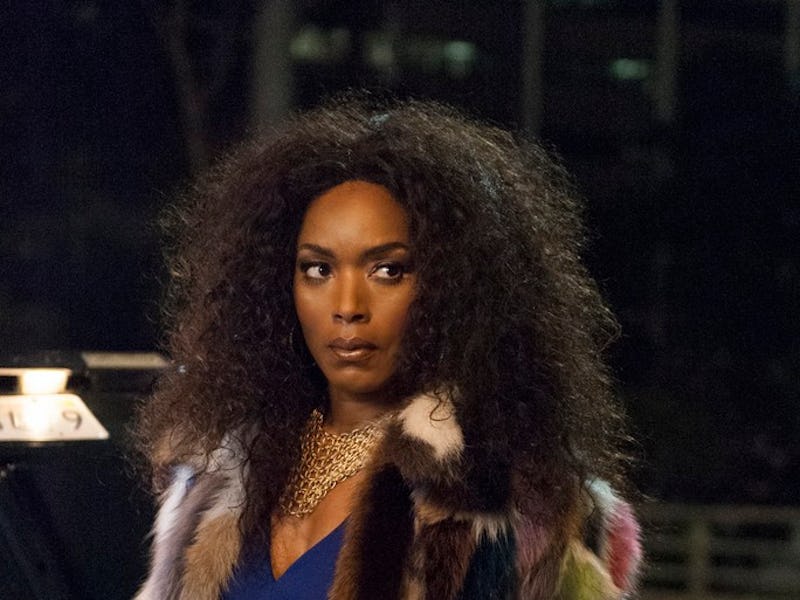 This season of American Horror Story: Hotel has been one wild and gory ride — and it's far from over as more and more characters continue to check in to the Hotel Cortez. (Seriously, does Yelp not exist in the AHS universe?) It's no secret that both the plot and the characters are heavily inspired by real life events — so, when Lady Gaga's ex-lover joined the cast I immediately wondered if Angela Bassett's character Ramona Royale is based on a real person. Well, not exactly — but it definitely seems like this AHS: Hotel character is inspired by actress Pam Grier and her body of work.
As we learned in the Oct. 21 episode "Mommy," Ramona was both seduced and infected by the Countess in the late 1970s when she was attempting to make it big in Hollywood and become a bona fide A-Lister. Grier's acting career took off at around this time, and her most famous films released between 1971 and 1976. And, Ramona's film credits include titles like Bride of Blackenstein and Silky Fine — which sound suspiciously similar to Grier's movies Scream Blacula Scream and Foxy Brown. Plus, their sense of style and physical resemblance is pretty uncanny:
But, while most of this season's characters are based on actual people, Ramona seems to be inspired by Grier's onscreen persona rather than the actress herself. In 2010, The New York Times observed that Grier "manages to exude toughness and sensuality in equal measure," much like Ramona. When it came to blaxploitation films, she was the first female action star in the genre. Although she's best known for her work in those movies, Grier's career has spanned many decades and she went on to star in a variety of other TV shows and films, including The L Word and Quentin Tarantino's Jackie Brown.
Rotten Tomatoes named Grier cinema's second best action heroine of all time and based on the rest of the list, she also paved the way for future actresses to kick butt onscreen. Grier was certainly doing so long before the likes of Angelina Jolie, Uma Thurman, and Sigourney Weaver. In most of her 1970s films, she played a woman seeking revenge — she avenged her boyfriend's murder in Foxy Brown, led a rebellion of female prison inmates in The Big Bird Cage, and took down drugs lords who messed with her sister in Coffy. Ramona Royale is also seeking revenge but for a somewhat less noble cause — after being jilted by the Countess, she plans to seek retribution by harming Elizabeth's children.
Offscreen, Grier is no shrinking violet — she survived a childhood sexual assault, a battle with cancer, and the tragic deaths of several people close to her. When she published her memoir in 2010, she told The New York Times she was telling her story in order to share her lessons with others. So, while viewers and guests at the Hotel Cortez should certainly be wary of Ramona Royale, the woman who inspired the character is actually a strong, impressive, and compassionate individual.
Image: Suzanne Tenner/FX