When Is The Holiday Spice Flat White Available?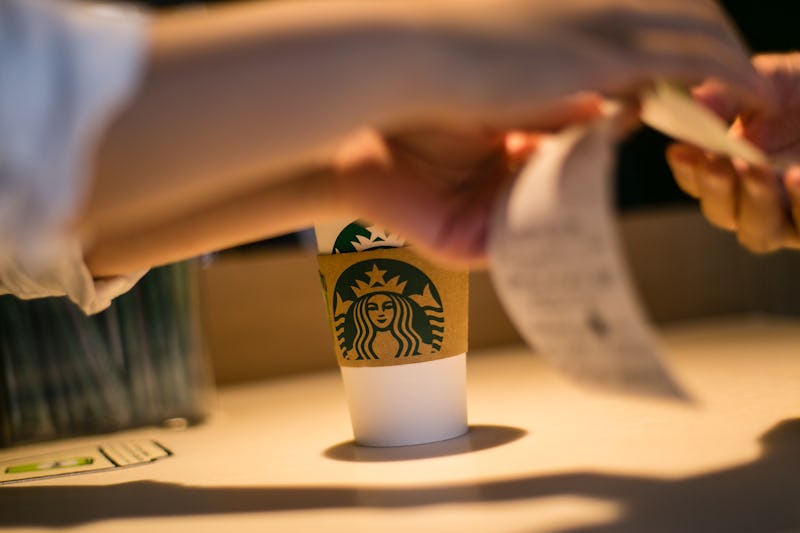 Christopher Jue/Getty Images News/Getty Images
Starbucks has a special gift for coffee lovers this holiday season, and it comes wrapped in one of those charmingly festive red cups. The new Holiday Spice Flat White will soon join ranks with the Peppermint Mocha and Gingerbread Latte as a must-have seasonal drink — but when is the Starbucks Holiday Spice Flat White available? The answer to that question is soon, my friends. Very soon. Fans can get their hands on the new drink starting Nov. 30.
Of course, anyone who is even remotely obsessed with the holidays has probably noticed that Starbucks' red cups are already available. Those returned to stores Nov. 1, along with seasonal favorites such as the Peppermint Mocha, the Gingerbread Latte, Eggnog Latte, and Caramel Brulee Latte. This year, Starbucks also brought back its Chestnut Praline Latte, which it added to its holiday lineup to much applause last year.
As for the new Holiday Spice Flat White? It may not come out for another few weeks, but it's going to be well worth the wait — especially for those of us (me) who cherish the magic of rich espresso more than anything else. The seasonal drink will feature two Christmas Blend Espresso Roast ristretto shots along with a festive blend of spices — ground sugar, cinnamon, ginger, nutmeg, clove, and tangerine sugar, to be exact. (For those of you unfamiliar with a Flat White, think of a cappuccino with slightly less foam.) Basically, it's the perfect drink for coffee-lovers in need of a little caffeine boost during the stress of the holidays.
In the meantime, feel free to pick up a regular Flat White from Starbucks. The brand added the popular Australian drink to its menu last winter, and even though it doesn't come infused with a myriad of holiday-specific spices, it's still pretty delicious — plus, you can get it made in a red cup. And as we all know, nothing screams holiday cheer more than Starbucks' red cups. Like, not even Santa.
Images: Getty Images; Giphy