15 Unique Ways To Eat Toast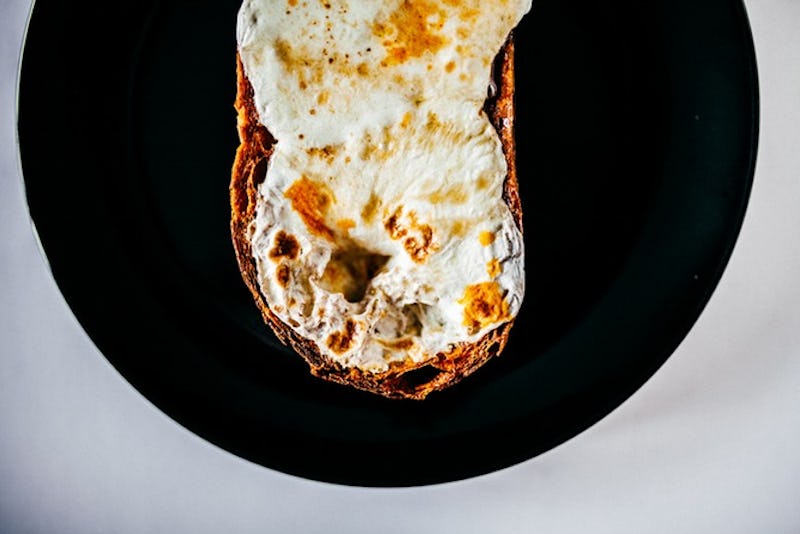 Since we first discovered the magical deliciousness of avocado toast, life hasn't really been the same — and now that we're stumbling upon even more amazing ways to eat toast, our breakfast, lunch, and dinner strategy has seriously shifted. After all, it doesn't really get any easier than just popping some bread in the toaster, and then covering it in an assortment of toppings.
Whether you're interested in trying out some new impressive brunch recipes, or you just want to add some easy bread-based meals to your cooking repertoire, you can't go wrong with toast. From fancy cheese toast to chocolate-covered dessert toast, the options are pretty endless. Sure, we'll always appreciate a good piece of bread slathered in butter and sprinkled with salt, but we're also willing to try something new.
The next time you're not sure what to make for a quick breakfast, dinner, or lunch, don't forget the simple beauty of a piece of toast. With the right cheese, veggies, or fruit, it can become a bonafide meal (or even an appetizer or hors d'oeuvre). Just do yourself a favor and buy some good loaves of bread, and you'll be properly prepared to make the best toast ever. These 15 recipes will get you started on your toast-centric culinary adventures.
1. Tomato Toast With Basil Cream Cheese
If you're a fan of classic bruschetta, then A Beautiful Mess' basil cream cheese will become a new favorite.
2. Grapefruit And Avocado Toast
Who knew that this citrus fruit paired so well with creamy avocado? Thanks, A Cozy Kitchen!
3. Fried Mozzarella Toast
Sometimes all you really need in life is warm bread topped with melted cheese, and the The Crepes of Wrath completely understands that need.
4. Simple Goat Cheese And Egg Toast With Peas And Dill
The addition of dill to Cookie and Kate's egg and cheese toast elevates this dish from easy breakfast to elegant brunch.
5. Strawberry Basil Smashed Avocado Toast
Avocado toast doesn't have to be savory. Love and Lemons proves that strawberries and avocado make yet another unexpected yet delicious duo.
6. Mushrooms On Toast
This simple British dish makes an easy, comforting dinner or lunch, as shown by The Kitchn.
7. Ricotta Toast With Peaches
A Beautiful Mess proves that peaches, honey, and ricotta are quite the golden trio.
8. Ahi Tuna Avocado Toast
Skip the tuna salad, and try something different for lunch with the help of A Cozy Kitchen.
9. Spicy Tomato Chutney Toast
If you can't get enough savory toppings for your toast, consider whipping up The Crepes of Wrath's tomato chutney — the spicy alternative to sweet jam.
10. Tomato And Goat Cheese Toast
Sometimes simple is best, as Cookie and Kate demonstrates with this dish.
11. Loaded Sweet Potato Avocado Toast
If you don't think toast can truly be considered a meal, then you haven't tried Love and Lemons' veggie-topped toast.
12. Roasted Pear, Gorgonzola, And Honey Toast
Melted gorgonzola makes the perfect complement for juicy pear in Naturally Ella's simple toast recipe.
13. Toast With Hummus And Veggies
This wholesome vegan snack by The Kitchn will keep you full and feeling great. Enjoy it open-faced, or put two slices together to make a sandwich.
14. Chocolate Cinnamon Toast
Don't just smear on some Nutella and call it a day. A Spicy Perspective knows that a little cinnamon goes a long way.
15. Fried Halloumi Toast
Warm cheese and cold chopped tomates are a match made in heaven by Naturally Ella.
For more food ideas, check out Bustle on YouTube.
Images: Cookie and Kate (3); A Beautiful Mess (2); A Cozy Kitchen (2); The Crepes of Wrath (2); Love and Lemons (2); The Kitchn (2); Naturally Ella (2); A Spicy Perspective