The 6 Cutest Danny & Michelle Tanner Moments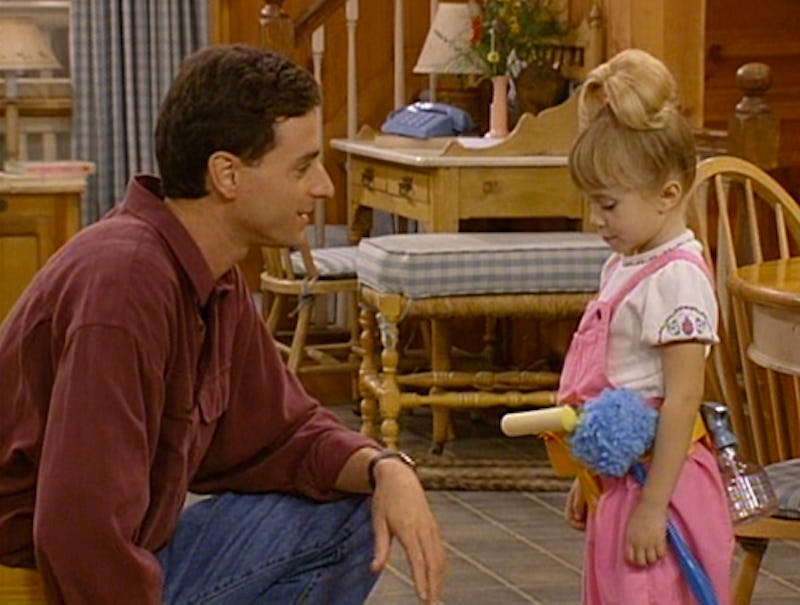 Often times, when we think about Full House, we remember the uniquely endearing relationship between Uncle Jesse and his beloved niece, Michelle. It also helps that we know that to this day, John Stamos keeps in touch with Michelle's twin alter egos, Mary Kate and Ashley Olsen. But what you may not know is that Danny Tanner (aka Bob Saget) is also still in touch with the girls who played his once iconic toddler. Case in point, Ashley Olsen went to see Saget's debut in the play Hand To God over the weekend. The Broadway star posted a sweet photo of them to his Instagram with a caption saying,
Loved having my dear friend Ashley Olsen at my welcoming opening of @HandToGodBway last night with the brilliant cast I get to act with: Steven Boyer, Geneva Carr, Sarah Stiles, and Michael Oberholtzer. Loving this show.
I know, I know, there's almost too much sentimentality to bear. While the bond between Uncle Jesse and Michelle was the stuff of TV family magic, reunions like this have to make you admit that Danny's relationship with the baby of the family was pretty special, too. In fact, some of the best, funniest, and most heartwarming moments of Full House took place between Danny and Michelle, and this new picture is bringing up so many of those corny yet wonderful memories.
Here are six of the most adorable Danny and Michelle moments, to fulfill your nostalgic needs.
1. When Danny Was Jealous Of Uncle Jesse And Joey
I mean, he had good reason. But to be fair to Michelle, they all were kind of her dads.
2. When Danny Proved To Be A Supportive And Feminist Father
Oh, hell yeah, Danny. You go.
3. When Michelle Inadvertently Shamed Danny In Front Of Vicky
But he took it like a champ.
4. When Michelle And Danny Had A Sass-Off
To roast is to care.
5. This Fan Video That Combines The Two Most Heartbreaking Danny/Michelle Moments Of Full House Together
You're killing me, smalls!
6. But, Mostly, The Sweet Little Moments Like This
<3 <3 <3
Alright, going to go watch Full House re-runs until the end of time. Bye!