Hawkgirl Isn't Leaving 'The Flash' Just Yet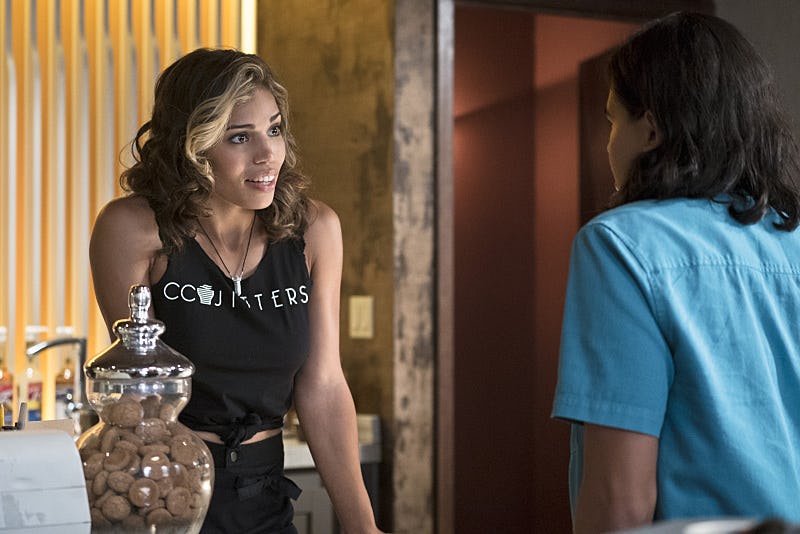 There are so many tie-ins between The CW's DC universes, sometimes I forget that every show I watch doesn't have a link back to Central or Star cities. (What do you mean Rayna Jaymes isn't a metahuman? Have you seen her hair?) In last Tuesday's episode of The Flash , Kendra Saunders made Cisco a very happy S.T.A.R. Labs tech when she agreed to a dinner date with him. This is significant not just because Cisco is a unique and beautiful snowflake who deserves all the love and companionship in the world, but because, in the near future, Kendra will become Hawkgirl. And Hawkgirl is a member of the main ensemble in The CW's forthcoming spinoff, Legends Of Tomorrow. So, like Barry Allen and his initial appearances on Arrow, Kendra won't belong exclusively to The Flash forever. But The Flash will keep Kendra long enough to establish some truths about her character. And anyway, she can't leave yet — she's got plans with Cisco Ramon.
"The Darkness And The Light" didn't actually mark the first appearance of Kendra on The Flash. She was on screen briefly when the singularity occurred in the Season 1 finale. She was dressed in street clothes then, implying that her powers haven't been realized yet. By this point in Season 2, she's a new barista at Jitters, serving Flashes and decaf Flashes (what's the point?) to Central City's coffee-loving clientele. Cisco asks her out to prove to Barry that he should be more confident with Patty, but Kendra turns him down. She reconsiders by the next time Cisco is in the cafe, and boom, there's new romantic potential in the air.
You've probably guessed that Kendra will be seen in at least one more episode of The Flash before making the leap to Legends. The show's writers would never drop a storyline with as much potential for endearing banter as Cisco going on a real date-date. Hawkgirl actress Ciara Renee is listed in the cast for the Nov. 17 episode "Gorilla Warfare." The infamous rendezvous will take place then, but Kendra will be sharing billing with another returning guest star. You guessed it: Gorilla Grodd.
At San Diego Comic-Con this year, showrunner Marc Guggenheim told Zap2It that groundwork for Hawkgirl would be laid across a Flash arc. How many episodes? That part is unclear.
I will say that before [Legends] airs, you will get a very clear sense of how she's being portrayed. One of the reasons we're doing the show as a mid-season is that there's a lot of what I can "table-setting" to be done with Arrow and Flash. And Kendra Saunders who becomes Hawkgirl is going to have plenty of those moments leading up to the launch of Legends.
"Plenty" is a good word that implies some satisfying answers to tantalizing questions. Does Kendra have her powers now? Will she and Cisco vibe on being metahumans? (I can't help myself.) And why did she tell him she was new to Central City, even though she was unquestionably there for the singularity? I don't know if The Flash has plans for Kendra past the return of Grodd, but she's still a welcome addition to the show's core group of smart and powerful women.
Images: Katie Yu/The CW; sunflowerbarry/Tumblr