Read The Groundbreaking Lesbian Lit Behind 'Carol'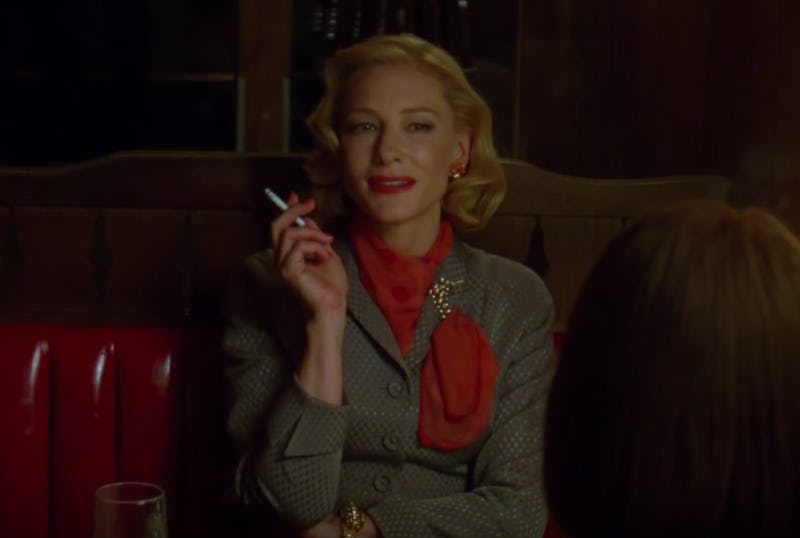 Carol, the new film starring Cate Blanchett and Rooney Mara, was already declared a hit when it premiered at the Cannes Film Festival over the summer. The period drama, about two women who fall in love and enter into a taboo relationship in the 1950s, earned praise for director Todd Haynes, as well as the film's two leads. Mara was awarded the Award for Best Actress at Cannes, and both leads have received a healthy amount of Oscar buzz. Indeed, Carol has all the makings of a classic Oscar-bait film, including a Nov. 20 release date and a literary inspiration — yes, Carol is based on a book, and it's only adding to all the buzz surrounding the film.
Should Carol earn an Oscar nomination for its screenplay, it will be in the Adapted Screenplay category. The film is based on The Price of Salt , a novel by Patricia Highsmith, who also authored The Talented Mr. Ripley (an adaptation of which was nominated for five Oscars). Carol is the 38th adaptation of Highsmith's work, a trend that began in 1951 when Alfred Hitchcock made a film based on Highsmith's debut novel titled Strangers on a Train. After the success of her debut novel, the author published The Price of Salt under the pseudonym Claire Morgan because of the scandalous material, which happened to be inspired by her own life. Despite, or perhaps because of, its subject matter, The Price of Salt became a cult classic and was finally published as Carol with Highsmith's name on it in the 1990s.
The Price of Salt was hailed for years as a groundbreaking piece of lesbian literature, and (spoiler alert!) Highsmith's novel defied convention by giving the two lovers a happy ending. Well, it's not entirely happy — Carol (Blanchett) and Therese (Mara) are left disconnected from society, with Carol paying a heavy price through being kept from her husband and daughter. But the novel set itself apart by not punishing its main characters for their sexuality, a rare and important decision for a book of its time.
In an era when Senator McCarthy was leading a witch hunt for gay men and women in the U.S. government, Highsmith's refusal to give her novel a tragic ending was a refreshing act of rebellion. The author made her intentions clear in the afterword published with The Price of Salt 's re-release in 1990:
"The appeal of The Price of Salt was that it had a happy ending for its two main characters, or at least they were going to try to have a future together. Prior to this book, homosexuals male and female in American novels had had to pay for their deviation by cutting their wrists, drowning themselves in a swimming pool, or by switching to heterosexuality, or by collapsing — alone and miserable and shunned — into a depression equal to hell."
Now, The Price of Salt is on the verge of becoming a huge Hollywood hit, thanks to its adaptation. The script for Carol was written by Phyllis Nagy, a writer and playwright who knew Highsmith. Not much of the book was changed for the film, though the perspective was shifted to flesh out the character of Carol, who in the novel is seen only through Therese's perspective. However, it seems that the spirit of the narrative's groundbreaking ending remains in tact.
Images: The Weinstein Company