A 'Hunger Games' Prequel Isn't Out Of The Question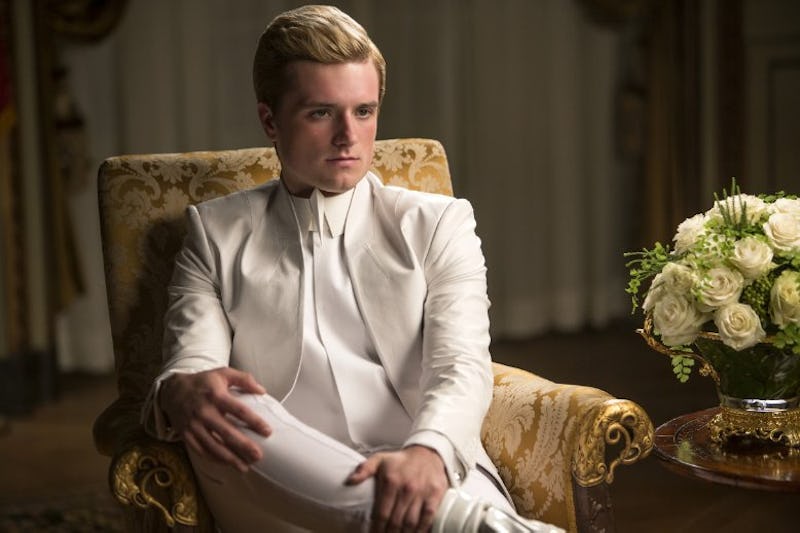 Over the summer, Josh Hutcherson, Jennifer Lawrence, and Liam Hemsworth guested on Conan to talk about the upcoming Hunger Games installment, Mockingjay – Part 2. It is — or rather, should be — the final film in the series. The source material, Suzanne Collins' bestselling series of the same name, ends with the (spoiler!) heroes' triumph against the insidious Capitol. But Conan O'Brien still posed the inevitable question to Lawrence during the show: Will there be another Hunger Games movie? A sequel? A Hunger Games prequel? Before she had the chance to respond, co-star Hutcherson jumped in to imply that there will be, and that it's already in the works. Initially forthcoming, he backtracked when he saw Lawrence's surprise — "I can't say that. I'm sorry. We'll see what happens," he concluded.
A sequel seems pretty unlikely. By the end of the series, the status quo seems to have been righted, and though fans remain divided on who Katniss should have ended up with (Team Peeta vs. Team Gale), the ending is delightfully ambiguous. Despite the studio's and cast's equivocating, though, there's definitely room for a Hunger Games prequel. By the time the first novel picks up, there's been a bloody revolution and a tyrannical regime has seized the Capitol. 75 Hunger Games have come and gone, including those depicted in the series. So what happened before then? How did President Snow come to be, and how did Haymitch become the District 12 champion? We witnessed the carnage that was the third Quarter Quell; what went down in the 25th and 50th anniversaries of the Capitol's regime?
In short, there are a lot of questions that the Hunger Games — both novels and movies — have not yet answered. This isn't the first time the prospect of Hunger Games 5 has arisen. It's been a back-and-forth, will-they-won't-they rollercoaster since the announcement was first made that Mockingjay would be split into two parts. There's still no official response — rather, there are conflicting official responses, cast responses, and input from Suzanne Collins herself. Here's how it's all gone down.
November 2013: Jennifer Lawrence Hopes There'll Be Another Movie
Speaking to E! Online in 2013, Lawrence said, "I kind of hope so," regarding a fifth installment. It would make sense. For a series entitled The Hunger Games, there are a lot more Games to cover. And the franchise has made Lionsgate a lot of money, so there's reason for the studio to keep doing what's worked, from a business perspective.
November 2013: Elizabeth Banks Wants More Books
It might, as co-star Elizabeth Banks hinted, take new material from Suzanne Collins herself to spur the studio into action. "I'd love to see Suzanne Collins write something else that we could expand on," she told E! Online in the same story.
November 2013: But More Books Seem Unlikely
Collins' rep has vehemently denied the prospect of a fourth book; apparently the author has put the series behind her. "The books are done," her agent Jason Dravis told The Wrap. That's not to say Collins is done with the publishing world — she published the autobiographical picture book Year of the Jungle in 2013.
In The Interim, Let's Talk Spinoffs
Other non-film spinoffs have been suggested, too: A Hunger Games musical was tossed around at one point (and actually came to life in London, according to the Inquisitr), while a Hunger Games theme park is also in development in Atlanta. Lawrence herself cynically told Entertainment Weekly, "I know there's going to be a reboot with younger, hotter people in our lifetime." It sounds like Mockingjay – Part 2 might diverge a bit from the book, but it also sounds like there might be room for further, future expansion.
February 2015: A Sequel? A Prequel? They Might Be Equally Likely
Jon Feltheimer, CEO of Lionsgate, told Deadline that he's "actively looking at some development and thinking about prequel and sequel possibilities" to keep The Hunger Games alive. It's been a huge success for the studio, so it makes sense that they'd want to milk it for as long as audiences are receptive to the franchise.
April 2015: There's Still More To Explore
There are also elements of the plot that weren't fully explored. Though Katniss (more spoilers!) ends up with Peeta, her relationship with Gale is never quite as developed as some fans — especially Team Gale'ers — would like. As Lawrence told Venture Capital Post, "Katniss and Gale have such a rich history, which we've never been able to fully, fully explore to the extent we do in this film."
July 2015: Josh Hutcherson Lets Slip
The fateful Conan interview: Wishful thinking, or did Hutcherson accidentally let loose on something the studio had been trying to keep under wraps? O'Brien referred to Hutcherson's subsequent backtrack to "no comment" as the "worst lying he's ever seen."
July 2015: But Lionsgate Backtracks For Him
Amid the rumors, (some of) the powers that be have denied the Hunger Games prequel. Entertainment Weekly reported an update to the same story that "sources close to Lionsgate" have indicated there's no fifth Hunger Games currently in development. So what, exactly, was Feltheimer talking about?
November 2015: Nina Jacobson Says It's "Hard To Imagine"
Producer Nina Jacobson told Screen Crush, "For me, it'd be hard to imagine the Hunger Games without Katniss." That being said, if Collins were to come out with more written material, Jacobson added that she "will be there in a heartbeat."
What would The Hunger Games look like in a pre-Katniss age? It's not an idea to discount. Though the series was essentially built around Katniss as a character, more than it was focused on a particular political moment, there's sufficient backstory both for the individual and for the Districts as a whole to make it a worthy avenue for a future film. Plus, more Hunger Games. Who's complaining?
Want more Hunger Games? Watch Bustle's drunk recap of Mockingjay, Part 1 below:
Images: Lionsgate (9)