Caroline Talks Friendships With Her 'LOL' Costars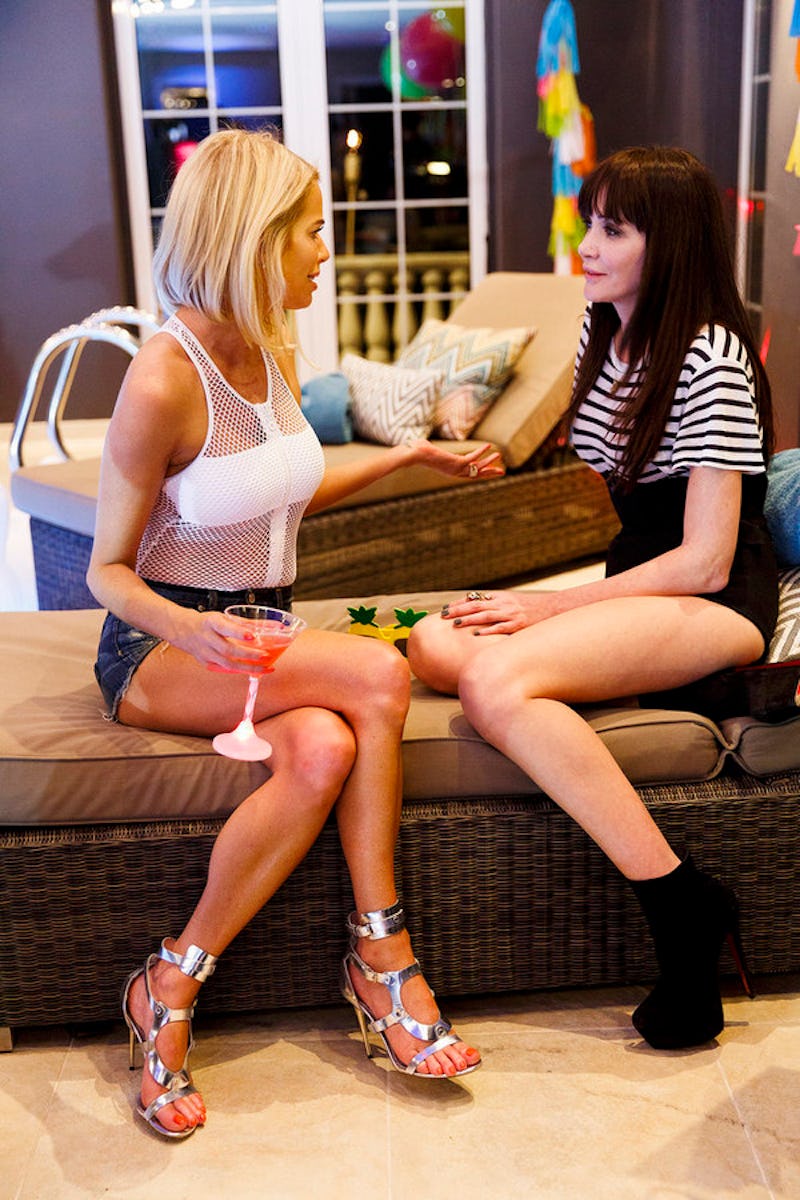 The second installment of Bravo's Ladies of London was more than just a Season 2. At this point in the series, the relationships between the women have developed and some have faltered. There was a lot of drama in Ladies of London Season 2, and it all seemed to culminate while the women visited Caroline Fleming's home in Denmark. With all that has happened throughout the season, you might be wondering if the women will sit down for a Season 2 Ladies of London reunion, but Caroline Stanbury has mixed feelings about that idea.
"I think we would have killed each other," Caroline tells Bustle in an interview. After an electrifying dinner at Caroline Fleming's home where Annabelle and Caroline got into a bit of a disagreement about Annabelle's relationship with Julie, the two — who have had their "ups and downs for many years," Caroline says — seemed to be on the outs. "I think that sometimes in life, you simply grow apart," Caroline says. "For me and Annabelle, that's where we are."
The two women found themselves disagreeing about Julie's relationship with Annabelle, which Caroline feels involves Julie being led by her friend. "Over time, I had noticed [Julie and Annabelle's relationship]," Caroline says. "Julie is a strong woman in her own right, she juggles so much. So I don't understand why she feels the need to be led by people."
Caroline acknowledges that that entire conversation didn't provoke a good reaction from Annabelle, since she doesn't see it that way. "She thinks that they have an equal relationship, which I think it's very clear to most that they don't."
In addition to that observation where Caroline defends that she was agreeing with Julie "coming into her own," Annabelle criticized Caroline for her "posh put downs." But Caroline doesn't hold Annabelle airing her grievances about each of the women against her. "Annabelle was able to get that off her chest," Caroline says. "The thing is, Annabelle is able to get whatever she needs off her chest when she feels like it. We're not."
"I think we should be afforded the same luxury and say how we feel," Caroline says.
Caroline says she is sad it "ended like this," sharing that it was her and her husband's idea to bring Annabelle on the show. But, "there's certain lines that you don't cross," she says, "and those lines have been crossed."
Even with that said, Caroline isn't even sure if a reunion would be "an all out brawl" like some Bravo fans might be used to. "That's not the English thing," she says. "We might have sat there and held it in."
Unfortunately, we won't get to see what would have happened at a reunion, but even more reason to look forward to Season 3, right?
Images: Tristan Fewings/Bravo