'Vanderpump Rules' Emoji Spoilers Are Confusing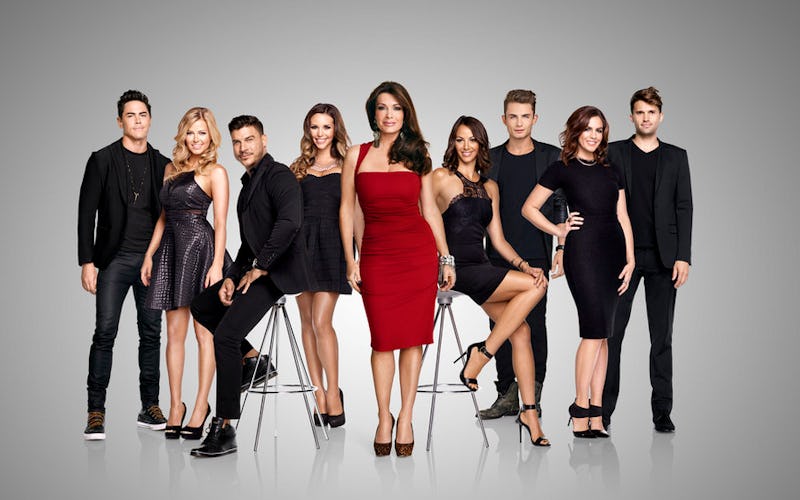 What a time to be alive. Not only is Vanderpump Rules back on Bravo, but Season 4 looks like it's going to be one of the most dramatic seasons yet. There are proposals, break-ups, scandals, new faces, old faces, and somewhere in between there might be room for the Vanderpump Rules cast to do their jobs at one of Lisa Vanderpump's establishments. With all of that VPUMP goodness coming our way in the coming months, it only seems appropriate to get some Vanderpump Rules Season 4 spoilers from one of the cast members himself, Tom Sandoval.
Tom Sandoval has been an OG of Vanderpump Rules since Day One. He's seen the highs and the lows of the show — dare I bring up Miami Girl? So if anyone is able to spoil what is to come, it's him. Or so I thought. When asked what fans can expect from the upcoming season of the show, Tom seemed to know right away what he was going to write out in emojis. After a little hunting — thanks iPhone iOS 9.1 update — the emoji spoilers were down and revealed.
Wondering what Tom had to say about Season 4? Here's what he offered up in terms of spoilers.
Here's me right now:
Because what the fresh hell do any of those emojis mean? Tom promises that they'll "all make sense" as the season progresses. Until then, let's decode a little bit, shall we?
The Red A
I always thought this was to describe your blood type, but something tells me this is maybe about that one book you totally "read" in high school. If this is a hint to The Scarlet Letter (Hester had to wear a scarlet "A" for "adultery"), it could be assumed that someone on the show has a cheating scandal come to light this season. But doesn't that happen every season?
The Fountain Pen
Maybe this is alluding to the red A above, confirming that it is a clue to a book, or maybe someone writes a letter to another cast member this season? Maybe we'll have some type of Rachel/Ross Friends letter with someone professing their love or writing to tell someone they're filing a restraining order. Hey! It wouldn't be the craziest thing to happen.
The Expressionless Face
I think we can all agree this will be everyone's face at some point this season. Whether a cast member's affair comes into the picture, there's another ring on a string, or Kristen reaches out to another Instagram user and concocts an ambush, we're all Expressionless Face at some point or another.
So we'll have to see how these emojis all make sense as the season gets into gear, but I think the strongest theory is that someone is getting a big ole scarlet A on their SUR uniform, which would totally clash, right?
Images: Tommy Garcia/Andrew Eccles/Bravo; Giphy; Emojipedia (3); Allison Piwowarski/Bustle