'Vanderpump' Stars Scheana & Katie Talk Season 4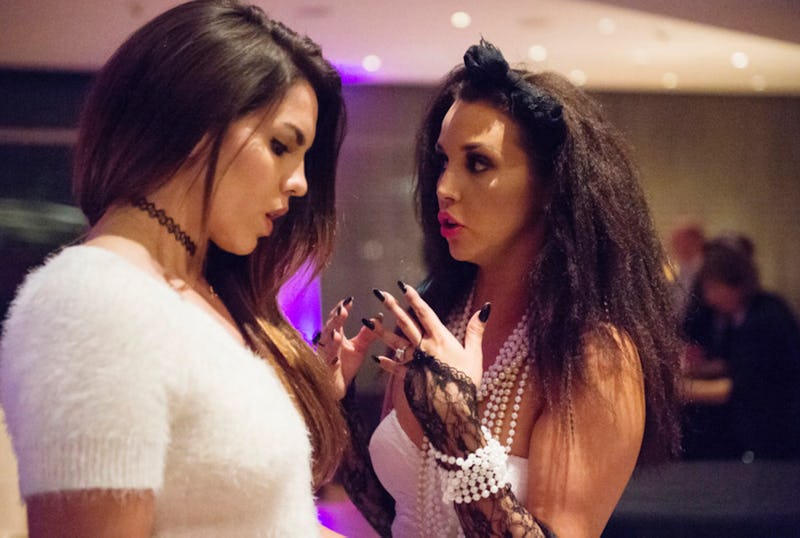 In January of 2013, Real Housewives of Beverly Hills spinoff/gift to all of humankind Vanderpump Rules premiered on Bravo. And now here we are: Season 4 of the show about the merry SURvers of WeHo has begun. Wow, where do the reality TV seasons go? So much Vander-drama has transpired in so little time. I guess the days fly by when you're busy waiting for the truth to come out, watching parking lot fistfights, and listening to "Good As Gold" on repeat. Vanderpump Rules Season 4 will premiere on Monday night, and it turns out, stars Katie Maloney and Scheana Shay can't believe just how much the SS Pump Rules has evolved since its maiden voyage.
"It's crazy to look back. There were reruns on the other day and I was watching like, My god," Scheana tells me. "What's going on on the show now is so much better than the beginning. I am so thankful we got picked up so we could tell our stories more and let the audience dive into our lives. We are a group of friends that was established before the show and that's one of the best things about the show: we weren't cast. … It was an organic group of friends."
An organic group of friends that, like any other group of friends, goes through ups and downs. Relationships change, sometimes for better, and sometimes for worse.
"You definitely see the rise and fall of friendships and relationships, proposals, there are some new people getting involved," Katie says when asked what fans can expect from Season 4. "But our group has grown and changed a lot, but this might be the first year we're all in the same room or the first time in years. So there's these kinds of little nuances that pop up that four years in, for people who've watched all along, are going to tug at heartstrings."
"I think out of everything, the first thing that comes to mind when asked 'What are you most thankful for on the show?' is this friendship [with Katie]," Scheana adds. She explains that Katie is now her best friend. "I talk to her all day every day. She's my rock other than Shay."
"You'll see that, too," Katie promises. "You'll see how rock I am."
As Katie and Scheana spoke about how close they've grown, I couldn't help but think about the Season 3 crotch motor-boating rumor, the Season 3 bachelorette party drama, the Season 2 fight at Peter Madrigal's birthday party, and so on. The tl;dr of it: these two weren't always so chummy. That's one of the things that keeps Vanderpump Rules so interesting: no matter how terrible the conflict, no reconciliation is ever off the table.
"I couldn't imagine doing this interview with you Season 2," Scheana says to Katie.
"Hell no!" Katie replies.
"Us sitting here together?" Scheana laughs.
Scheana and Katie's friendship is but one of the Vander-ships that has taken a drastic turn. Exhibit B: Stassi Schroeder's relationships with basically everyone else. Initially the Queen Bee of the series ("[Season 1] was the Jax and Stassi show," Scheana says), the ex-SURver severed ties with almost the entire cast at the end of last season. Though she insisted she'd hung up her Vanderpump Rules hat once and for all after the Season 3 reunion, that did not last long: the Schroeds is back for round four. I know I gasped audibly when I saw her in the Season 4 super tease, but how did the cast react to Stassi's return? "We were like, 'f*ck no,'" Katie says.
"We talked a lot of sh*t, which are all things I'd say to her face," Scheana adds.
"Maybe we do say them [on the show], maybe we don't. You'll see it all," Katie laughs. "You know, she'd been very vocal about being happy that she wasn't on the show and said that we're all losers. For her to want to come back, we're like, 'No you don't get to do that. You don't get to come back after you trashed our show and trashed us publicly.'"
Can we look forward to a Stassi/cast reconciliation? Scheana and Katie are careful to not spoil too much. When I ask if and how their relationships with Stassi change this season, Scheana responds, "You will see."
"It'll be good," Katie assures me. "I'll say that."
Image: Nicole Weingart/Bravo