Regina Love Covers "Hello" On 'The Voice'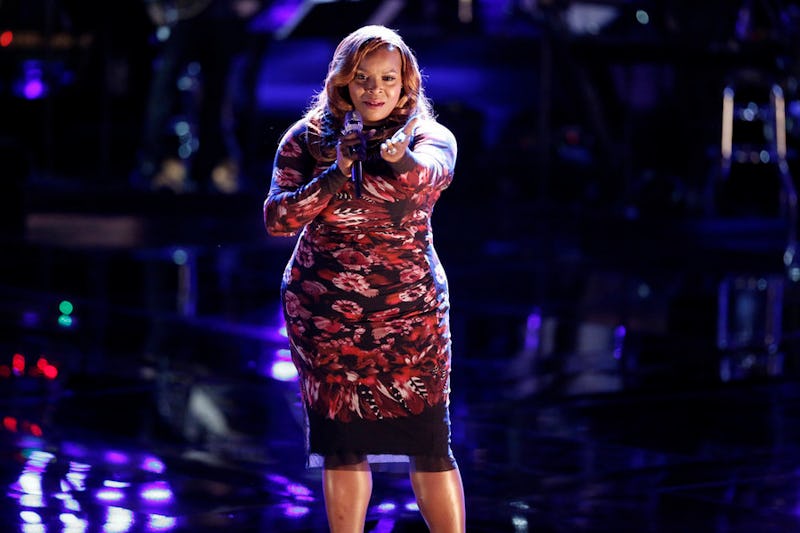 There are just some artists you don't cover on The Voice. Way at the top is Beyonce, of course. But just below that? Adele. Unfortunately, though, Gwen Stefani sabotaged her own team member, Regina Love, by assigning her an Adele song. And not just any Adele song. Stefani challenged Love to sing Adele's latest chart-topping hit, "Hello" in the Live Playoffs and it was just as unimpressive as you might imagine.
I wanted to like it, I really did. Love has been a strong player since day one and I thought that, of anyone in this competition, she'd be the one who could pull this song off. But unfortunately Love's performance just didn't do it for me. "Hello" is a tough song. Even though Love has a very strong voice and stage presence, it wasn't strong enough to compete with Adele's original performance. Love's shortcomings were only highlighted by the fact that her performance was of a stripped version of the song. Stronger accompaniment may have added more power and drama to Love's performance and helped carry her through the intense ballad. But without that background music, Love's performance fell flat.
Sure, Love's all-around showing was lackluster, but I can't help but think that she may have done better with a different song. Odds were against Love from the minute Stefani chose to assign her "Hello." Since the song is still being played obsessively by everyone who's ever been through a breakup, the bar was set extremely high for Love's performance. Instead of competing with the rest of The Voice contestants, she was competing against Adele — and we all know that's an impossible battle for anyone to win. If Stefani really wants to keep Love on her team, then she better hope that the audience sees beyond the poor performance and votes for Love based on her past performances. Love has proven before that she deserves to be in this competition, but that unfortunately wasn't evident tonight.
Image: Tyler Golden/NBC