The New 'Finding Dory' Trailer Is Adorable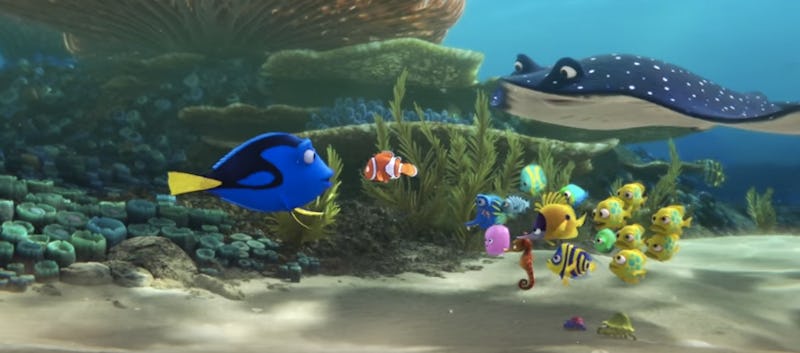 Hey, just looking out for you here, but I need you to be very careful when watching the newly released trailer for Finding Dory , because it's so adorable that it's going to make you want to drop everything and rush out to buy tickets. So be careful! Because if you have a hot cup of coffee or a Faberge egg in your hand, I don't want to be responsible for the consequences. So while I wait for you to empty your hands and find a comfortable chair — ideally one with some restraints or a seat belt, if you have one — I'll give you some backstory on this movie to get you even more excited. As the name suggests, Finding Dory is a sequel to Finding Nemo , the 2003 Pixar classic that still affects how I say the word mine and sends a happy jolt through me anytime someone tells me to "just keep swimming."
So far we've learned that the film will star Dory (duh), voiced by Ellen DeGeneres, that it takes place six months after the last film ended, even though it's been over a decade for us, ugh, and we'll see Dory go on an adventure of her own and get trapped in a sanctuary, surrounded by Nemo and Marlin and some other characters from the original, as well as entirely new cast members, including Idris Elba! Fish swoon. And if all that doesn't get you excited, I think I've given you enough time to calm down that I can now trust you to watch the trailer without going into a ticket-buying joy-blackout. Don't prove me wrong.
The cutest, right? Wait no! Where are you going! Why are you putting on your pants and running to the theater? Finding Dory doesn't come out until June 17, 2016! Sigh. I tried.
Image: Walt Disney Pictures