11 Books To Read If You Love John Green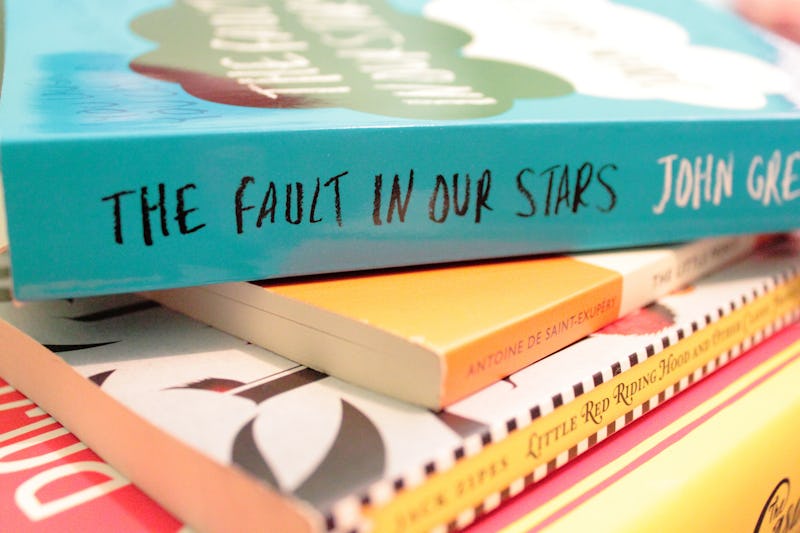 If you've read any novel by John Green then you are aware of the heartfelt, tearjerking, and wonderful writer that he is. When The Fault in Our Stars made you weep uncontrollably for hours, Paper Towns made you burst into laughter while in public. The way Green can capture the embarrassingly awkward moments of adolescence while also exploring the intense emotions of a first love is beyond me. The point is, his stories are pretty incredible.
Since you've probably read every book Green has written, and with his recent announcement that a new book is in the works, you're left to wonder what to read next. Within the growing YA genre, there are a ton of worthwhile authors just as amazing as Green. Tackling similar and realistic subjects like friendship, high school, and loss in all different shapes and sizes, YA authors are known to capture the difficulties of growing up. And I can't forget to mention the hilarious and sarcastic characters that come with it.
So if you're in the mood to cry, laugh, or reshape your life completely with the help of an amazing novel like every book Green has ever written, you're in luck. Here are 11 books to read if you love John Green, because let's be honest, who doesn't?
Thirteen Reasons Why will definitely make you cry in similar ways Green has. It's the story of Clay Jensen who finds a mysterious box on his front doorstep two weeks after his crush and classmate, Hanna Baker, committed suicide. Inside the box he finds 13 cassette tapes. Every tape is a reason why Hanna ultimately decided to end her life, with Clay being one of them. While this book starts off under devastating terms, you won't be able to stop reading, sobbing, or cherishing all of it.
If you loved Quentin in Paper Towns and his entire ideology on how everyone in life gets a miracle, you'll be interested in Ezra Faulkner, who believes everyone in life has a tragedy waiting for them. And when Ezra's tragedy strikes — a car crash that ends his athletic career and social life — he finds himself starting over. It's then that Cassidy Thrope comes into Ezra's life and whisks him off to new adventures and a life he never considered for himself. Only once again, Ezra runs into another problem — what happens when more misfortune awaits?
Just like Pudge and Margo Roth Spiegelman (and so many more Green characters), Ed Kennedy is one character you won't forget. Ed is an underage cab driver without much of a future, but he suddenly becomes someone of great importance after he accidentally stops a bank robbery. As he receives mysterious notes in the mail written on playing cards, he follows their instructions and ends up both hurting and helping people to figure out the mystery of who is writing to him. This mysterious and thrilling novel will soon become one of your new YA favorites.
Since you love Green's quirky characters, you'll fall tumbling downhill in love with twins, Noah and Jude in I'll Give You the Sun . Told in a duel perspective with artistically driven Noah at age 13 while he's falling for the boy next door, and superstitious Jude at age 16 as she's trying to find peace with her mother. Their disjointed story begins to come together piece by missing piece until they're able to finally remake the world and their relationship. Nelson doesn't just write an amazing coming-of-age story, she paints beautiful pictures with every word.
Junior is a little different from everyone else on the Spokane Indian Reservation, and when he decides to enroll in the nearest all-white school nearby, it doesn't make things any easier for him. Being born with epilepsy, the desire to be a cartoonist, and the bravery to try something no one around him ever has makes Junior a character you'll want to root for. Heartbreaking in ways that you wouldn't expect and written with a strong voice, this novel will make you want to devour absolutely everything Alexie writes.
Rafe, a normal kid from Colorado, has been out of the closet since the eighth grade. But when he transfers to an all-boys school in New England, he decides to keep his sexuality a secret, so he's not stuck with a label. When a teacher challenges him to write his own story and when he falls for a boy named Ben, Rafe wonders if he's made the right choice. If you were a big fan of Will Grayson, Will Grayson, you'll absolutely adore Openly Straight .
Rainbow Rowell is one of those authors, like Green, who inspires a massive fan base with her stories. Eleanor, a misunderstood girl with crazy red hair and a dysfunctional family likes to keep to herself. Park, the new kid in town, is completely fascinated by her. Over time, this subtle love story will make you think back to your first love and how scary and new everything was.
Amy is born with cerebral palsy and can't walk without the aid of a walker. Matthew's life is overpowered by his OCD. Neither expects to meet and fall in love, but when they do, you're going to need to have a tissue box nearby. Say What You Will , at its heart, is about what it means to be alive, and how we can find love despite the tragedies that have befallen us.
Greg Gains and his only sort-of-friend Earl like to make their own versions of cult classic films. And when Greg's mother forces him to rekindle a childhood friendship with Rachel, the girl down the street that's just been diagnosed with leukemia, he and Earl decide to make her a film. Neither boy expect how it'll change their lives. After reading The Fault in Our Stars, Me and Earl and the Dying Gir l ranks up there with YA novels that can make you cry. But similarly to Green, Andrews writes funny and realistic teen characters that you won't be able to stop laughing with, either.
For all the spunk and teenage awkwardness An Abundance of Katherines had, Anna and the French Kisswill double it. After unpacking her bags at her new boarding school in Paris, France, the Eiffel Tower isn't the only new thing in Anna's life. Making new friends, trying not to fall for the gorgeous guy with an even more gorgeous girlfriend, and missing her family back home — Anna has a lot to balance. This YA novel is a classic tale of finding yourself in an unfamiliar place.
Get ready to love a set of characters you loved as much as Hazel Grace Lancaster and Augustus Waters. All the Bright Places is the story of both Violet, a girl looking so far into the future she's forgetting to live in the present, and Theodore, a guy who can't stop thinking about killing himself. The two couldn't have met at a better time, on the edge of the school's bell tower. Now neither of them are quite sure what to do with the budding relationship in front of them, but it's up to them to help each other live in the present and find out what life has in store for them after all.
Images: L/flickr