'Secret In Their Eyes' Is Based On Real Life Fears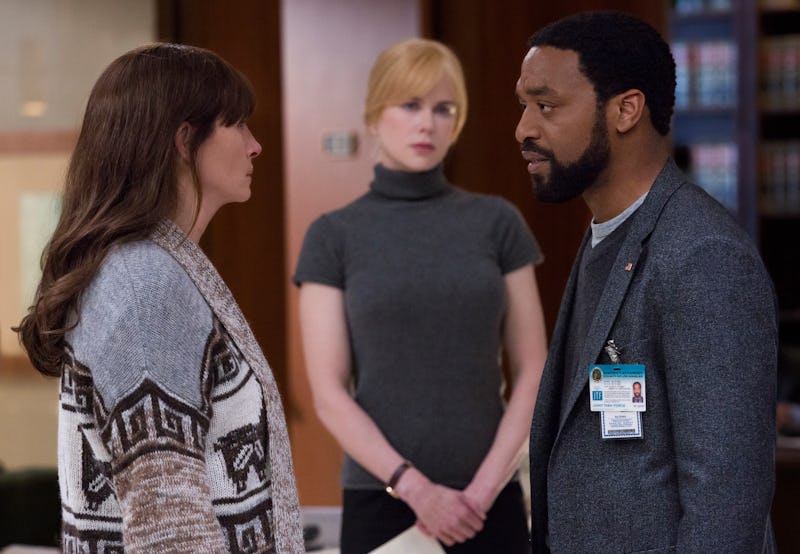 Secret In Their Eyes is a thriller that is a complex web of tragedy, loss, betrayal, and most of all, obsession — a blend of themes that scream "Oscar bait!" And what better way to way to tell this story than with an awards-caliber cast? The hard-hitting trifecta of Julia Roberts, Chiwetel Ejiofor, and Nicole Kidman play characters who are part of an anti-terrorism task force in post-9/11 Los Angeles. Roberts plays DA Investigator Jess Cobb while Ejiofor plays FBI investigator Ray Kasten, trusted partners who have a friendship outside of work, and Kidman plays Claire Sloan, a Deputy District Attorney who has a complicated attraction with Ray. The trio investigates a murder and when they find out the victim is Jess's daughter, Caroline, things get a little too real. To make things even crazier, the murder suspect is set free, and while Secret in Their Eyes isn't a true story, the movie's intense chain of events are inspired by unique blend of truth and fiction.
In 2009, Juan José Campanella directed the thriller, El Secreto de Sus Ojos based on the novel, La pregunta de sus ojos by Eduardo Sacheri. The movie was so captivating that it won an Oscar for Best Foreign Language Film in 2010. Director/screenwriter Billy Ray (The Hunger Games, Captain Phillips) and Producer Mark Johnson (Breaking Bad) were huge fans of the film and couldn't stop thinking about it. so they took on the ambitious task of doing a stateside adaptation, hoping to replicate the acclaim of the Argentine version. However, they decided to put their own spin on the story to cater to American audiences.
In press materials for Secret in Their Eyes, Ray said that the American version was inspired by the events of 9/11. "The horror of that event was so big and so indelible for anybody who was in America at that time," said Ray. "But it created a story opportunity for our movie that no other context could have."
Campanella gave his blessing in regards to Ray's approach, saying that he respected the emotion of the original, but had a "very American way of telling the story." If this new movie finds critical and box office success (from the looks of the cast and crew, it very well could), it will follow a long line of American (semi-) adaptations of lauded foreign films adaptations. In a world where "re-imaginings" of movies and other source material are highly scrutinized, the success of Secret in Their Eyes can be a a good thing.
One movie that immediately comes to mind for continuing this trend is the Academy Award-winning The Departed, directed by Martin Scorsese. The crime thriller starring Leonardo DiCaprio and Matt Damon was a huge success and was one of the best movies of 2006 — but it was an adaptation of the 2002 Hong Kong film, Internal Affairs. Purists of the original were very skeptical, but the English version met expectations of the source material. They told the same story, but through two different, flawlessly done cultural lenses.
The same can be said about other films like Point of No Return, an adaptation of Luc Busson's 1990 action thriller La Femme Nikita, which later spun into a TV series and set the bar high for portrayals of badass female assassins. Then there are those adaptations that leave audiences polarized. Case in point: The Girl With the Dragon Tattoo. The crime thriller has Swedish roots, being one part of a trilogy by author Stieg Larsson, known as the Millennium series. It later spun three Swedish films that made Noomi Rapace a star, and soon became a pop culture phenomenon. Then, David Fincher got hold of the story and made an English version of the film starring Rooney Mara and Daniel Craig. The film was met with mixed reviews, and the hopes for English versions of the sequels was left in limbo.
Secret in Their Eyes has everything it needs to be a solid Oscar-worthy movie, but whether it follows the route of The Departed or The Girl With the Dragon Tattoo is yet to be decided.
Image: STX Productions/Karen Ballard